4 Ways To Get Yourself Back On Track
This post may contain affiliate links which might earn us money. Please read my Disclosure and Privacy policies here
Looking for ways to get yourself back on track after things have fallen apart, then I'm here to help.
I have mentioned in previous posts how this past couple of months has simply been rough for me personally. I have been hit with events that have left me feeling down and downright angry at times.
To be honest, I can't let these type of situations get the best of me and neither should you. We have to keep going on our journey and our goals. We must remain focus and most importantly confident!
I have always been one always to promote changes to improve your well-being, why not do it now. Today, I am sharing with you four ways to get yourself back on track that has worked for me, and I am pretty sure they are going to help you too.
4 Ways To Get Yourself Back On Track
I needed to change my attitude. I knew that no matter what, others supported me and loved me, it was all up to me. To get away from this funky mood I seemed to be stuck in, I decided to try 4 different ways.
Related posts:
Write 3 things I am grateful for every morning
No matter how rough things are, I have to be grateful. Life is not fair, and things happen, but for me to focus on the positive, I have to be grateful for everything I have:
My family, my health, and my home.
Every morning I write 3 things I am grateful for, and by doing this, it helps me focus on what's important and gave me motivation.
Laugh
Find the funny, look for the humor in situations. I honestly believe that laughter is good for our souls. Somehow we had forgotten to laugh and find the humorous side of things.
Opening the microwave door to reheat a nice plate of rice and beans, and open the microwave door and it hits the paper plate in the process which ended with a face covered with rice and beans. FUNNY!
Somehow during these past weeks, I had forgotten how good it is to laugh; especially with the people you love. Life goes on, and I can't sit here and dwell on the negative when others are counting on me.
Change your routine
I have to say that changing my routine seems always to change my mood. I have done this before, and honestly, it works. If I continue to do the same thing over and over again, I tend not to enjoy it, and I lose focus and interest.
By changing my daily routine, and adding something different, it lifts my spirits and my focus in a matter of a week. Changing my blogging schedule, or my cleaning schedule, whatever it takes, it seems to works.
Decorate your favorite spot with positive things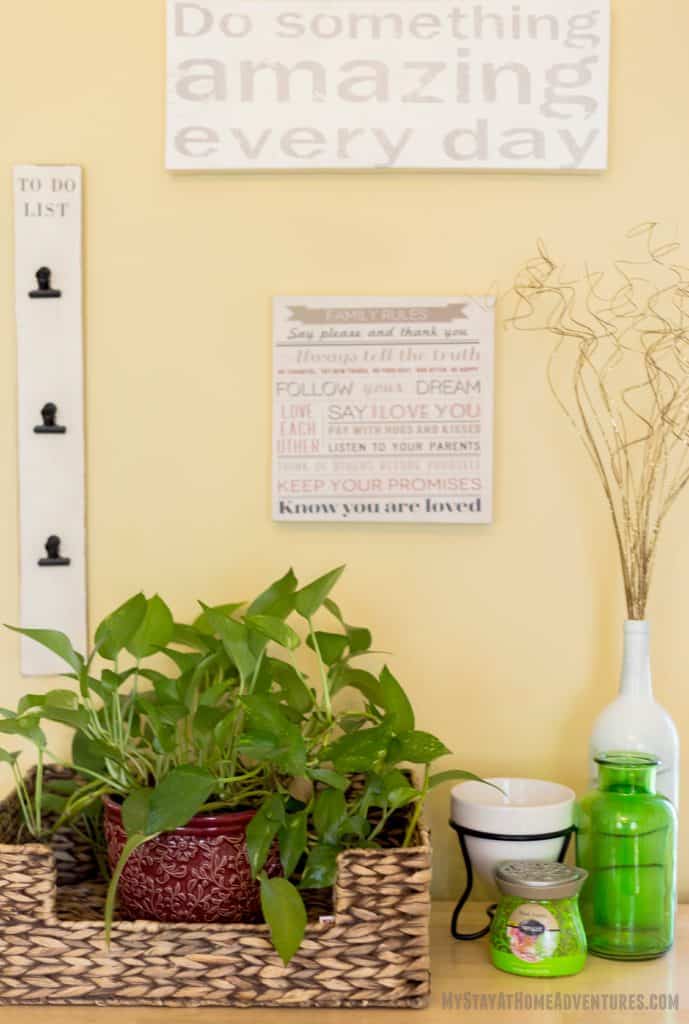 When my favorite spot in the house doesn't do it for me anymore, I re-decorated it! In my home, my bedroom is my sanctuary. For my family, and for my friends, it's the dining room.
The dining room is the place where family and friends gather to talk and hang out. It's where we all sit to work on projects. It is the happening place at our home.
Also, the dining room is the first place our guests see when they enter our home. (We do have the main entrance, it's a busy street, people always park on the side street and enter through the side porch.)
I decided that my dining room needed a makeover. Our favorite spot in our home needed to remind me of what's important. Every time I left my home, or when we worked on a project, or have gatherings in our dining room; a spot to remind myself of things that are meaningful and positive. I wanted to focus on the positive.
A decorator by heart I am not, but given this opportunity, I wanted something that I actually enjoyed looking at and would remind me of important things. I also wanted for others to read and be reminded as well.
This area in our home was the perfect place to be always reminded to be positive and stay motivated. Whenever anyone left our home, this spot will be visible and will give this reminder to anyone leaving our home.
Conclusion
These four ways when done correctly helped me get myself back on track. Changing my daily scheduled, writing things down that reminded me of how blessed I am and even decorating a favorite spot in my home truly helped me. Don't let things get to you so bad that it won't let you move forward. Remember life goes on and your journey is important.
Your turn: Share with us how you get yourself back on track.