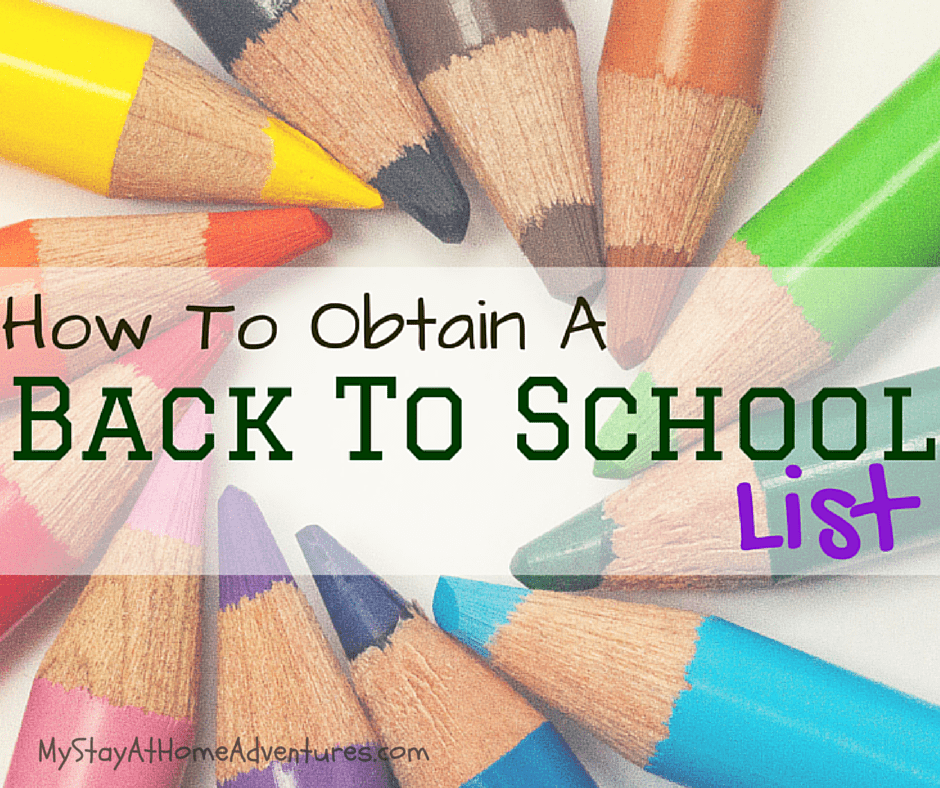 Back to school season is here and millions of Americans will be heading out to shop for back to school supplies this season. The problems that many family come across is not having a school list to go with their back to school deals and this can lead to overspending money or not finding the item their children need by the time they receive their kids school list.
Many school districts hand out their school list later and many families don't get a chance to purchase what is on the list on sale or they have a hard time finding it because the list was handed out so late in the season.
Of course depending where you live in the United State, you might start school at a different time and other part of the United States will begin in September. These causes issues when purchasing your children school supplies because you either have to get them when they are not on sale or late in the back to school season.
I remember one year my daughter received her school list the first week of starting school. This made it so difficult to get the supplies because things that the teachers needed were gone by the time we received the school list or not on sale.
We needed to find particular style of cloth book covers that a few years back was something not all store officially carried throughout the year. We also bought the wrong brand of glue and crayon that this particular teach wanted.

This was very frustrating and by the way things were handled after that year I'm assuming I wasn't the only parent who found this frustrating because we now get our list mailed or listed on the school district website. This gives us parents plenty of time to purchase our much needed school supplies on time and on sale.
If you are not fortunate enough as some of us are, this is the reason why this post on how to obtain a back to school is here for you. This post will help you get the list you need in case your school district doesn't have it available for you.
I mean can you imagine not having this list when Tax Free Day happens? *Dies
How To Obtain a Back To School List
Call your school district. If you have a school district that doesn't post them on their website simply give them a call. Many school districts offices are open during the summer vacation so don't think like they are not open. You can call them and simply asked about school list.
Visit your school district website. Many school district website post their school list during the summer. Remember that each school year sites get updated so if you are checking during the end of the school year you might not see the list. I recommend you check your site after July 1st for any new school year updates.
Ask someone who had a child in the same grade last year. If you know someone who's child was in the grade that your child will be attending and its attending the same school district, ask them. Ask for the list or what they needed to purchase that year.
Check online for generic school list. You can search online for school list and you will find generic school list online. You will be able to print them and use them to help you purchase school supplies. Wal-mart, Target, Office Max/Depot, and other retailers have generic basic school list that for each grade if possible.
Obtaining a Back To School list during the upcoming BTS season is not as difficult as you might think. Remember that thanks to the internet and social media you can always figure out what your child will need and take advantage of the BTS deals.
If you can't afford some of this supplies let the school know and they will provide it for you. If you have tons of school supplies, donate them to help those in need.
What other way have you obtained your children back to school list?
The following two tabs change content below.
Latina mom of 4 married to wonderful Greek gentleman. Living in southeast PA and trying to juggle family and a household while trying to earn an income from home. Follow my stay at home journey as I discover how to earn money and save money so we can continue to live debt free.
Latest posts by Joyce @ My Stay At Home Adventures (see all)