How to Save Money on High School Graduation Expenses
This post may contain affiliate links which might earn us money. Please read my Disclosure and Privacy policies here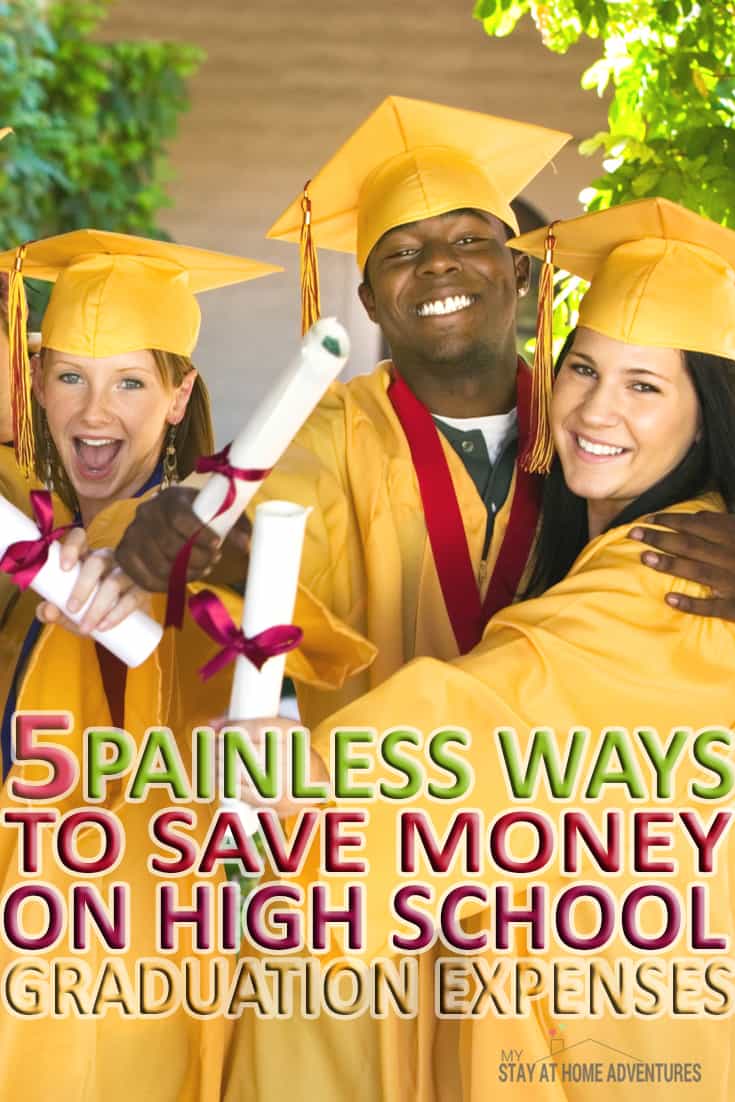 Senior year has students beyond excited. It is a little different for parents though. Besides all of our heartache about our babies growing up and leaving home….we also see a lot of DOLLAR SIGNS. High school graduation is EXPENSIVE!
You know I am all about the BUDGET and saving money when I can. I am going to show you how to save money on high school graduation expenses and still have a proud graduate.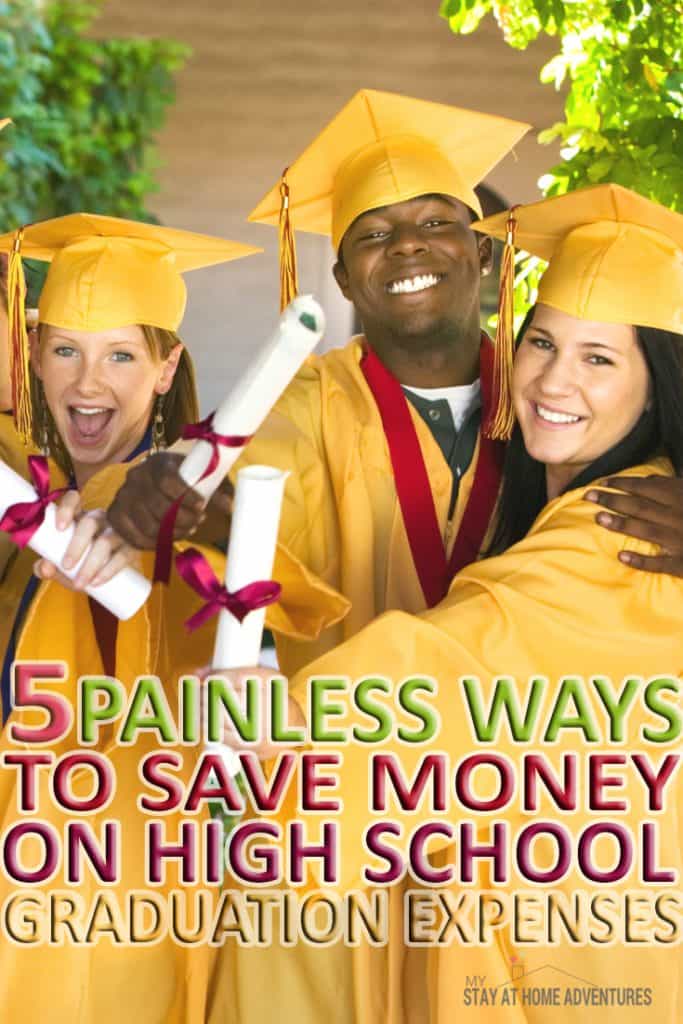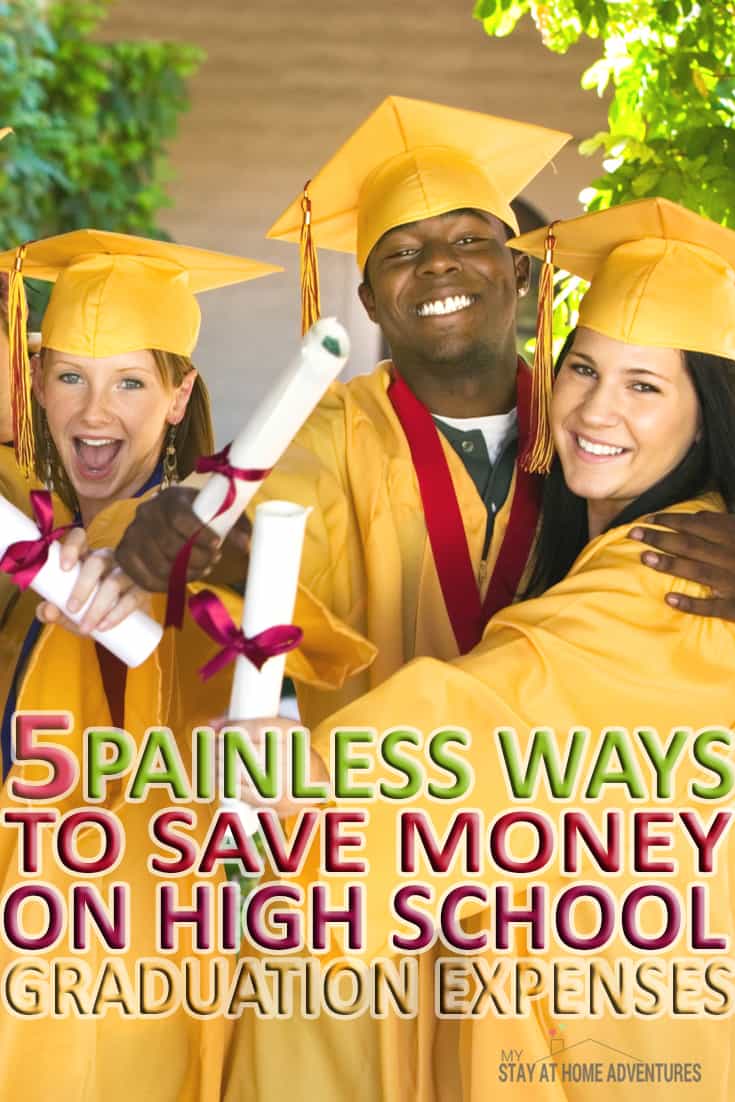 How to Save Money on High School Graduation Expenses
Senior Pictures
Senior pictures usually happen the summer before senior year or early on during senior year. This can be a major expense.
The good news is that photography is popular right now and there are a LOT of people who do photography as a side job or hobby. Typically they are much cheaper than going to a traditional photography studio.
Related post:
My favorite way to find a quality photographer for cheap is to ASK MY FRIENDS on Facebook. Word of mouth is powerful and has helped me find some great deals. It is easy to get samples of the photographers work via email too.
You can also ask your local college photography instructor for referrals to photographers they know. Sometimes you can find a new photographer who would be willing to do the photo session for free in exchange for some promotion from you on social media. Think outside the box and you can save hundreds of dollars.
Printing Senior Pictures
The expenses don't stop just because you found a photographer and paid the sitting fee. Now you have to BUY the photos. STOP RIGHT THERE….this is where the big money will fly right out of your wallet if you aren't careful.
Before the photo session, you need to find out if the photographer is willing to sell you the CD of all the images or a certain number of images for one price. This is the best way to save money.
Gone are the days where you just buy hundreds of senior pictures and hand them out to everyone you know. It is much cheaper to buy the rights to the images and have them printed off yourself.
This will enable you to find out which pose the grandparents like and what size image they need. You can have photos printed that will actually be used and won't end up sitting in a box for years to come.
Graduation Announcements
Graduation announcements can be ordered through the high school. These are typically the standard announcement and honestly…they are expensive and boring. How about you work with your child and design your own announcement using their senior pictures?
It is so fun to get unique and creative announcements in the mail versus the plain, boring school announcement. Plus…you will probably save money by ordering them yourself.
Check out these family posts:
Some people are opting to send digital graduation announcements instead of actually mailing a physical announcement. This is another way to save money on printing expenses and postage if your funds are really tight.
Senior Class Ring
Class rings are not as popular as they used to be. When I was a kid almost every student ordered a class ring. We looked forward to it and it was a big deal. Times are a little different. Now you can order a class ring from places outside of the school.
If your child wants a class ring then I would shop around. Don't just order one from the school because you think that is your only option. It isn't!! Did you know you can order personalized class rings from Walmart and Zales?
You may want to talk to your child about whether they really want a class ring. Will they wear it after high school? There are some amazing personalized jewelry options on Etsy that may be a better choice. These are options that they will probably wear for years to come.
Cap and Gown
There are not a lot of ways to save money on a cap and gown. The main way you can save money is by being organized.
Make sure you order the cap and gown early so you don't incur any late fees for the order. This will involve making sure your child gets you the order form on time! 🙂
The other way to possibly save money is to ask around your area and see if anyone has one from the previous year that they would give or sell you. You will need to make sure the length will work for your child!
How Do You Plan to Save on High School Graduation Expenses?
What will you do to cut costs on high school graduation expenses? If you need extra money to cover the costs of your child's senior year be sure to look at this list of 60+ Ways to Make an Extra $1000 This Month!