5 Ways To Make Extra Money (and Get Money Now)
This post may contain affiliate links which might earn us money. Please read my Disclosure and Privacy policies here
You are here because you want to find ways to make extra money without getting a part-time job and to answer your question it is possible!
We want to earn more money, but sometimes we just don't know how to make that extra cash. We want to find ways to make extra money doesn't require us to get another job or take us away from our family. The truth is that there are many ways to earn extra cash and depending on you, you can dictate the amount and time you want to invest to make more money.
The amount of extra money you want to earn it is up to you!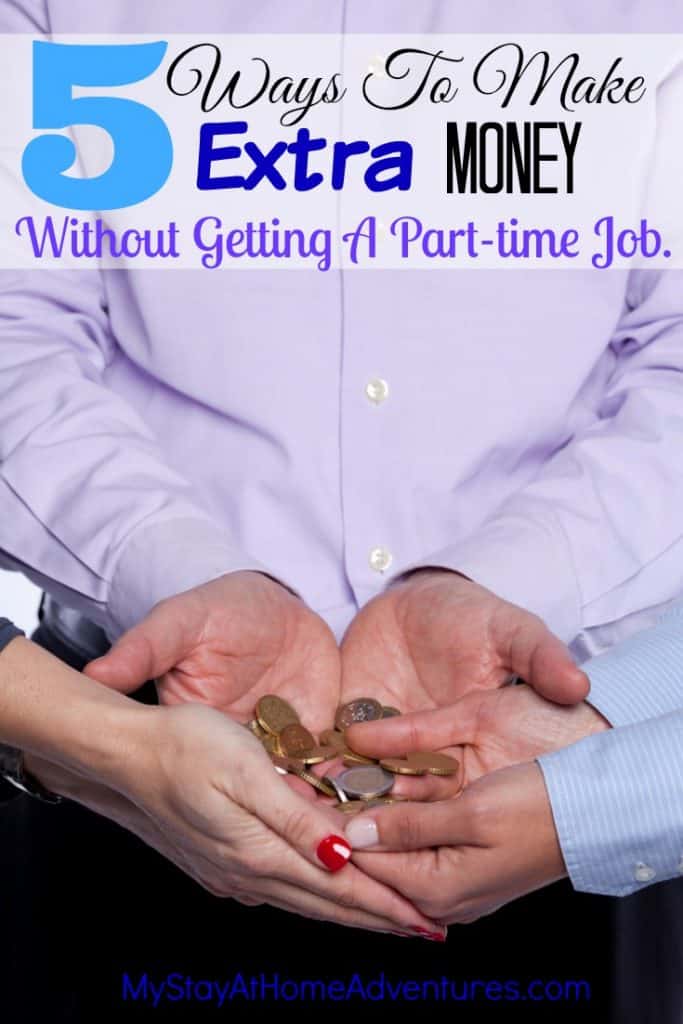 I always say you should never settle for one income. Living in our country today depending only on one income is hard and sometimes unpredictable. I mean each year seems like everything is going up except your paycheck. It looks like we are living paycheck to paycheck and any amount that increases not only affected me financially but emotionally.
5 Ways To Make Extra Money (& Get Money Now)
Pet Sitting
If you love animals why not start pet sitting to earn some cash. You can start by asking friends or family or learn about online websites where you can earn over $1000 by pet sitting!
Online surveys
Tons of online companies will pay you to take surveys and even play games! The truth is that some of these companies will earn you some cash but not as fast as you would like. Sometimes it can be a waste of time answering questions to see if you even qualify for the survey to find out that you didn't!
Read: 10 Things You Shouldn't Buy When You Are Struggling Financially
Others though will reward you with points that can be exchanged for cash, gift cards, and other prizes! One of my favorites is Inbox Dollar. Inbox Dollars pays members to read emails, take surveys online, play games, and go shopping!
Below is a list of legit survey companies:
Yard Sale Or Sell Online
If done correctly, this can be another way to make extra money that does work. I have to admit that the first time you go about having a yard sale, it can be hard work. Once you've done them, you know what to expect, and things run smoothly. Below are quick tips to help you:
Don't price items too high
Make sure everything is priced
Make sure you advertise your yard sale
Keep it organized
If a yard sale is not your thing, then try selling your stuff online. Sites like eBay and Craigslist are great ways to sell your unwanted items and make extra cash. Also, Facebook has (yard sale) groups where you can sell your items locally. My suggestion would be to sell locally. It's fast, easy, and saves on shipping fees.
Read these posts:
Smart Phone Apps
Money saving apps and rebates apps are excellent ways to earn free money nowadays. Ever visited a grocery store or even a Target and noticed people walking around looking at their smartphones? Chances are they are using apps to earn extra money and save money while shopping! Below is a list of apps that will make you money:
Shop online and make extra money
There are many deal websites that will pay you money when you shop online using their sites! I received a check when I do my shopping through sites like ShopAtHome.com, MyPoints, and Rakuten! You need to know that you won't get your cash right away as each of this site have a minimum limit before they payout.
For example, for ShopAtHome.com you must reach a minimum of $20.00. They also pay via check or Amazon gift cards. So far my latest check was for $34.73, and I was pretty happy about that. I mean free money from simply shopping online!
Right now when you use this link here, you can get a $10 Gift Card when you join MyPoints and spend $20 or more with a qualified partner.
Conclusion
There are tons of ways to make extra money that doesn't require you to get a second job. You can even babysit a weekend, play games using Swagbucks or sell your craft or art! Some of these ideas lead me to start a money blog, and I am making a good amount of money without requiring me to leave my home. You never know how these ideas will get you inspired to get pay to do what you love!
Now that you got some ideas on ways to make extra money what other ideas do you have?
Like this money making post? Check out these money-making posts: