I love to save, and with another newborn in our lives, saving for diapers is extremely important. As a fellow money saving mom, I wanted to let you know of Pampers diapers June coupon offers that will be happening this Sunday June 12th.
If you enjoy Pampers and enjoy saving, Pampers is offering big savings this upcoming Sunday's paper. This means that you need to get your scissors ready because a high value coupon offering for Pampers diapers and Pampers Training Pants will be available.
Sunday paper offer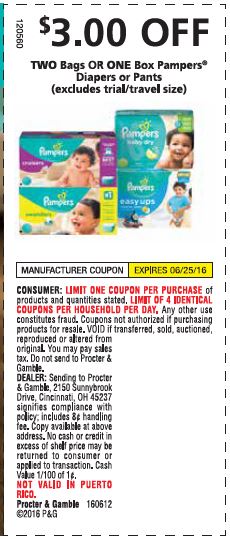 If you are a parent of little ones, this money-saving opportunities is amazing. There will be a $3 off two bags or one box of any Pampers Diapers or Pampers Training Pants available. All Pampers Diapers and Pants are included in this particular offer, except trial/travel sized diaper packs.
Pampers Diapers and Pants include Pampers Swaddlers, Pampers Cruisers, Pampers Baby Dry, Pampers Easy Ups, Pampers Under Jams, and Pampers Splashers.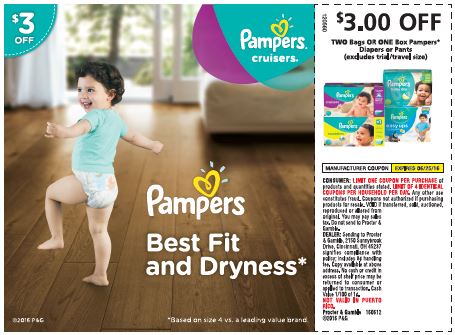 Print at home offer
You can also print at home a high value coupon for $2 off 1 pack of Pampers Easy Ups Training Pants.
These coupons can be used at any mass discount or grocery stores where baby care products are sold. To print the Pampers Easy Ups coupon, simply click here. You will need to open a coupons.com account if you do not already have one.
Again, you can use these coupons anywhere baby products are sold.
For more than 50 years, parents have trusted Pampers to care for their babies. Pampers offers a complete range of diapers, wipes and training pants designed to provide protection and comfort for every stage of baby's development.
Pampers Easy Ups work during the day and night and provide up to 12 hours of protection. They also have a more underwear-like design for toddlers along with super-stretchy sides to make them easy to pull up. Pampers Easy Ups Training Pants are sold in sized 2T – 5T.
Visit Pampers.com to learn more about Pampers products, join the Pampers Rewards program, and find ideas and information to help your baby get the most out of love, sleep, and play.
You can also visit Pampers social media channels on Facebook, Twitter, and You Tube.
This post was sponsored by iConnect and Pampers. All opinions are my own.
The following two tabs change content below.
Latina mom of 4 married to wonderful Greek gentleman. Living in southeast PA and trying to juggle family and a household while trying to earn an income from home. Follow my stay at home journey as I discover how to earn money and save money so we can continue to live debt-free.
Latest posts by Joyce @ My Stay At Home Adventures (see all)