If you are looking for Opinion PL.US this offer has expired for US residences. The good news is that if you reside in Canada this offer is available to you all!
This is an old post however, if you are looking for great survey companies that pay, check out the list below:
Looking for ways to make extra money? Check out Opinion PL.US. Opinion PL US is an online survey company where you get paid taking surveys. Many people are so skeptical about online surveys and if people DO get paid doing them. The answer to you all is that they do. How you get paid taking surveys online depends on you and how much time and effort you put into them.
Taking surveys online is something we do in our home to earn some extra cash for Christmas. This is a great way to make money on the side and I do suggest that if you are in need to make some extra money you do some online surveys. Please know that you will not get money right away. You will have to meet a certain minimum for the online survey company to pay you.


Anyway, back my latest pay online survey discovery, Opinion PL.US. I will admit that I just started with this particular survey company, so if you are looking for me to say that it works and the pay is great, give me a few weeks! What I am here to tell you is how easy and how fast I earned $2. Below you will see what sets this online survey website aside from the rest:
Opinion PL.US
Easily accumulate $10 minimum to get automatic payments via PayPal.
It's like clipping coupons of cash into your wallet.
You won't get rich, but your thrifty side will love you.
How to earn a fast $2.00.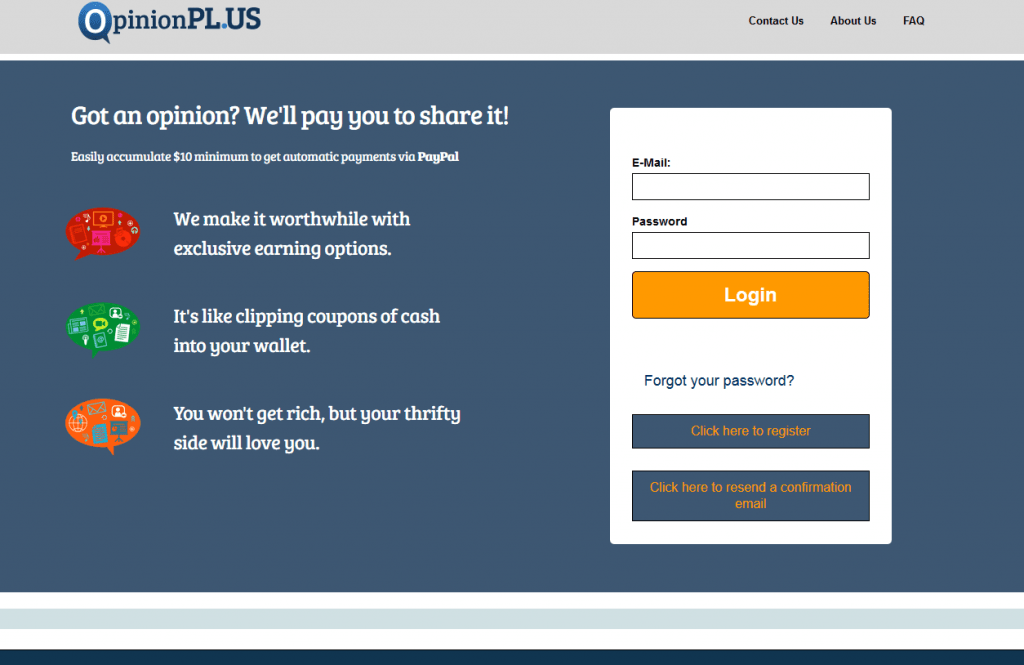 To sign up for Opinion PL US lick here to register first.
Fill out the form.
Check your email for confirmation.
Click your email to confirm your email.
Go back to your email and click on the latest Opinion PL.US email. This is a survey that will add 20 points ($2.00) to your account.
And that's it. Now remember that to cash in you must reach 100 points ($10.00) via PayPal! Make sure you have a PayPal account before you sign up.
I hope that this survey company makes you some extra cash for this year. If you are looking for other ways to make extra money this year check the links below.
The following two tabs change content below.
Latina mom of 4 married to wonderful Greek gentleman. Living in southeast PA and trying to juggle family and a household while trying to earn an income from home. Follow my stay at home journey as I discover how to earn money and save money so we can continue to live debt-free.
Latest posts by Joyce @ My Stay At Home Adventures (see all)