My Fall Wedding Inspirations
This post may contain affiliate links which might earn us money. Please read my Disclosure and Privacy policies here

My Fall Wedding Inspirations
As you already know we finally got married and it was a fall inspired wedding that was affordable and kept us under our budget. Our wedding was beautiful and just how we wanted it. I wanted to post what our inspirations were for our fall themed wedding and hopes this inspires others and help you save money.
My Fall Wedding Inspirations
We created small pumpkins candle holders centerpieces for our wedding. Got the inspiration here,'Gourd'eous candle holders. Pumpkins were so affordable towards the middle of October at our local farmer's market. We paid as low as 50¢/each for our pumpkins and 7 for $1.00 for our gourds.
We created our own burlap banners for my bridal shower and our wedding. For one of the banners, we got a bit creative and used chalk paint. I got the inspiration from Project Alicia. We knew we were going to use a lot of burlaps and I found a great deal online at Walmart.com.

Most of our table had pumpkins centerpieces. I was inspired by this post here, How to Make a Pumpkin Centerpiece. Honestly, this was very affordable for us to make and didn't take long to make either. We lighted them up with battery operated tea lights. We went to our local Sam's Club and purchased flowers for our centerpieces.
Our cake inspirations came from Rustic Wedding Cake. I was lucky, very lucky, that one of my closest friends makes wonderful cake creations and as a wedding gift created our cake and our cupcakes.
The rustic cake stand was from a neighbor who built it for another wedding. This photo is from Ask Anna Moseley. Honestly, the entire cake and stand were simply beautiful and our guest truly enjoyed it.
After searching the internet I found how to create burlap runners for our tables that were simple to make. The photo shown above is from Pretty South Weds.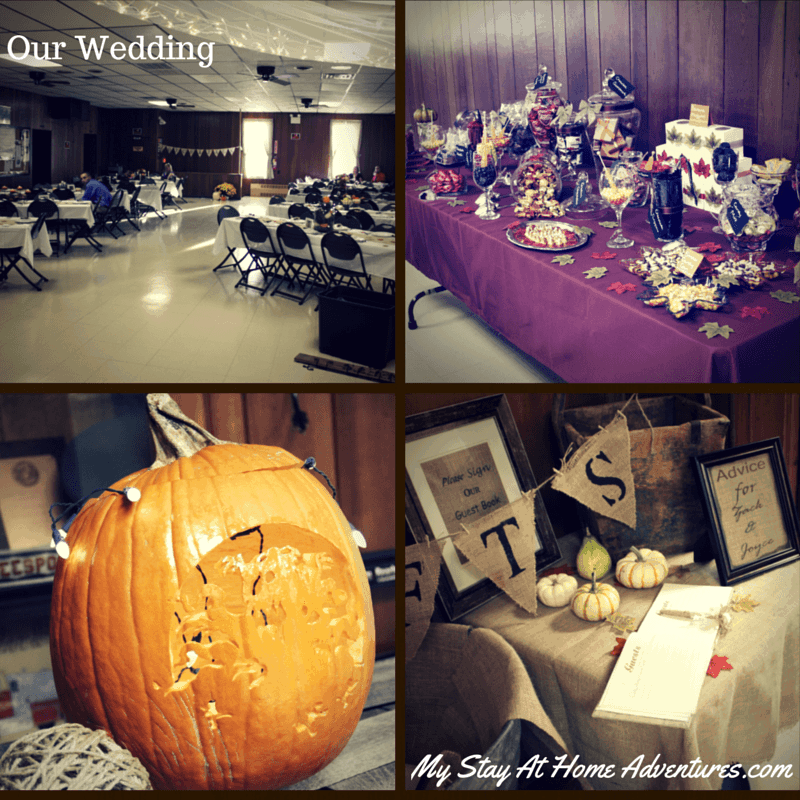 Our burlap sings that I created I found a how-to from watching this video from Domestically Speaking. It was simple and so affordable! One thing I have to say is that please make sure you clean your printer after each use.
So there you have some of our wedding inspirations. I hope these links help you with your wedding decorations as they did to us. What were your wedding inspirations?