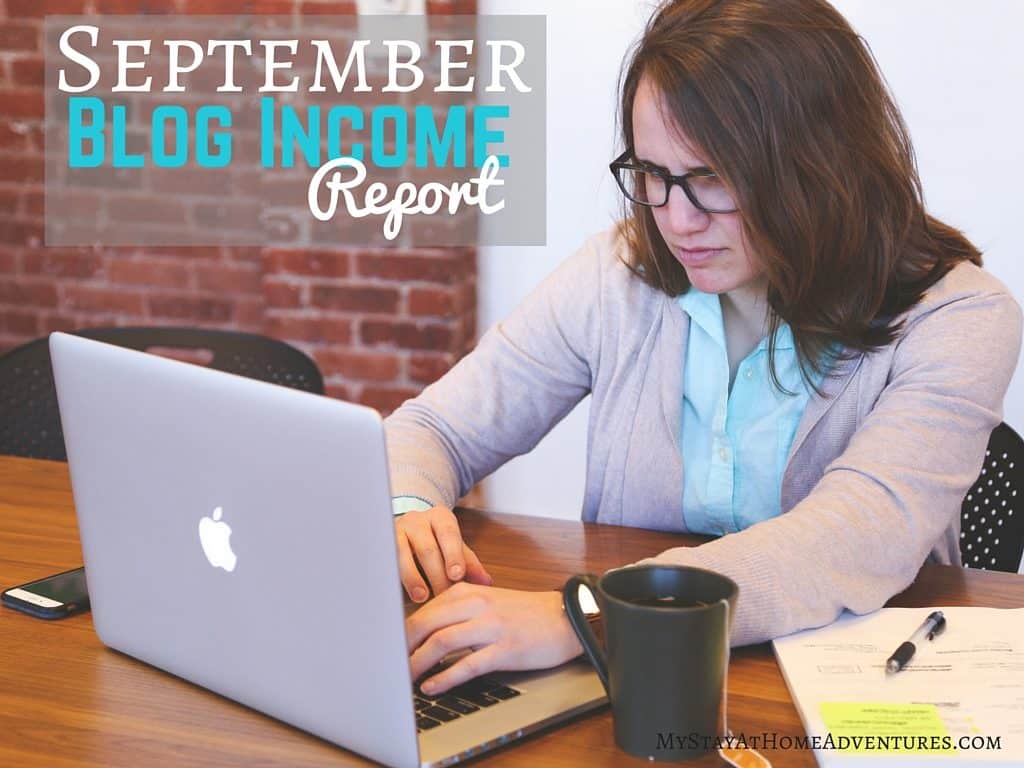 Another month gone, and a new one here! It is that time where I let you into my wallet and see how much My Stay At Home Adventures made for the month. Here you have September Blog Income Report and October goals.
September Personal Goals
This month was the beginning of new routines in our home and many firsts. It also ended with another personal blow that, once again, is making us question everything. I won't get into details yet, but we are fine and we will adapt and keep on going.
When I say 2015 is the year Joyce grew up, I mean it! Instead of dwelling on the negative side, I have to keep going and continue to move forward. I think a good dose of positivity came from the Pope's visit.
Listen, you don't have to be religious, nor catholic, to admit that his visit did good to a lot of people.
As far as how I am doing after losing my part time job, I am doing very well; again, I think things happen for a reason and yesterday proved what that reason is.
Work on the garden – Can we say half done? That's all I'm going to say, and with a hurricane approaching, I have no other alternative but to clean my garden up TOMORROW!

Continue to work on our new routine

– Lil Z is doing amazing, and I love the fact that he is thriving and loving his new school.
Date night with my husband – We are back to failing at this goal every month.
Blog Goals
The blog did amazing this month, and thanks to hard work and staying focused, I am seeing results. I think my problem is that I want change and I want it now. I have to be patient and focus on things that are important.
I also have to stop reading everything and start to implement everything I read as well. Though this past month, I have been reading Sarah Titus blogging e-books, and those seems to be working and motivating me.
I can't reach my goal by working a few hours. I have to work long and hard in order to reach where I want to be.
Focus on my blog and start increasing posts

–

I think this plan is working for me and I am seeing the results.
Start working on blogging challenges with my blogging groups – This didn't happened as planned, but we are working and supporting each other and I think the results are showing.

Take a look at my blog and see what is causing it to stall

– I really don't think my blog was stalling, I think I wanted more traffic and was impatient.

Finish my eBook and get over my nervousness

– The e-Book is finished. Where is it? Saved in my drive because I'm scared. HAHA!
 September Blog Income Report 
September Social Media Update
Pinterest  – 2941               

September –3337

Facebook – 3180             

 September – 4095

Twitter – 1370                 

 September –1454

Google + – 662              

  September – 666
Visits – 45,321
Pageviews – 56,138 Yearly blog goal REACHED!
Ad Network Income: $328.50
Affiliate Sales: $85.50
Sponsored Post – $80.00
Total September Site Income – $494.00
Now this is the money I received in my accounts.
Escalate Network – $00.00
Media.net – $131.70
Adsense – 115.65
Sponsored post – $80.00
Izea – 0.00
She Knows – $50.00
Total amount actually paid in September – $377.35
Total September Blog Expenses
This month I was careful with my spending and spent it wisely. I decided that I was going to spend money advertising, and I am seeing results. I will say that if you are a new blog, or a small blog like this one, stay away from advertising in Pinterest.
I suggest you start investing on increasing your likes and your engagement on Facebook. That's what's working for me and my blog, and I think it's a great investment. I am very open and honest on how it is working for me, and I will tell you that you need to stop worrying about reach when it comes to your Facebook page and start working on having an engaging page.
I do get clicks into my posts; I get my posts shared, and when you pay Facebook to promote your page, it WILL give your page a boost. I also suggest you join a Facebook blogging group too!
Add the additional monthly expenses:
BoardBooster – $10.00
Advertisement – $40.28
Canva – $00.00
P.O. Box Renewal -$0.00
Izea – $0.00
Giveaway – $20.00
Total Expenses – $70.28
October Personal Goals
Not going to create too much personal goals as October seems to be a busy month for us!
Get rid of clothing we don't need – It is that time to start looking for our winter clothing and start packing and sorting the cloths we don't need nor use.
Start doing some fall crafts with the entire family – I love fall and I think spending last fall doing wedding decorations is still in my blood. I want to spend time making affordable decorations with the kids.
Blog goals
Continue to promote the blog – I think this is working for me.
Revisit old posts – Time to look at old posts and edit and redo photos.
Publish my eBook – Let my fear go and just do it!!
There you have my blog income and my goals for this month. I am excited that I finally met my 50K page views! Thank you! How was your September?
The following two tabs change content below.
Latina mom of 4 married to wonderful Greek gentleman. Living in southeast PA and trying to juggle family and a household while trying to earn an income from home. Follow my stay at home journey as I discover how to earn money and save money so we can continue to live debt-free.
Latest posts by Joyce @ My Stay At Home Adventures (see all)