Why We Don't Buy Toys For Our Children
This post may contain affiliate links which might earn us money. Please read my Disclosure and Privacy policies here
You read the title, why we don't buy toys for our children and before you think of us as mean parents, we are not. Just read the post before you pass any judgment on us.
We love our children and we want to make sure that their needs are met. We want our children to grow up to be responsible people. When I was a single mom, I lost my home to a house fire. I mean lost everything, baby pictures, birth certificates, etc. We had no shoes, no clothing, no ID. This tragedy changed the way I view material things and for that reason I don't care much for material things. I know I post about saving money and toy coupons and the reasons are because I want you to save money on whatever you buy.
Not long after the house fire I met my future husband and father of our 2 boys. Fast forward to now, my home is clutter free and semi organized after having two little boys running around. I take pride that it doesn't take me long to clean my house. A couple of pictures embrace the walls of our home and the reason is because I don't have pictures of my daughter as a baby and the guilt of not having them prevented me from hanging pictures of my boys as newborns. Someday I'll get over that is a work in progress.
My children are the only grandchildren in both side of our family. As a former over spender who spoiled her only child for many years, I can tell you that the amount of toys my daughter had was insane. After the fire I was able to salvage her precious dolls and a few things, but the rest was destroyed.
When my first son was born he got toys. He seemed to receive toys from each member of the family. He had toys everywhere he visit, grandparent's house, and aunt's house. Bikes, cars, puzzles, all kind of toys are gifted to our son. The toy boxes seemed to start multiplying in our home. Birthdays and Christmas was like an explosion of toys all over the place.
During this time when my first son was born we were attacking our debt and trying to become debt free. While working on our July budget, we decided that we should not buy our kids (my daughter's birthday is August 3rd) any toys. This seem a bit harsh to some people, but if you think about it we didn't really have money to spend on toys when they both have enough to play with anyway.
We were in debt and trying to make it. If we don't have the money we can't get and honestly, another toy is not a necessary. Our children will survive if they don't receive a toy from us. A birthday should be about making that person feel special. We celebrate with a cake and their favorite food in our home every time someone has a birthday. Is not about toys or how many gifts you get on a birthday. Is about celebrating and making memories with family.
That's when we decided that we weren't going to purchase any toys at all. I became pregnant with our second son and the same thing happened on his first birthday. No toys. We celebrated big and made memories; it was simply a special day for my baby boy.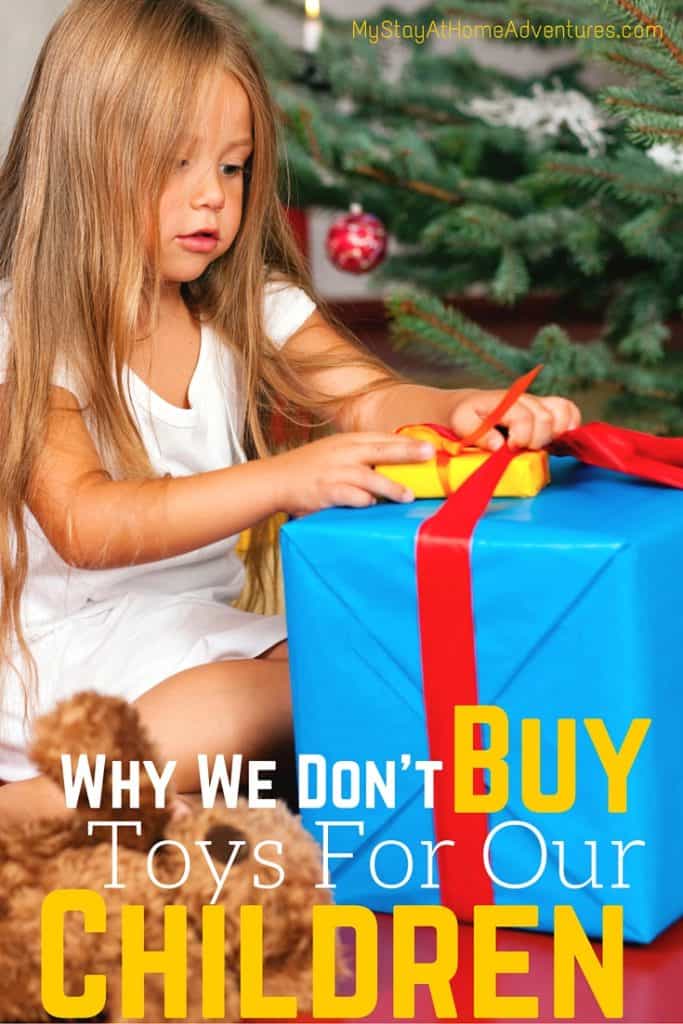 Did they receive toys from other family members? Yes, as much as we clearly state NO TOYS, grandparents don't listen! They know what we are doing and why we are doing it and they have cut down on all the toys they buy. When your garage is full of toys and you can't park your car there the point has been made! After the years they are seeing the point we are trying to make and cutting down tremendously on wasting money on toys.
Not buying toys doesn't make anyone bad parents. Being judge by the amount of toys you purchase your kids is ridiculous. The point we are making is that toys don't make our children happy. Toys don't make our children good people. We don't want entitled kids that think they get toys as rewards or whenever they want.
When we go to the store, I don't get them toys. I don't rewards their good behavior with a toy, good behavior is expected all the time. I don't want my children to feel that they are entitled to receive a toy from the store because they are behaving well.
I'm not saying I won't buy them anything but I think toys, especially when they have closets and basement full of toys, is not worth spending money on. I remember buying my daughter tons of toys for Christmas only for her to play with them for a few hours and never again. I worked so many hours and the guilt made me spent money on her. After the fire, things change for both of us and I think for the better.
I'm not saying parents should not buy toys for their children. If you are going through a financial crisis like we did when we made this decision to take control of our finance, you will understand. Your child will be OK. Need over wants, always.
Are the boys happy? Yes, they are happy. As much as we tell our family not to buy them toys, they still do on occasions. However, that doesn't mean they will have access to it. You see, we replace toys in our home every month or so. The toys that are in the basement come up and the ones in the rooms are sent to the basements. The boys think they are brand new toys and they play with them like it's their first time.
Once they outgrow the toys we will sell them or donate them. The amount of toys your children have doesn't mean you are a good or bad parent. Is what you teach them that does. We, as parents, overspend on toys for our children for some reason and don't look at the big picture.
Let's see how much you spend on toys this Christmas season and see how much time they will spend on toys. I can guarantee you that a simple box will be just as fun! 😉
Think of the clutter you will eliminate. Think of the money you will be saving, but most importantly think of the lesson you will instill on your children.