April Income Report and May Goals
This post may contain affiliate links which might earn us money. Please read my Disclosure and Privacy policies here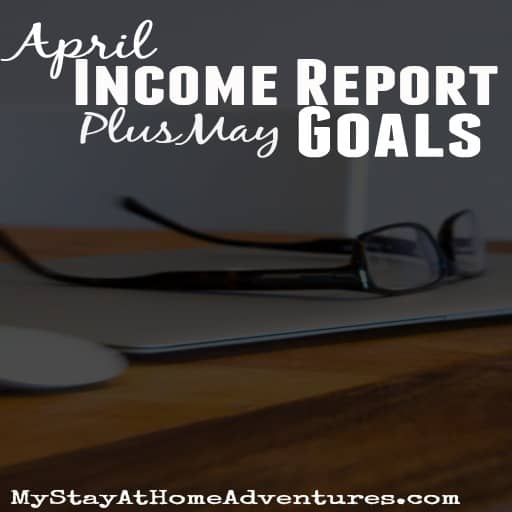 Another month into 2015 and before we start let me just say that I am suffering from a terrible stomach bug that my 4 year old shared with us last week. For some reason mommy has it the worst. April income report and May goals post has taken me a bit to finished, like 4 days and please avoid the editing. I'm just trying to make it through the day!
April was a month of good, bad, and worst. My parenting skills have been tested to the max and somehow when you stay positive things will work itself out. Thanks to focusing on what's important and prayers from family and friends we are doing better. As far as My Stay At Home Adventures blog, it saw an amazing increase only to realize that Google Analytic has "issues" with Facebook so the pages views or clicks don't show the same. I'll explain in a few.
Also found out that Pinterest took a nosedived in the middle of April and what made me happy was that it wasn't just me. Still the page views were super as much as GA (Google Analytic) wasn't on my side the income shows it.
Before I continue on about my blog let's go over April's goal first.
April Income Report and May Goals
April Goals
April was a very reality check kind of month for us in our home, but we decided to continue on with our goals we set for ourselves earlier this year and not let fear get in our way. You can let worries and fear guide you for this reason we decide to always sleep it in and wait because making any decisions. This goes with our finances as well.
March Personal Goals
Continue spring cleaning – This was sort of a fail. I didn't even finished our bedroom. The truth is that I was busier and not anticipating how busy I was going to be. I would work on this project and finish it if I had 10 hours added to my days. It's hard when you have a 2 year old "helping" you clean.
Date night – Another month where we didn't get to go out and spend some time together. We did spent time away from each other. Haha! I had a friend's wedding to attend and he went to see the Avengers with his friends.
Start walking everyday – If I walked 2 times this month it was enough. With sick kids, flat tires (no air pump to fix them) it seemed like April was full of just surprises.
Take a blogging break – I took a few days off.
Drink more water – done.
As you can see April completely sucked for me when it came to our personal goals. We are sitting here and evaluating and learning from what happened to us. I'm not going to see this as a negative just a learning experience.
May is here and honestly this was the month last year when our budget took a bust because it was full of family events. We have Mother's Day, we have birthdays, we have graduations, we family gatherings.
Just this weekend we had a gathering and on Friday my cousin graduates from college. Today is my mothers in law birthday and its only the first week of May.
Blog Goals For April
Increase my page views to OVER 25K – Heck yah! Let me tell you how this didn't come with the happiness I was expecting. As I found out that GA didn't count Facebook views. Meaning it's not accurate when it comes to counting hits coming from Facebook. If your site is getting major hits Google wants you to create goals. That's what they did to me a few days after this post went viral. This traffic came when a post was shared at a popular Facebook page and I was getting major traffic. I had many email sign ups, and a few comments. According to Google Analytics this was the lowers page view of the month!
I was so sad about this that I emailed them about it. Let's face it when you are looking to sell your site to others, they look at GA to evaluate it.Seeing how the post was continuing to get page views and reactions and Google not recording it was upsetting for me.
What GA did for me was create a goal to keep track of it and it also gave me a more detail recap of what my readers were doing. With our calculation we predicted we almost reached 50,000 views. Another thing I recommend is for you all to create goals and track your page views and what your readers are doing on your site. Honestly, I never thought about creating a goal and when I researched it seems that this is something we all should be doing.
Again, what upset me the most about it is that many other companies use GA to rate your site and this major traffic that lasted a few days was never recorded. Before anyone says don't look at your numbers, tell me a time when you didn't look at your numbers when you started blogging? Thank you!
Reach out to do sponsor posts – Eh.. again, that didn't happen. My excuse is the one I gave above. 😉
Open my blog to guest post – Didn't happen and honestly was kind of not on my top list of things to do.
Leave blog income to $125.00 – "I'm not going to stress over these. I have to pick my battles and I think sometime I want to do it all." HA! Let's look at my April income breakdown shall we?
Ad Network Income: $129.76
Adsense – $

39.58

(down 3.48%)
Media Net – $51.44 – Highest income so far.

Infolinks – $38.74 – Highest income so far.

Escalate Network – $60.54 Highest income ever.

ShareAHolic – $5.00
CapitalOne360 – 00.00
EBA – $388.80
Total April Site Income – $584.10
Now this is the money I received in my accounts.
Escalate Network –

$37.11

(March money)
CapitalOne360 – 00.00
Google Adsense – 00.00
Media.net –

$100.77
Total amount actually paid in April – $137.88
This doesn't cover the expenses I had with renewing my .com name and advertisements. I know many people don't want to spend money on their blog but since I decided to make this blog my business I have to invest money into it. I am seeing results and because the blog is making money I am able to cover the expenses with the money its making. My total expense for April was $72.00. The advertisement will be charge in May.
April Social Media Update
Pinterest Followers –

1454

  April– 1153
Facebook –

1297     

               April – 1107
Twitter –

757    

                     April – 663
Google + –

647 (BP) 89   

    April – 647BP- 83
These numbers are as of May 3rd, 2015. Nothing but up as you can see.
As you can see the numbers are going up, except for Google+. I'm not focusing much on Google+ as I should. Again, I have to pick my battles.
May Goals
May Personal Goals
Get back to walking every evening. – Since I feel terrible at the moment this sounds harsh. LOL But I have to get back to being active and taking my daily walks.
Date night – This will happen this month!
Start planning our family outings for the summer. – I'm excited about this. Our son will be 5 this year and we would love to do something special with him. He has been improving since starting school a few months ago and I am truly enjoying these moments.
Go over our budget – Since summer is coming up and we have been making some extra income we need to go over our budget and see where we go from there. We have major plans for the end of the year and we want to sit down and see which direction we want to go.
May Blog Goals
Not going to look at GA – Google Analytics can kiss my behind after the rollercoaster of emotion it gave me in April. I need to focus on finding more income and I want to work on some other projects as well. Anyone hiring? 😉
Find a great online course to improve my blogging techniques – I have signed up to free courses and challenges to learn more about blogging. Though some are good. Some are the same thing as others.
Focus on growing my Facebook – I have been focusing so much on Pinterest and honestly it bring the majority of my traffic. Since discovering how much traffic Facebook can bring as well and using my Google Analytics goals I can see that almost every post I post on my Facebook page are getting clicks. My revenue is growing thanks to those Facebook clicks. Some of my EBA income came from Facebook.
Facebook groups – In April I had to sit down and evaluate what Facebook groups were working for me. Not every Facebook blogging group was working for me. In May, I will continue to clean house and work with my new tribe to get my business going. I will participate in groups that are helping me and my blog grow.
So there you have my goals for the month of May and as you noticed I didn't go over income goal for May because there's no way this girl will be making over $500 in May. I will continue to find ways to earn more money but the sweet money from EBA won't be there next month.
How was your April? Did you reach your goals? What did you learn from April that you will do differently in May?