Mofongo with Sausage – A New Holiday Tradition
This post may contain affiliate links which might earn us money. Please read my Disclosure and Privacy policies here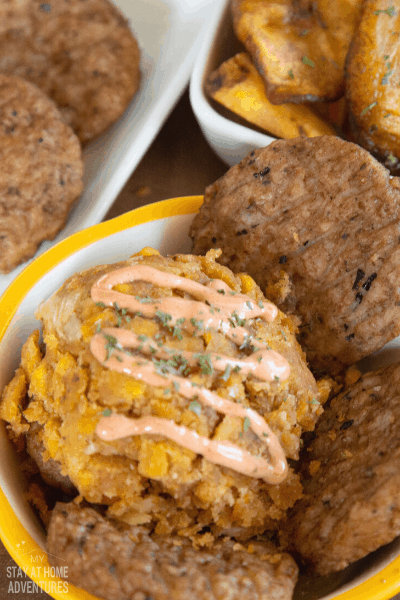 Tyson Foods, Inc has sponsored this post. All thoughts and opinions are my own.
Mofongo is a traditional dish found in the Caribbean. It's made with green plantains and served warm with fish, meat, or anything you and your guests desire.
Today, you are going to want to head over to your local Giants Grocery store and grab a package or two of Jimmy Dean® Roll Sausage and/or Jimmy Dean® Fully Cooked Sausage Patties to make this mofongo recipe. I promise you this.
Let's begin ..
As the holiday season approaches and family starts arriving for gatherings and festivities, creating traditional Puerto Rican dishes is made easy nowadays thanks to Giants Food Stores. What we love about Giants Food Stores is how they stock their store with international items that remind us of home. Clean and exceptional value is what we loved back home, and you will be able to find all the fresh ingredients to make this Mofongo at the right price and in one location.
There is no reason to shop around, hoping to find green plantains or yellow ripe ones, when Giants has everything you need.
Mofongo served with sausage is a family favorite—and paired with the delicious taste of Jimmy Dean® Sausage? You have a winner.
For this recipe, we used Jimmy Dean® Fully Cooked Sausage Patties. If this is your first time creating this recipe, we recommend using the fully cooked sausage to cut your time in the kitchen.
Mofongo must be served warm, and Jimmy Dean® Fully Cooked Sausage Patties are just perfect as a pairing.
What are the ingredients to make Mofongo?
To make Puerto Rican Mofongo, you are going to need the following ingredients:
Green plantains
Ground pork
Garlic cloves
Olive oil
If you are frying the plantains, we recommend using 2 cups of cooking oil.
To make the Mofongo served with Jimmy Dean Sausage and fried Green Plantains, follow the following steps:
Peel the plantains and cut into one inch diagonally—please keep reading to see tips for boiling plantains if you're not interested in frying!
Using a medium bowl, add about 4 cups of water and 1 Tablespoon of salt. Let it soak for 15 minutes.
If you are frying the plantains, heat a frying pan and add the oil.
While the frying pan is heating up, drain the water from the bowl and make sure the plantains are dry before adding them to the hot pan.
Add the plantain carefully into the pan and fry over medium-low heat until the plantains are a light brown, about 15 minutes. Remove and drain the excess oil.
Meantime, while the plantains are frying, cook Jimmy Dean® Fully Cooked Sausage Patties or Jimmy Dean® Roll Sausage according to the directions found on the package.
This is where the fun part begins, and having family around to help with the process is what I love the most.
Using a mortar, add the olive oil and garlic and smash until it is well blended. Pour the mixture into a small bowl to use for later.
Add 3 to 4 pieces of fried plantain to the mortar. Then, add ground pork and a few drops of the garlic mixture and smash them together well.
Depending on the size of the mortar, you might want to add more or less of the ingredients.
Shape the Mofongo into any desired shape you want and serve warm with the sausage.
How to Boil Green Plantains to Make Mofongo
Peel the plantain and cut them into one inch diagonally.
Add about 3 cups of water into a pot and bring it to a boil.
Add the plantain and cook it for about 20 minutes until the plantains are tender.
Mofongo with Sausage and Fried or Boiled Plantains is ready to serve!
As you can see, making Mofongo is a fun family tradition and a delicious one too. Once you taste the sweetness of the Mofongo with the sausage, you are going to want more. You can add sweet plantains with the sausage as well.
Mofongo With Sausage Recipe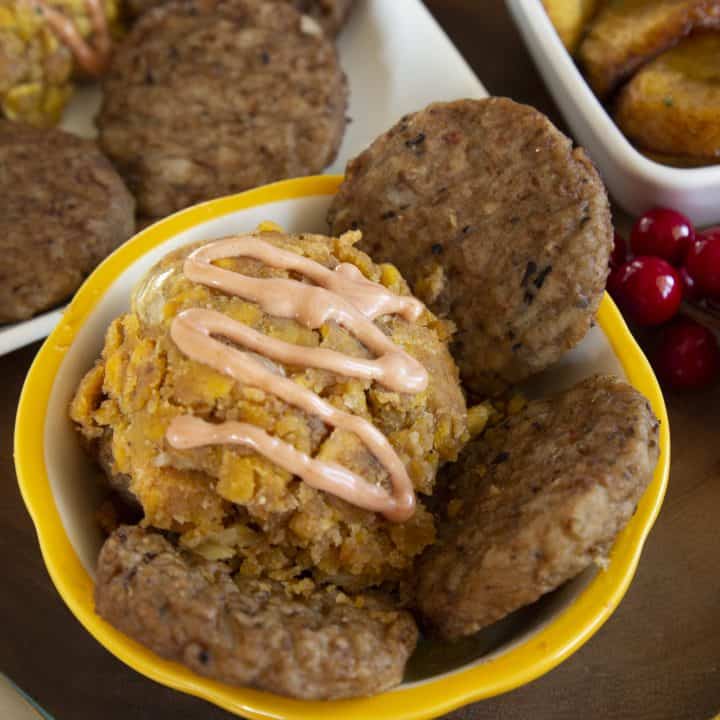 Mofongo With Sausage 
Mofongo is a traditional dish found in the Caribbean. It's made with green plantains and served warm with fish, meat, or anything you and your guests desire.
Ingredients
3 green plantains
1/2-pound pork ground
3 garlic cloves
1 tablespoon olive oil
2 cups of frying oils
1 package of Tyson Jimmy Dean® Roll Sausage or Jimmy Dean® Fully Cooked Sausage Patties
Instructions
Peel the green plantains and cut them diagonally into slices of approximately 1 inch.
Soak the plantains in 4 cups of water with 1 tablespoon of salt for about 15 minutes.
Drain.
On a frying pan, add the frying oil and heat.
Once the oil is hot, very carefully add the plantains. Remember to dry the plantain slices before placing them in the hot frying pan.
Cook the plantain slices on moderate medium-low temperature for about 15 minutes until cooked through without making them too crispy. You want them to turn a light brown. Remove them from the pan and drain the excessive oil.
Using a mortar, grind the garlic and olive oil well. Remove them and set aside.
Add 3 to 4 slices of fried plantains into the mortar, add some ground pork, and grind.
Add the garlic olive oil mixture and mix well
Cook the sausage according to directions on the box.
Remove the mofongo from the mortar, shape them to your liking, and serve warm.
Nutrition Information:
Yield:

3
Serving Size:

1
Amount Per Serving:
Calories:

1947
Total Fat:

174g
Saturated Fat:

17g
Trans Fat:

1g
Unsaturated Fat:

148g
Cholesterol:

88mg
Sodium:

365mg
Carbohydrates:

80g
Fiber:

6g
Sugar:

34g
Protein:

27g
These nutritional calculations might not be accurate. Please speak with a licensed nutritionist to assist you.