This Instant Pot 3 Meat Ragu Sauce is so amazing you are going to love making this meat sauce recipe for sure! Now hear me out, this Bolognese sauce is full of flavor and if flavor is what you are looking for this is it.
What I love about this instant Pot Meat Ragu Sauce is that if you are low carbing then skip the pasta and eat it with Zoodle instead. For this 3 meat ragu sauce recipe we use our Instant Pot, but if you have another electric multi-cooker you can use it too.
This ragu sauce recipe makes a lot and you can freeze the rest for later which is a win for us! Remember that I feed a family of 7 (my dad included) and we cook big or we go home. 😛

How to Make Instant Pot 3 Meat Ragu Sauce
To make this Instant Pot Meat Sauce recipe you will need to gather the following ingredients:
olive oil
large onion
large carrots
 cans of crushed tomatoes
6 garlic cloves
can of tomato paste
sugar
salt
black pepper
lean ground beef
ground veal
ground pork
dried rosemary
dried thyme (or 2 fresh sprigs)
dried oregano
bay leaves
zucchini
beef broth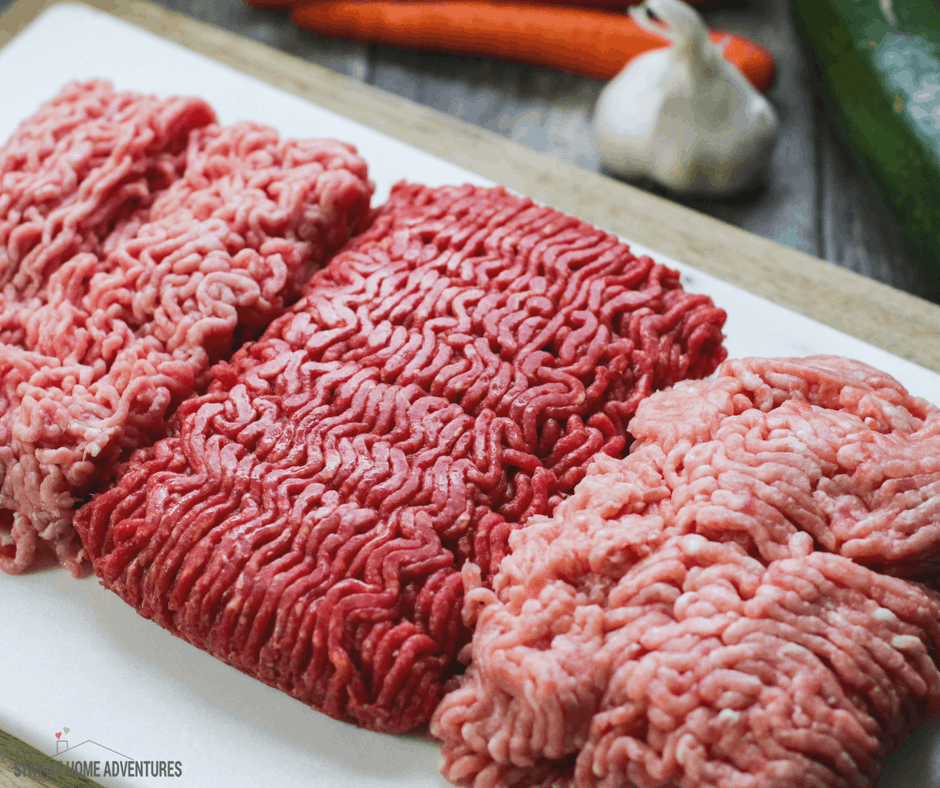 Here's how to make this Instant Pot 3 Meat Ragu Recipe.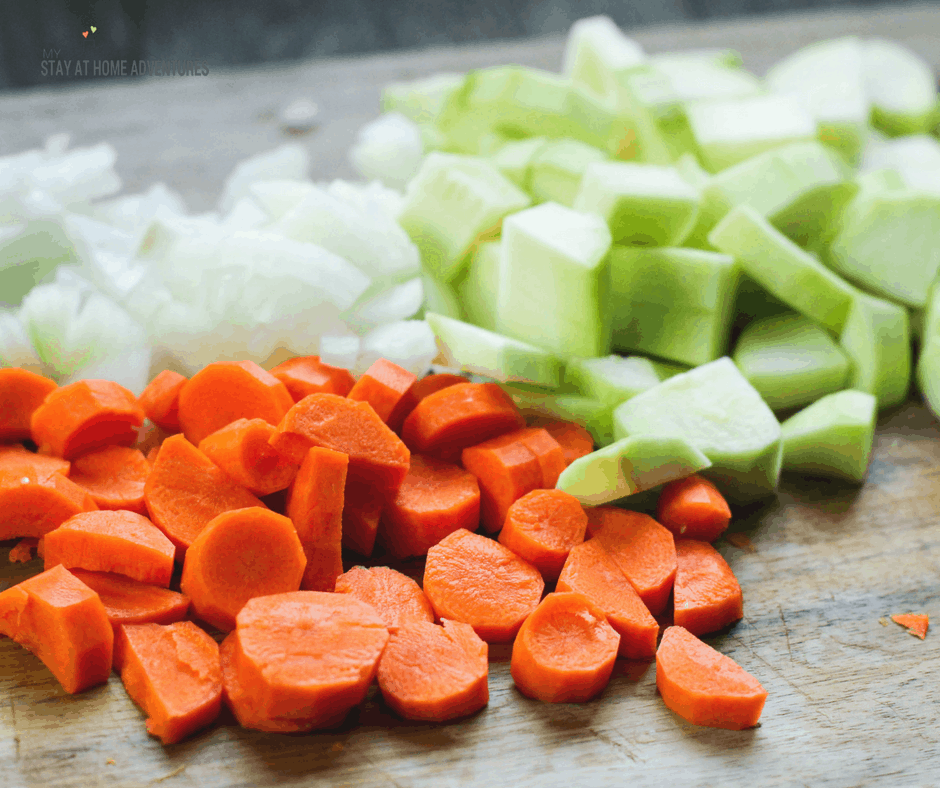 Once you have gathered your ingredients let's start cooking using our Instant Pot.
Let's begin!
VERTICAL IMAGE
Step 1 – Press the Saute button on your Instant Pot.
Step 2 – Add the oil and wait for the olive oil warm up.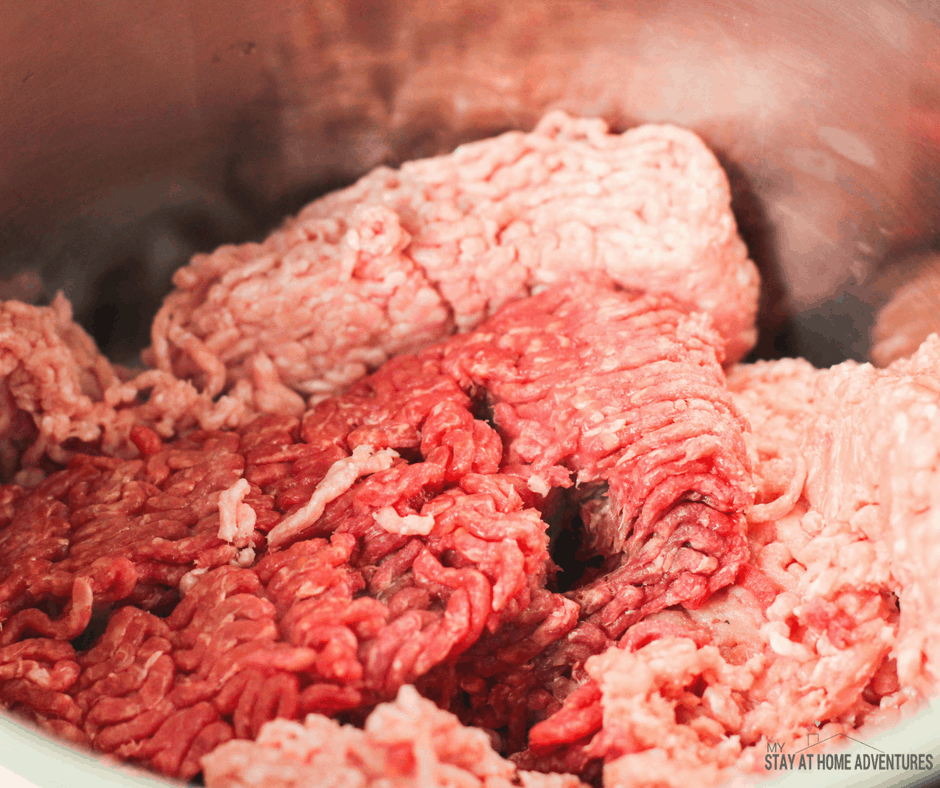 Step 3 – Once the olive oil is warm add the meats and onions and start browning them.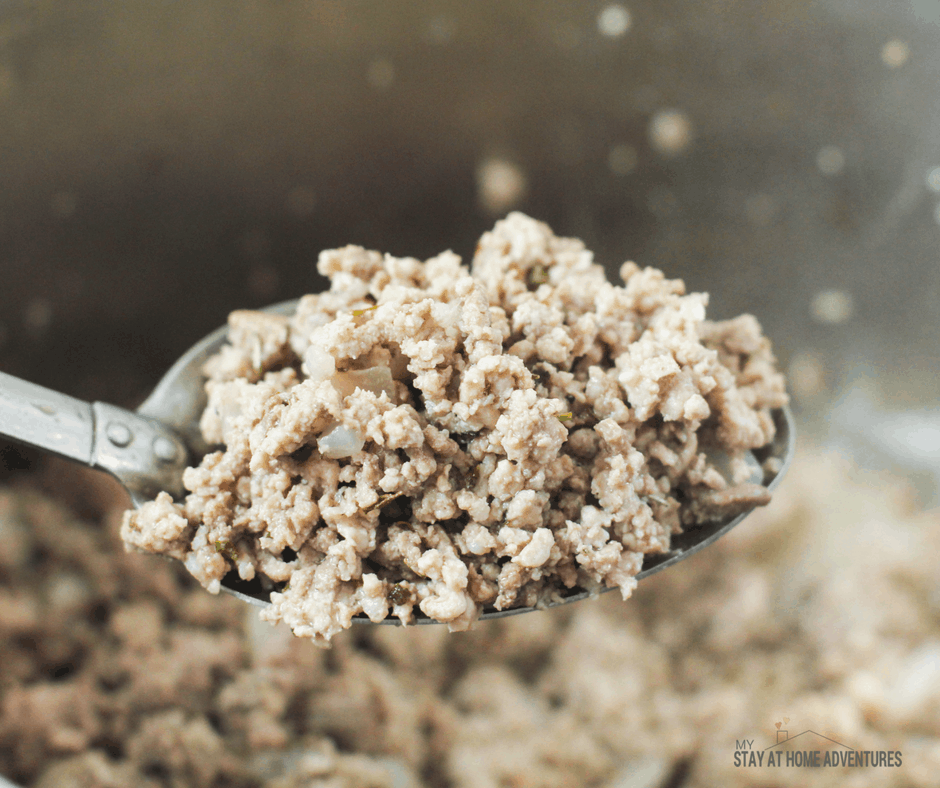 Step 4 – Once the meats are browned, drain the liquid.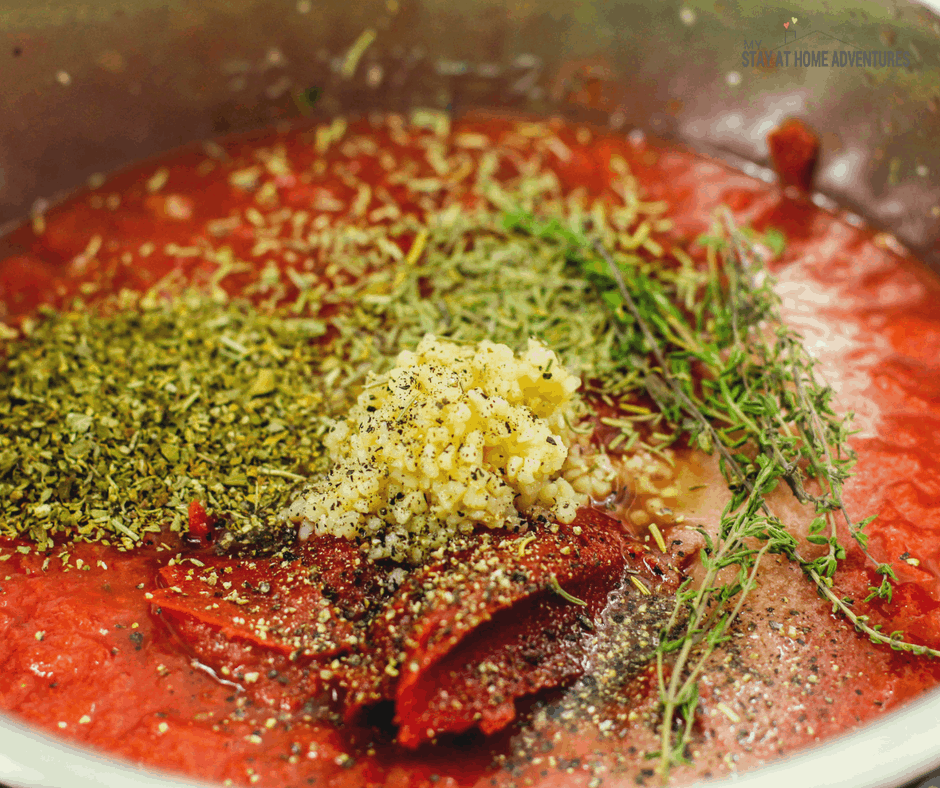 Step 5 – Add the rest of the ingredients, stir and cover.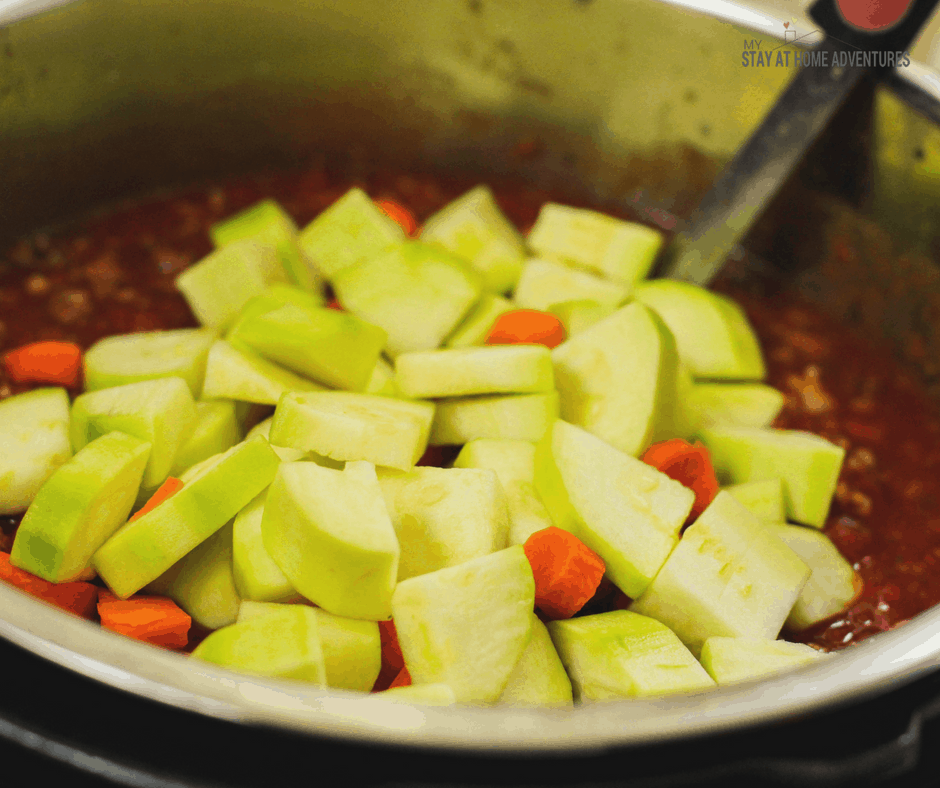 Step 6 – Place the lid to sealing mode.
Step 7 – Press Manual, high for 15 minutes.
Step 8 – Press cancel and natural release.
Your Instant Pot 3 Meat Ragu is ready to serve! Serve with your favorite pasta or Zoodle.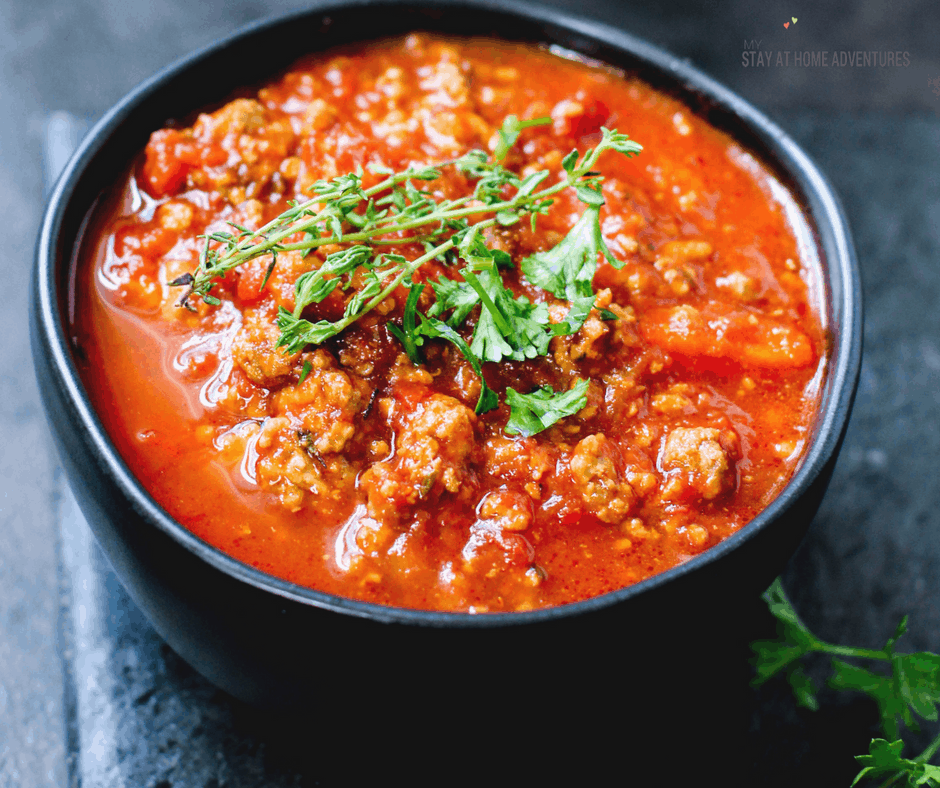 How to Freeze Homemade Meat Sauce
You can keep leftover homemade meat sauce in the fridge for about 3 to 4 days. To make it last longer and because we love to freeze food, we freeze this recipe by placing the sauce into a freezer friendly ziplock bag or mason jar.
Place the meat sauce in the freezer and make sure it is stored properly. Please make sure you date the jar or freezer bag and make sure your freezer temps stay at 0 degrees Fahrenheit to make the sauce lasts longer.
If you can't keep the temp at zero read the following line.
We recommend using the meat sauce by six months and the reason is in my opinion the quality and taste might not be the best. Again this is just my opinion.
To cook this 3 meat ragu recipe just thawed the meat sauce in the first and reheat until is hot.
Ready to make this Instant Pot Ragu Recipe? Here's the recipe card with the exact measurements.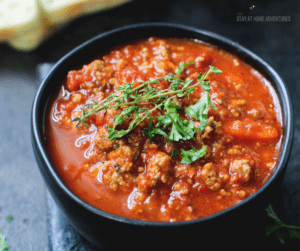 Print
Instant Pot Three Meat Ragu Recipe
Ingredients
¼ cup of olive oil
1 large onion, chopped
2 large carrots, peeled and chopped
4 28 cans of crushed tomatoes
6 garlic cloves, minced
1 can of tomato paste
1 tablespoon of sugar
3 teaspoons of salt
1 teaspoon of black pepper
1 pound lean ground beef
1 pound ground veal
1 pound ground pork
2 teaspoon of dried rosemary
2 teaspoon of dried thyme (or 2 fresh sprigs)
2 teaspoon of dried oregano
2 bay leaves
1 zucchini, chopped
½ cup of beef broth
Instructions
Press the saute "more" mode for 18 minutes. Add in the oil, and once warm add in the 3 meats and onions. Brown the meats, and drain once browned.
Next, add in the remaining ingredients, stir well and cover. Place the lid to sealing mode, cook high pressure for 15 minutes. Press cancel once time is up and allow to naturally release.
Notes
This made a large batch, save leftovers in freezer bags for future uses. I also used the larger Instant Pot. This recipe can be halved for smaller Instant Pots.
More Instant Pot Recipes
Your turn: Your read Instant Pot 3 Meat Ragu recipe and now we want to know what are your thoughts, questions, or ideas? Share it with us!
The following two tabs change content below.
Latina mom of 4 married to wonderful Greek gentleman. Living in southeast PA and trying to juggle family and a household while trying to earn an income from home. Follow my stay at home journey as I discover how to earn money and save money so we can continue to live debt free.
Latest posts by Joyce @ My Stay At Home Adventures (see all)