How to Grow Tomatoes from Seed (A Beginner Gardener Guide)
This post may contain affiliate links which might earn us money. Please read my Disclosure and Privacy policies here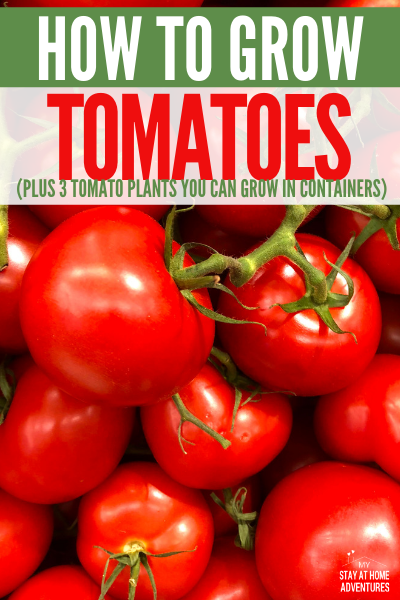 How to Grow Tomatoes from Seed
Thinking of starting a garden and growing tomatoes? My friend, you are in luck because today we are going to talk about how to grow tomatoes from seed.
Yes, we are going to talk about how to grow tomatoes from seeds to fresh tomatoes!
So let's begin, shall we?
As a beginner gardener myself, growing tomatoes were thought to be a challenge. I mean seriously, I had no clue how to start a garden but decided to put fear aside and go for it.
Now, I made some beginner gardeners mistakes myself but still enjoy my garden that season. And if you worried about not having enough space to grow tomatoes, you will learn how to grow tomatoes in containers too.
But more about that later.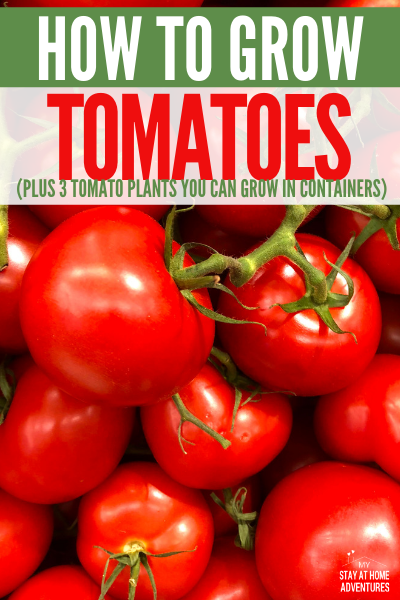 How to Grow Tomatoes from Seed
Growing tomatoes from seeds as a beginner gardener is a personal choice since you can purchase plants to transplants from stores like Walmart, Home Depot, Lowes, and even your local farmer's market.
Many gardeners prefer this method of buying tomato plants because you can directly plant them in your garden or a container.
But since this post is about growing tomatoes from seeds, we are going to talk about this hands-on process instead.
Remember that if you decide to grow tomatoes from seeds, it will take more time then buying the plants at the store, but so worth it.
You see experiencing the process of witnessing your tomatoes grow from seeds to a fresh tomato plant results in such a sense of satisfaction you just have to experience for yourself. You just wait!
Read more about seeds – Heirlooms vs Hybrids (All You Need To Know)
How hard is growing tomatoes from seed?
Growing tomatoes from seeds is not difficult at all, believe me, but you have to do some research and know more about the kind of tomato seeds you want to plant.
What kind of tomato seeds do you want to grow?
Would you get excellent results with hybrid tomato varieties?
The answer you won't because hybrid seeds don't grow true to the parent plant the way an heirloom would.
To learn more about tomatoes: hybrid vs. heirloom click here or visit an online gardening forum or a local gardener.
Today we are going to suggest you are going to start with favorite tomato heirloom seeds and now you are ready to follow the tips below.
When you follow these directions below to grow tomatoes from seeds, you will have the healthiest and gorgeous fresh tomato plants you have ever seen.
6 to 8 weeks before the last spring frost
To start the seed process, you will need to this indoors and in about 6 – 8 weeks before the last spring in your area.
To find out you need to do an online search and find out the last frost in your zone. Now if you don't know what your zone is head over to USDA Plant Hardiness Zone Map type your zip code and then find.
This will give you your zone number. I am zone 6b and what I am going to do next with this information is do a quick Google search or whichever browser you use and type this: last frost in zone 6b and it will show me the last frost date in my area.
Now, remember to add your zone number, not mine I was giving you an example.
the Another trick you can do is search for consistent 50-degree Fahrenheit night temperatures will begin and work back from that estimated date and sow your seeds then.
Remember to sow them 6 to 8 weeks before that time!
What you need to get started
To get starting growing your tomato seeds, you will need:
Tomato seeds
Light
Fertilizer
Now that you have several containers or trays, soil or pellets, and seeds to begin you will moisten the container or pellets. I started gardening using peat pellets and then bought soil, but you can do either one.
After you have moistened your soil or pellets, you are going to make very shallow ¼ inch deep rows using a pen or pencil.
Add the seeds to each pellet or if you are just using small pots plant the seeds about ½ apart.
Using your thumb and forefinger, very lightly pinch together the soil to cover them. About ¼ inch of soil to cover the seeds.
Related posts:
Moisten the soil lightly and place the trays or pots in a well-lighted area that reaches 75 to 80-degree Fahrenheit*.
*If you don't have a warm area try investing in seed starter kit or light.
Back to the post.
Once the seeds begin to sprout you need to add a strong light source or natural sunlight.
About a month later you will notice the that your seedlings are showing signs of a tomato plant, their identifiable leaves are appearing.
If you started your seeds in one container, it is time to start transplanting your seedling to a bigger container, and this process is called "pricking out."
Using a fork or spoon scoop each tomato seedling and transplant them into a container 3 to 4 inches in diameter that contains good value moistened the potting soil.
After planting the tomato seedlings water them and when the temperatures hold is around 55-degree Fahrenheit move them outside into the sun for a few hours to harden them off.
This is a gradual process as your seedlings are not used to the outdoor weather, and sunlight exposure needs to be increased daily over a week.
Following this gradual process, your tomato plants are going to be able to be outside all day.
Transplanting your tomato plants
Before we go into transplanting detail let's talk about 3 great tomato varieties to grow in container gardens, shall we?
Now if you are limited on space and want to grow tomato plants then good news, tomatoes are great to grow in containers.
Container gardening is a great way to garden and easy to care for, and they don't seem to look more intimidating than having a yard garden.
Before we continue may I suggest you read more about what vegetables you can grow in containers by clicking this link.
Growing tomatoes in containers make them more portable and easy to take care of. Remember that tomato plants should get 10+ hours of sunlight each day.
Not all tomato plants do well in containers and to help you make sure you pick the right tomato to grow in containers we have three.
This variety of tomato plants taste great and yield well in small spaces.
The Japanese Black Trifele is a pear-shaped fruit with colors as deep as mahogany which is a sign that it is ripe. It tastes great and grows well in containers.
The Sungold is a favorite cherry tomato and again, perfect for container gardens.
Gardening Tip: Start one or two extra plants about three weeks after your first plant for fresh, sweet cherry tomatoes all season long.
The highly versatile Brandywine tomato is perfect for container growth.
You now have 3 tomato plants that are great for container gardening so back to transplanting.
Before your plants are ready to be transplanted to the garden or container you need to make sure that the soil pH for acidic or alkaline.
Get a soil tester and make sure your soil pH reads between 6.0 to 6.8 for tomato plants to be planted there.
Home soil testing kits can be purchased at gardening and home improvement stores, and online.
Now that you checked the pH of the oils and it right, it is time to transplant your tomato plants. You are going to remove bottom branches and plant your plants just below the bottom leaves.
This process will ensure that you have a healthy growing tomato plant and a strong root system. Once you plant them make sure you add support and water gently.
Water them regularly and enjoy your tomato plants.
Conclusion
As a beginner gardener growing tomatoes from seed is a great way to start your garden adventure. They are simple to use and can grow in containers.
Your turn: You read how to grow tomatoes from seed and learned what tomatoes do well in containers what are your tips and thoughts? Share it with us.
Don't forget to enroll in our free gardening course for beginners!
Gardening is such a great thing to do and I encourage you to at least start small. Gardening saves you money, it's good for you and your family. With these tips, you can succeed at starting your own garden for the first time.

To help you get started with your gardening adventure and help you not fail this season we are offering a free gardening course for beginners. To get this email course simply sign up using your email address!
When it comes to gardening, what other helpful tips do you have to not fail at gardening?

Love gardening posts? Check these posts out: