How to Season a Turkey
This post may contain affiliate links which might earn us money. Please read my Disclosure and Privacy policies here
Learning to season a turkey is essential. A flavorless turkey is almost as bad as a dry turkey. Unfortunately, there are a lot of flavorless bird offenders out there. Their turkeys may be incredibly juicy, but the flavor is missing. It's really disappointing.
Somewhere along the way, people became afraid to season their turkey. And here's the thing. A turkey is a huge bird. A sprinkling of seasoning on the skin isn't going to cut it. Your bird needs to be seasoned inside and out. Let's take a closer look at ways to season a turkey.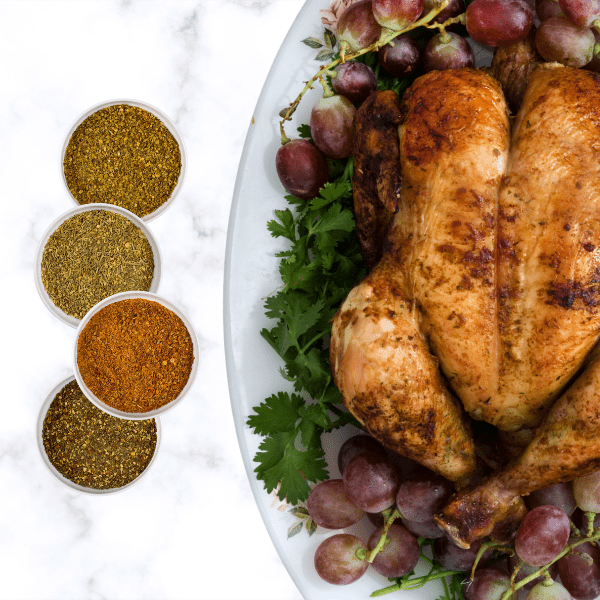 What can I put in my turkey for flavor?
If you're honestly talking about the inside of the turkey, there are a number of things you can chuck in there that will aromatically season turkey as it roasts. Onions and celery are great. You can also add poultry seasoning.
Fresh herbs are another great addition. You can even add those under the skin. You can also stuff in garlic. If you're thinking about putting stuffing inside your turkey that you'll eat later, skip it. Did you know that the turkey will be overcooked once the stuffing is at a proper temperature? Cook your stuffing in a pan and stick with a bird loosely stuffed with aromatics.
Puerto Ricans flavored their turkey differently, and you can learn about How to Make Pavochon.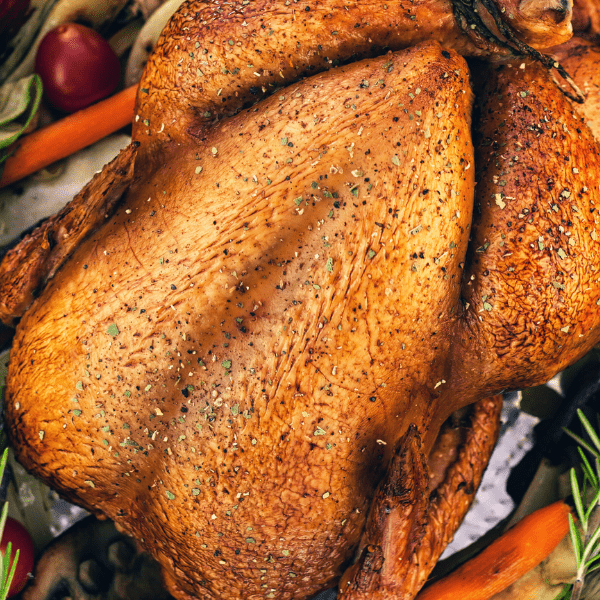 When should turkeys be seasoned?
It depends on the seasoning method you're using. For example, you want to brine a turkey for at least 12 hours before cooking. When it comes to seasoning with dry seasonings, you can season the night before or as far as two days in advance. If you're injecting the turkey, doing so at least a few hours in advance will give the injection time to work its way into the meat.
Should I season my turkey before cooking?
As a general rule, a turkey should be seasoned before cooking. If you're seasoning the turkey AFTER it's done. You want the seasonings to have time to mingle with the meat. This is why seasoning ahead of time is suggested. If you can, inject your turkey and rub it down with seasoning the night before. If you have even more time, brine your turkey for at least 12 hours and then add a rub before cooking.
Which herbs go well with turkey?
Fresh herbs that work with turkey include sage, rosemary, thyme, and parsley. Sage is the go-to herb of the Thanksgiving season. A nice bundle of herbs shoved inside the cavity will aromatically season the turkey as it cooks.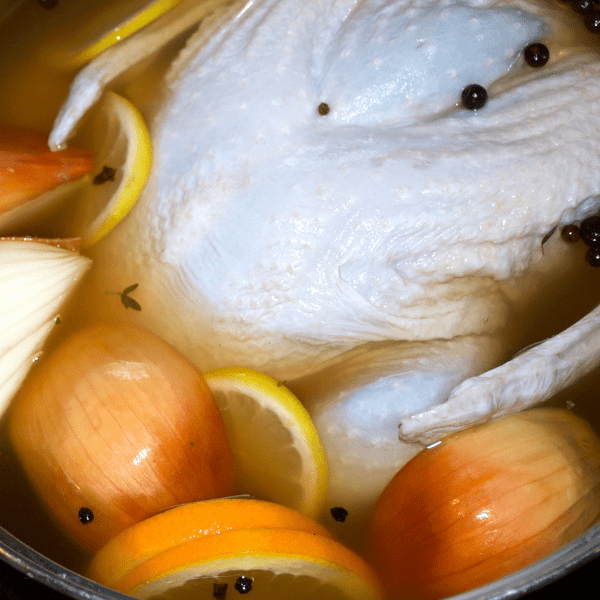 Methods to Season Turkey:
Brine
One of the most popular ways to season turkey is brining. A turkey brine consists of liquid, herbs, salt, sugar, and seasonings. There are many variations of a turkey brine. Usually, you will boil the ingredients to dissolve the salt and sugar and then cool down with ice in a large container before adding your turkey. The turkey will then be refrigerated in the brine for several hours or up to 24 hours. You will take the turkey from the brine, pat it dry, add seasoning to the skin, and cook.
Injection
The injection method is another popular way to season a turkey. An injection is usually made with melted butter and spices. You mix together and then fill your injector, inserting it every few inches until you have injected the entire bird. Do this ahead of time, giving the turkey time to soak in the seasoning before seasoning the outside and cooking.
Rub
A rub is often used in addition to brining or injecting. There are a number of rub recipes out there, and you can find a flavor for almost any palate. You might want something with a barbecue-style flavor if you're smoking the turkey or something more traditional if you're roasting the bird. Rubs can be made well in advance, so you have one less thing to worry about during the big day.
Stuffing
Last but not least, stuffing a bird with aromatics is a great way to add flavor. You can add onions, celery, garlic, fresh herbs (rosemary, thyme, parsley, and sage), and poultry seasoning. If you're adding fresh herbs, you'll want to switch to just salt and pepper instead of the poultry seasoning.
No one wants a flavorless turkey. Whether you brine, inject, rub, or stuff your turkey, you can add great flavor without a lot of work. Once you taste how flavorful turkey can be with just a few extra steps, you may want to make turkey more often than just during the holidays. Not to mention your guests will be surprised at how much better the turkey is this year.