Having One Car Saves You Money!
This post may contain affiliate links which might earn us money. Please read my Disclosure and Privacy policies here
Having One Car was originally posted Aug 8, 2013. This was when we were trying to pay my last debt after leaving my full-time job. I wanted to update a bit and share it with my new readers who are in the middle of their financial journey!*
Having one car sucks.
Having one car means I can't go anywhere at any time.
Having one car makes me depend on others.
Having one car is not going to work for us!
These were my thoughts when we decided to get rid of our second vehicle a few months ago. My family and friends couldn't understand why we decided to do something like this. I mean, we have children, and what happens if there's an emergency?
The reality is that having one car has saved us money, changed the way we did things and made us realize that we can accomplish anything we set our minds to do.
We are always told that having more than one car is the right thing because it works. But financially having more than one car when you are struggling financially makes no sense! How many cars should a family have?
Now please remember that I am a stay at home mom, and we did have 2 cars when I was working; because of our debt journey and my career move, we decided that having a second vehicle was not working for us.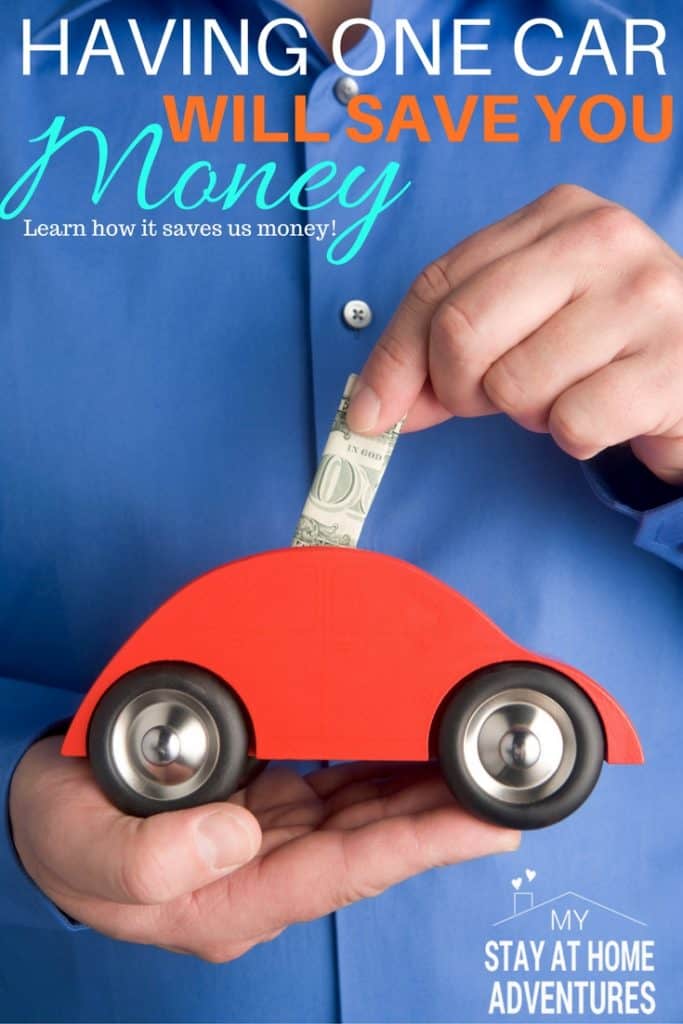 How does having one car help save money?
We save money on car insurance.
We save up on gas.
We save up on car maintenance.
We save money on overspending when we go out.
We save money on yearly car inspections.
Why having one car works.
We've done it before. Growing up, we only had one car. We moved to the US, and we didn't have a car for about a year and a half after moving to the United States. We managed pretty well. We took public transportation and walked when needed.
I know it was pretty rough for my parents during that time, but they had to save enough money to afford to get a car. They didn't jump down and purchase the car because it would be easy for the family. They were too poor to get one and wise enough not to get into debt to purchase a car they couldn't afford.
We learned to work around it. We have! If I need to go somewhere and need a car, I take my husband to work and take care of what I need to do. I do my grocery shopping and other errands around his work schedule. My husband's schedule is printed weeks in advance, so that gives us time to set appointments and other commitments around his work schedule.
I can't go anywhere! Not true, we just work around the work schedule; and honestly, going out is spending money. So we limited our "going out" by having one car. If I need milk, or want to go to the library, everything is within walking distance, so we walk.
During his time off or when he is home we go out and enjoy ourselves. We visit family and friends, and it works out great.
Having one car makes me depend on others. Not true. I believed this comment when my family and friends expressed their concern about the decision to having one car. As a person who prides herself on her independence, this one touched my nerve. I'm thinking that people view others with one car as depending on others. This is how society thinks when you go down to one car; you will depend on others?
Again, if I need the car to go somewhere, we work around it. I'm not saying that I won't need a favor, but so far, we have been working great having only one car. This is a sacrifice that we are doing because we want to be debt free. We are taking responsibility for our debt and trying to make it right!
What happens if there's an emergency? This was the one that had me worried, and in reality, we have the best neighbors and family close to us. If something happens, I can count on them, just like they can count on us. If there is an emergency, I will call on them to help me.
You see my insecurities about getting rid of our other car were for nothing. It has been over a year, and we have managed great. Having one car works if you put aside your insecurities and stick to a routine.
Having one car helps save money. It took some getting used to, but nothing major. I'm sure in the future we will go back to having another vehicle, but for now, one will do.
Having one car doesn't suck. Having one car saves us money. Having one car works!
*In December 2015, I wrote about adding a second vehicle to our family called One Car Family No More! As of 10/2016 we are back to one car but that's another post I am going to share with you all later!