3 Steps For Better Time Management
This post may contain affiliate links which might earn us money. Please read my Disclosure and Privacy policies here
Home adventurers let's talk about better time management today, shall we?
When I was a working mom, I mastered my time management to where my day ran smoothly. Well, close to smooth.
To succeed at my job, I had to better my time management to get things done. Fast forward to now; as a stay at home mom, my time management became an issue for me to overcome at first.
Finding steps to better time management at home helped me get my home life in order.
Time management at home, compared to my time management routine I had at work, can't be compared. You see, I have kids.
Children don't view mommy as a retail manager as people at work did. Seriously, I can't fire them, call of on them, or take a sick day so I don't have to deal with them.
My role as mom is 27/7 and is for life, vs. my role as a retail manager.
For this particular reason, I wanted to write a post about helping you to better your time management at home.
I wanted to share steps to help you overcome the stress of not accomplishing your goals for the day.
These are 3 steps that will help you get back in the game if you seem to be failing with your time management.
What I have come across is that many times we compare ourselves to other moms, and that's when we tend to fail or feel discouraged.
Having excellent time management at home means you have a happy mom at home. A happy mom equals a happy home or something like that. Well, at least that's what my husband tells me.
Before giving you these 3 steps for better time management, let me say that you should always write down a list of what you need to get done each day.
You should also have some calendar where you have written down appointments and such.
If you don't have these things, then there's a high chance you are going to fail at managing your time at home.
If you don't look at your planner, how would you know you have an appointment or a meeting?
Looking at your calendar and writing what you need to get done should be completed at least daily.
These 3 steps for better time management will help you get better with your time management.
If you are continually failing with your time management, then these are the steps for you.
3 Steps For Better Time Management
Assess Your Time
Something is causing you to fail at your time management, so now it's time to assess your time and evaluate your day.
When you look at your day and evaluate where you are spending your time, you are looking to see where you are wasting your time.
What does this mean?
This means that if in the morning you are spending too much time on social media, then you need cut down that time.
This is especially true if you are just looking to see what everybody is doing, and it's not accomplishing anything for you.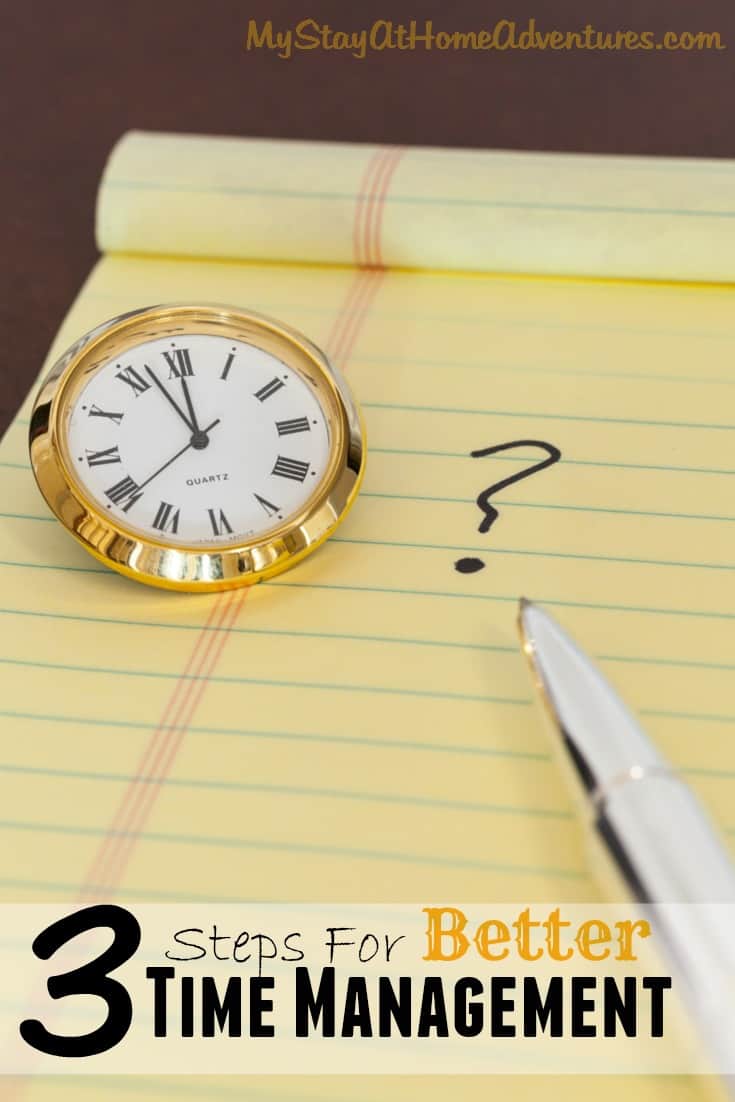 Are other distractions, besides social media, causing you to lose precious time in your day?
Are they preventing you from doing other things?
Then eliminate it from your day until you get your stuff done!
For me, social media used to suck me in, all the time. After leaving my job, I kept in contact with a lot of friends and family on Facebook; I also played those addicting games.
Instead of utilizing my time when the boys were asleep, I would sit on my butt and facebook away!
Another way to do this is to budget your time during the day. Take a break, but budget the time you spend on things that will keep you away from accomplishing your goals. Time budgeting will help you keep up with your daily schedule.
Prioritize
Prioritizing your tasks is another key to successfully managing your time. Look at what is important, and what can be done later. Don't wait for later, merely attack the most important tasks of your day first.
A better way to do this is to write down all your tasks for the day. Look at it and see what is important to you.
What needs to get done that is important? Completing it first will give you this little boost of self-confidence and motivation to keep going through the day.
When prioritizing, or looking for ways to prioritize your important task, always remember that your priorities are yours alone. Never compare your prioritizing with others.
Spending time with my family is a significant priority for me, so I try to squeeze as much possible during the day. I also like to take time to work on my blog, so I make sure I get this done and out of the way first in my day.
Ask for help
Why is it that we feel that if we ask for help, we are weak? Asking for help is not a sign of weakness, or that you are a bad mom. We are not super mom. She doesn't exist, so stop competing with a fictional person.
Life is unpredictable; things happen. I can plan my day, heck even my week, but things happen, and my perfect plan doesn't go right. It's not the end of the world. You will be OK!
If you can't complete what you had set for yourself, don't beat yourself up about it. There's another day coming up. If you are feeling overwhelmed, ASK FOR HELP!
Believe it or not, people can't read your mind. People will not be upset to help you.
If you come up with something that needs to be done, and you can't do it alone, ask for help.
Asking for help and having someone take the load off your shoulder will help you get what you need to be done for that day.
Time management doesn't mean 'no help; I can do this alone!'
What is time management?
According to Wikipedia, Time management is the act or process of planning and exercising conscious control over the amount of time spent on specific activities, especially to increase effectiveness, efficiency, or productivity.
So to increase your productivity, you asked for help, you did what needed to be done to manage your time.
I have learned to cope with what I can and can't get accomplished during the day. I have learned to pick my battles when it comes to my time management.
Can I live with dirty fingerprints on windows for one more day and work on the dirty floors instead? Yes, I can. I have also learned to ask for help when things get overwhelming.
With these 3 steps for better time management, you will be successful at managing your time at home.
If for some reason you seem to be failing with your time management, look at these three steps: evaluating your time, prioritizing, and asking for help.
These three steps will guarantee you to get back on track of your time management.
What other steps do you use to for better time management?