52 Week Saving Challenge Week 23
This post may contain affiliate links which might earn us money. Please read my Disclosure and Privacy policies here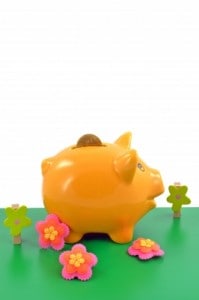 Happy Week 23 Everyone!! Haha! Hope you all a fabulous week. Another week, another weekly transferred completed. Another week closer to my saving goal of $1378 and some change thanks to interest received from my Capital One 360 Checking Account. Let's recap this weeks 52 Week Saving Challenge Week 23.
52 Week Saving Challenge Week 23
Week 23
Save/Deposit – $23.00 Total Saved – $276.00
Week 23 – Reverse
Save/Deposit – $30.00 Total Saved $943.00
This Week Recap
As you can see I made 14¢ of interest in May which brings my total to $973.44. I'm 44¢ richer!! As you can see this is the beginning of June and I forgot to schedule my transfers for the month. I think I did this yesterday because I working on my wedding budget and realized that I forgot to schedule my transfer.
As the weeks go by is getting easier and easier. Probably because is less money I'm saving each month. J It got me thinking that maybe just should save more into this challenge. Then reality hits me that I have a wedding coming up and a Disney trip for next year. Maybe I will save more than the goal of $1378 or maybe I will just stick by it.
As you know I am trying to fight back the urge to spend money this month because May was not such a great month financially. So far I'm doing pretty good and I'm proud of it. I just have to continue on the right path and keep myself motivated and busy!
If you are working on this month budget here's a look at how much you need to save for the month of June for this challenge.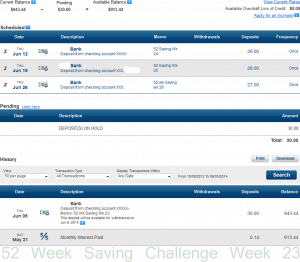 52 Week Saving Challenge Monthly Saving Amount
Reverse
While creating this month budget remember these tips:
Write your goals
Create your budget
Make it work
Don't give up!
Read more about budgets here.
Want to join this challenge head over here to read all my posts. If you would like to download my 52 Week Saving Challenge file simply click here. I would love to hear how you are all doing with your 52 Week Saving Challenge. If you are a blogger that is doing this challenge we will love to hear from you. Until next week keep on saving!
Photo Credit: Grant Cochrane