How to Wash Tie Dye Shirts
This post may contain affiliate links which might earn us money. Please read my Disclosure and Privacy policies here
Making tie-dye shirts is a great summer activity for the family. The weather is warm enough that you can do the project outside and have less chance of creating a mess. Tie-dye allows for so much creativity.
There are so many colors to choose from. You can mark off areas with stencils to make fun designs. You can even turn this into a project that earns you some extra money by selling the shirts.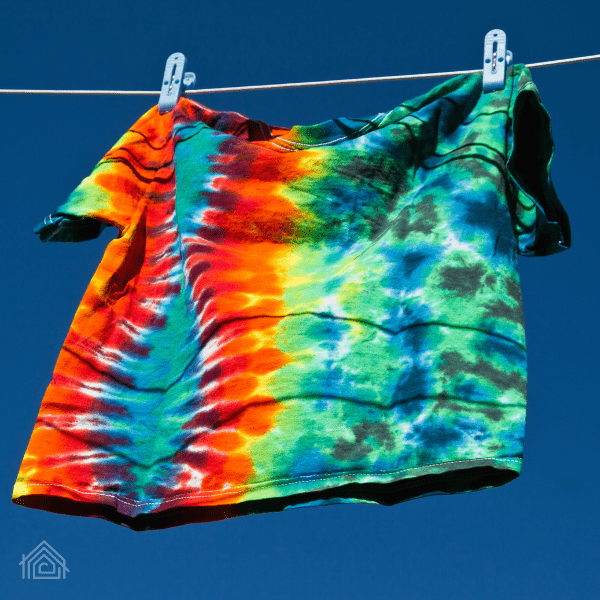 Regardless, you definitely need to know how to wash tie-dye shirts. With one wrong move, your hard work can literally be washed away. Your shirt can also begin to fade over time if you don't wash it properly.
Let's take a closer look at not only washing a tie-dye shirt for the first time but how to wash tie-dye to keep it vibrant wash after wash.
How do you wash a tie-dye shirt for the first time?
The first thing you want to do is make sure you allow the shirt to dry for 24 hours after the rinsing step in the dying process. This will help with setting the colors.
Next, you want to wash the shirt or shirts alone in hot water. Do NOT add additional laundry to this load, or you could have excess dye on items you don't want to be dyed. You will only be using hot water for the first couple of washes.
This will set the colors. You want to be gentle with your items. Wash them on a gentle setting and use a gentle detergent.
Once the cycle is complete, please remove it from the washer immediately. If you allow the items to sit in the washer, the colors could continue to bleed.
Dry on high heat. If you're line-drying, make sure you do it out of direct sunlight.
You might like these posts:
How do you wash a tie-dye shirt in the washing machine?
After the first couple of washings, you'll want to wash your tie-dyed items in cold water. A gentle cycle is always best; you don't want to put items in there that could damage the fabric.
Jeans, for example, can rub the fabric and cause friction that dulls the colors. If you are washing with other items, and are still worried about bleeding, consider using a product like Shout Color Catchers, which helps prevent colors from bleeding onto other items.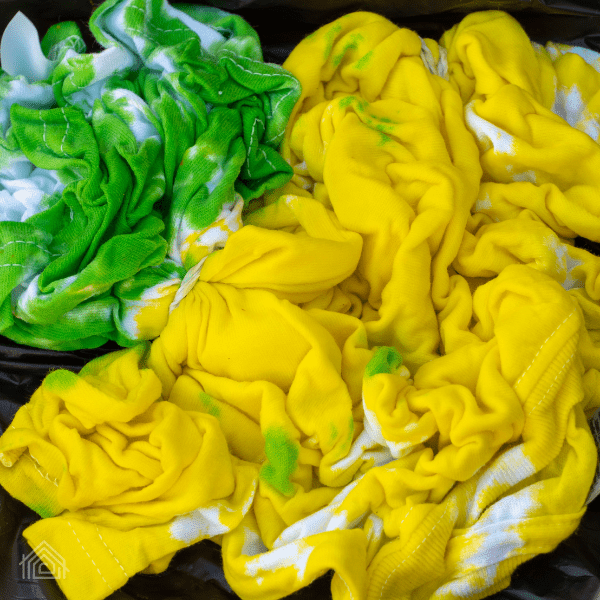 How long after tie-dying do you wash the shirt?
Once you dye and rinse the item, you want to allow it to dry for 24 hours before washing for the first time. This helps ensure that the dye has enough time to set. The first wash will help in the setting process as well.
Do you wash tie-dye with detergent?
Yes. You want to use a gentle detergent that can be used in cold water. This article does a great job of explaining what a mild/gentle detergent is and gives examples of safe brands. Avoid detergents with stain removers, as these may remove the dye from your tie-dyed shirts.
How do you wash tie-dye to keep it vibrant?
If you want to keep your tie-dye shirts looking vibrant for years to come, it's important that you take care of them when washing.
Before we get into that, though, one additional tip you can do after rinsing during the tie-dye process is to soak white vinegar and water in equal parts. This will give you more vibrant colors.
Now, when it comes to washing, you want to make sure to wash in cold water after the first couple of washes. You also want to use a high-quality, gentle detergent.
If your shirt starts to look dingy, add white vinegar to your wash. This will help brighten the colors. Next, wash your shirts inside out to prolong the vibrancy of the dye.
Air drying is also preferred after the first couple of washings. Just make sure to dry indoors or out of direct sunlight.
If you've always wanted to tie-dye shirts, what are you waiting for? With these tips, you'll ensure your hard work isn't wasted.