Creative Ways to Make Kids Enjoy A Healthy Breakfast #StirImagination
This post may contain affiliate links which might earn us money. Please read my Disclosure and Privacy policies here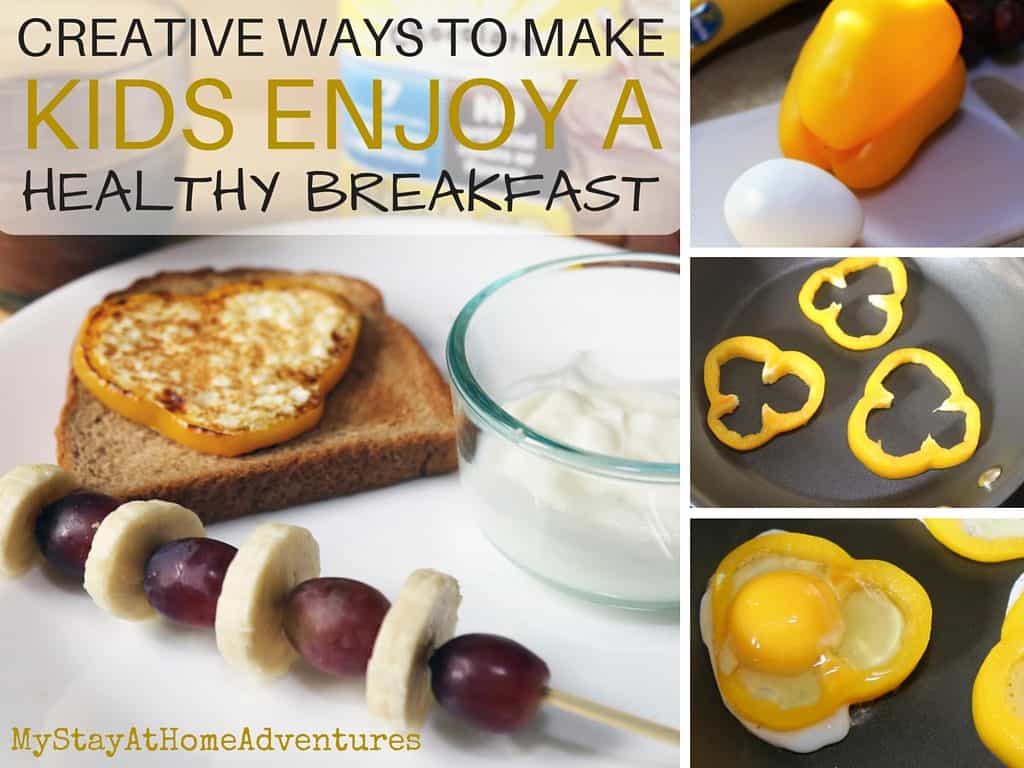 Just like any mom out there I encourage and love for my kids to eat a healthy balanced breakfast. But the truth is that my kids have a mind of their own and as much as I would love for them to eat healthy it can be challenging. Finding creative ways to make kids eat healthy has been my mission this year.
This is a topic I have written before and if you haven't I will share you some of my tips to encourage your Kids Eat a Healthy Breakfast.
Ways to Make Kids Eat a Healthy Breakfast
Menu Plan
I am an advocate that meal planning not only saves you money; it encourages the family to be part of the cooking process.
Get your kids cooking
I make sure to encourage my kids to help me with cooking. They love to help and they love to pretend they are chefs. This also makes them more willing to try the meal.
Make it fun
We enjoy laughter in our home and I encourage my kids to have fun while making their meal and while eating them. Mornings don't have to be boring or down, a positive start to your day will be beneficial to anyone.
Be spontaneous
My kids are unpredictable at times, and as much as I love to stick to a routine, sometimes they come up with these ideas or do things that are simply fun or just silly. Adding Nesquik powder to their pancakes? Why not? I know that they are not going to eat everything I want them to eat. I also know that breakfast time is too short for me to be upset that about other things. Let them use their imagination and have fun with breakfast.
Be a role model
I grew up with a not so good diet, and when I became a parent, I realized I had to be a role model to my kids and lead by example. My kids look up to me, and if I want them to eat a healthy breakfast, I must do this too!
Though these tips are very helpful, children have a mind of their own and one way to encourage them to eat a healthy balanced breakfast is to allow them to create their own creation.
Again, finding creative ways to make kids eat healthy is our priority as parents and our boys can be very creative when it comes to their breakfast. Below I will share with you our favorite breakfast recipes our children enjoy.
Creative Ways to Make Kids Enjoy A Healthy Breakfast
Kid Friendly Bell Pepper Rings
Now normally when we prepare this we add more ingredients but my kids are picky eaters and this is their recipe. I also create one with just egg white only as well.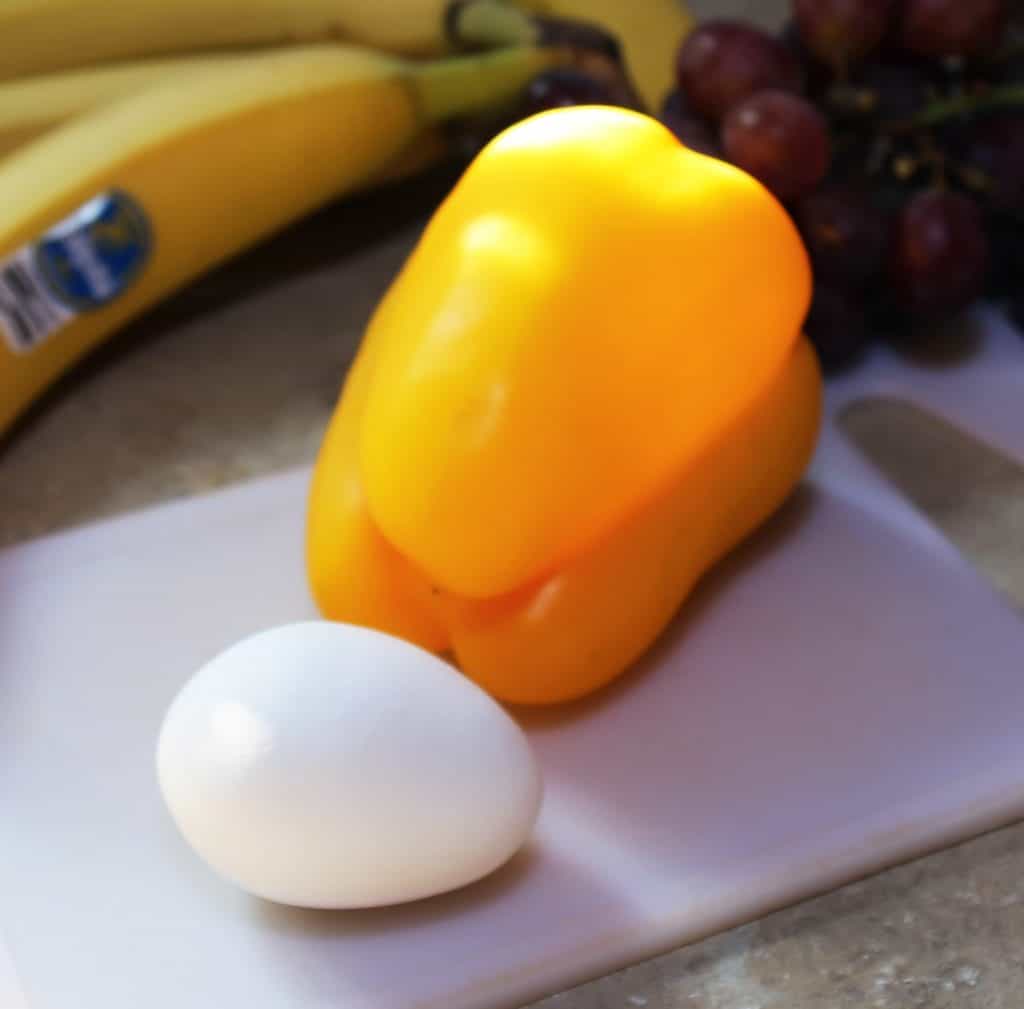 What you need is cooking spray, eggs, and bell pepper. Our children wanted yellow pepper so that's what we used but you are welcome to use whatever pepper you want.
Slice your peppers into 1/4″ to 1/2″ rings.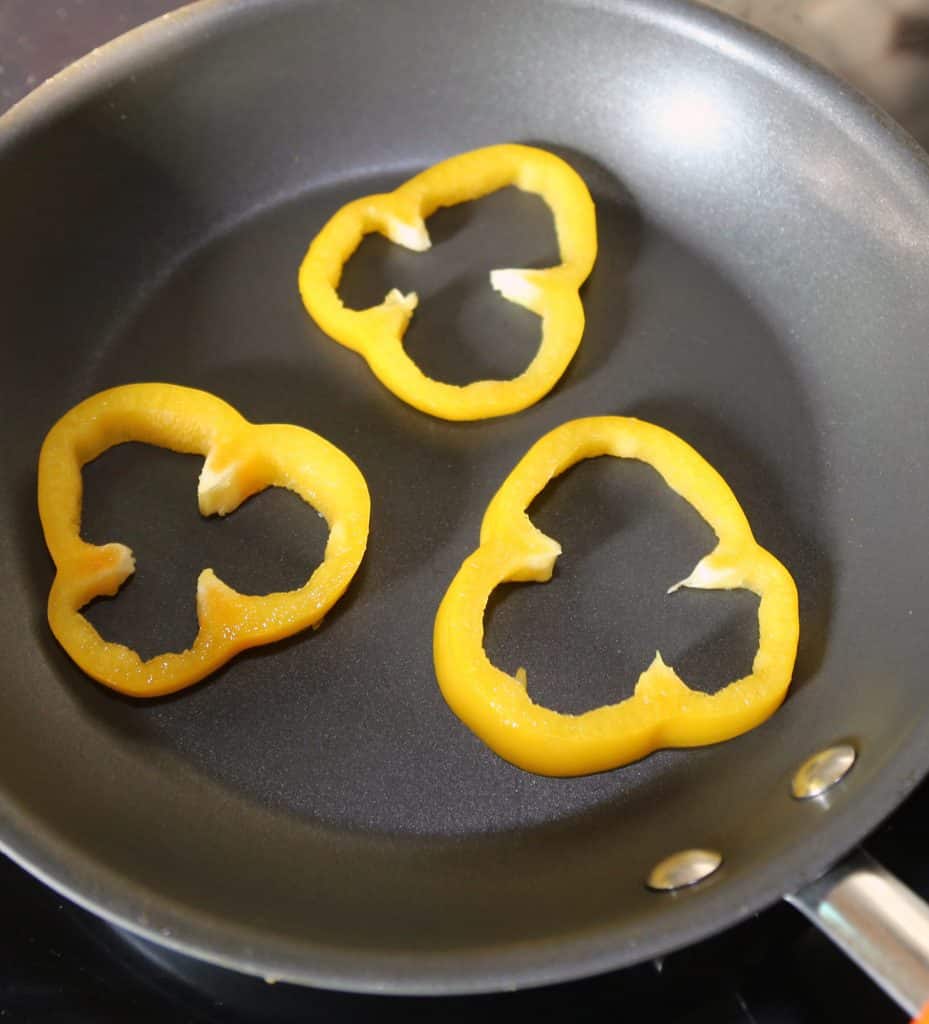 Pre-heat the pan and add cooking spray so they don't stick.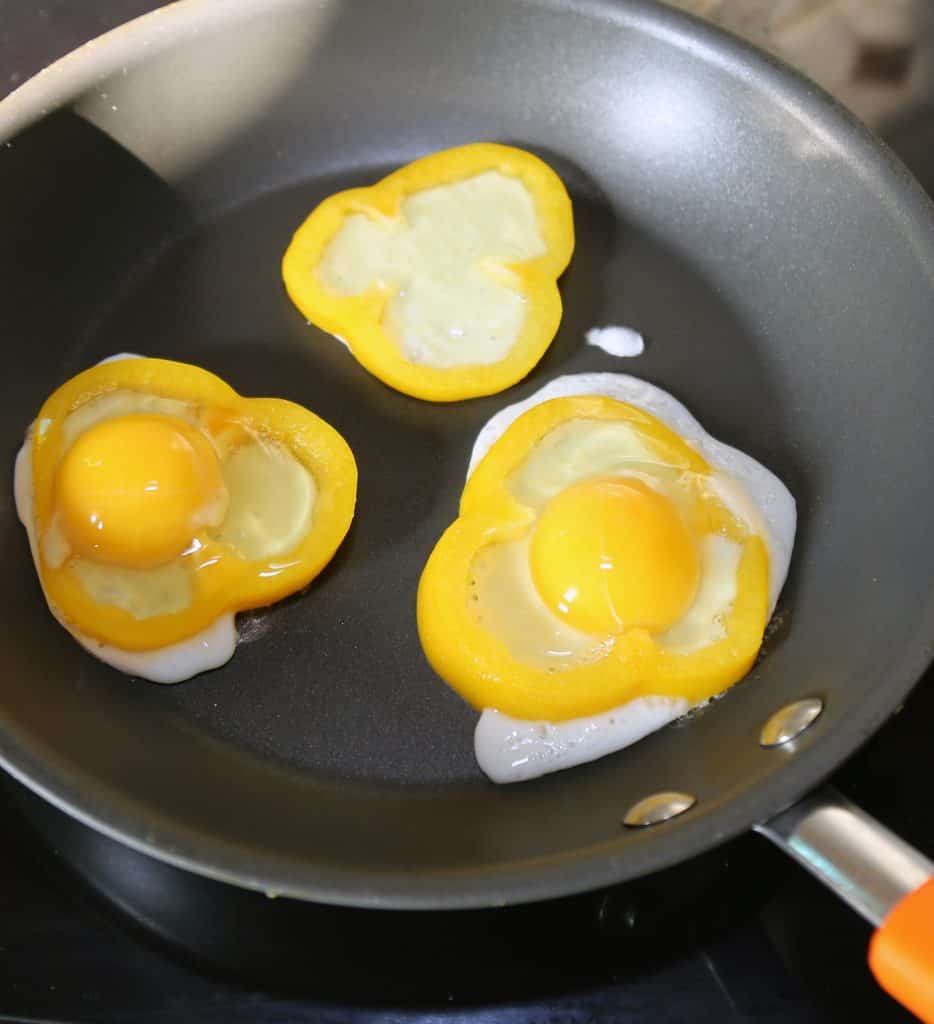 Look I am not a chef so I kind of need more practice keeping my eggs inside the pepper.
I prefer my eggs to be cooked all the way and so does my kids.
We created fruit kabobs with apples and grapes to go with their low fat yogurt and this was the best breakfast they had!
Now serve these amazing creations with Nestlé Nesquik® Chocolate milk and your kids will love you forever!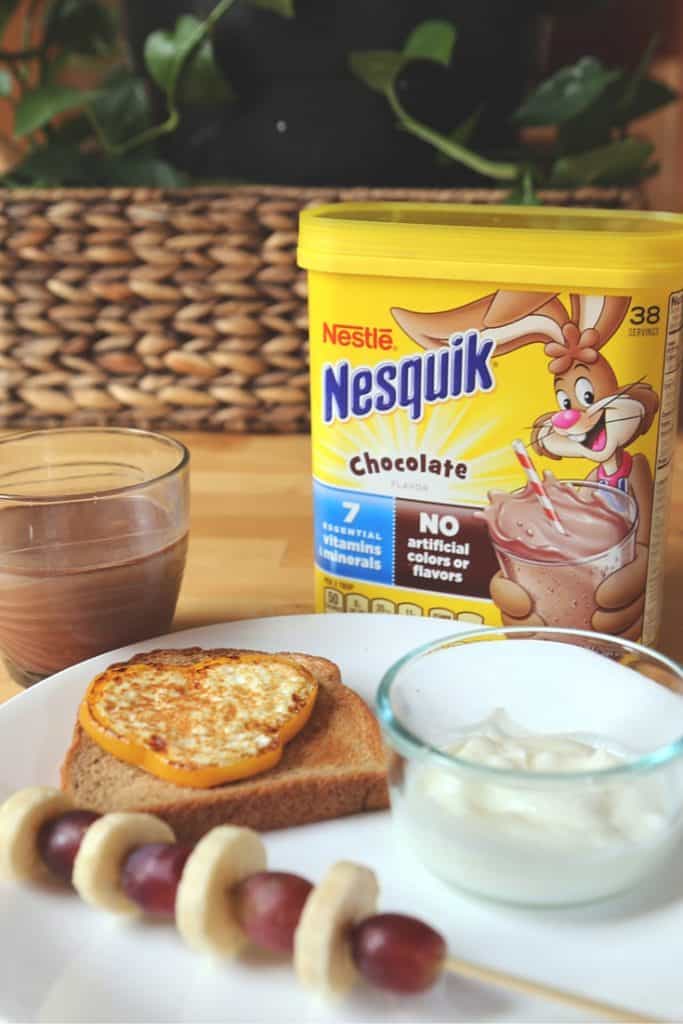 We love Nestlé Nesquik® and our children from 3 years to 17 years of age love it. You will also find why I love having Nestlé Nesquik® Chocolate around in my home.
Nesquik brings vitamins and minerals to our breakfast as a way to amplify my kids' meal. Here's what #Nesquik Chocolate Powder brings:
Iron to help with growth and development
Vitamin C to help support a healthy immune system
3 essential B Vitamins to help the body make and use energy
Copper – an essential mineral which is important for iron absorption and the formation of red blood cells
Manganese to support healthy bones
Nesquik Chocolate Powder:
Help your kids start their day off right with Nestlé Nesquik® Chocolate Powder which turns milk into an irresistibly delicious and nutritious chocolate milk that you feel good about.
With 7 essential vitamins and minerals including Vitamin B vitamins, Iron, and Vitamin C, gives your kids a nutritious way to start the day that they will love.
When combined with 8oz of lowfat milk, you are giving your kids 8g of protein that they will drink right up!
Nesquik Powder has all the nutritious deliciousness your kids love with 45% less sugar than the leading syrup brand and with no artificial colors or flavors.
Finding creative ways to make kids eat healthy doesn't have to be complicated and sometimes kids come up with the best creations ever. Serving them a great delicious balanced breakfast that they will truly enjoy is possible adding Nestlé Nesquik® Chocolate Powder to it is an added bonus! So #StirImagination and know that they are enjoying a well balanced breakfast in the morning.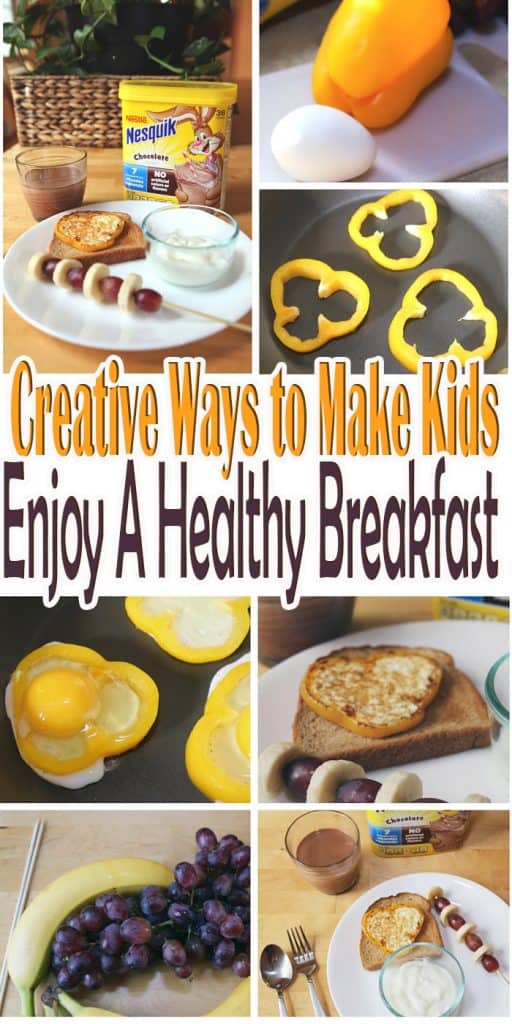 To get motivated and get more information about Nestlé Nesquik® Chocolate Powder, follow them on Facebook, Pinterest, You Tube and/or visit their site! Check out their Spanish site by clicking here.
Find fun recipes by click here and here!