29 Clever Kitchen Organization Ideas and Gadgets
This post may contain affiliate links which might earn us money. Please read my Disclosure and Privacy policies here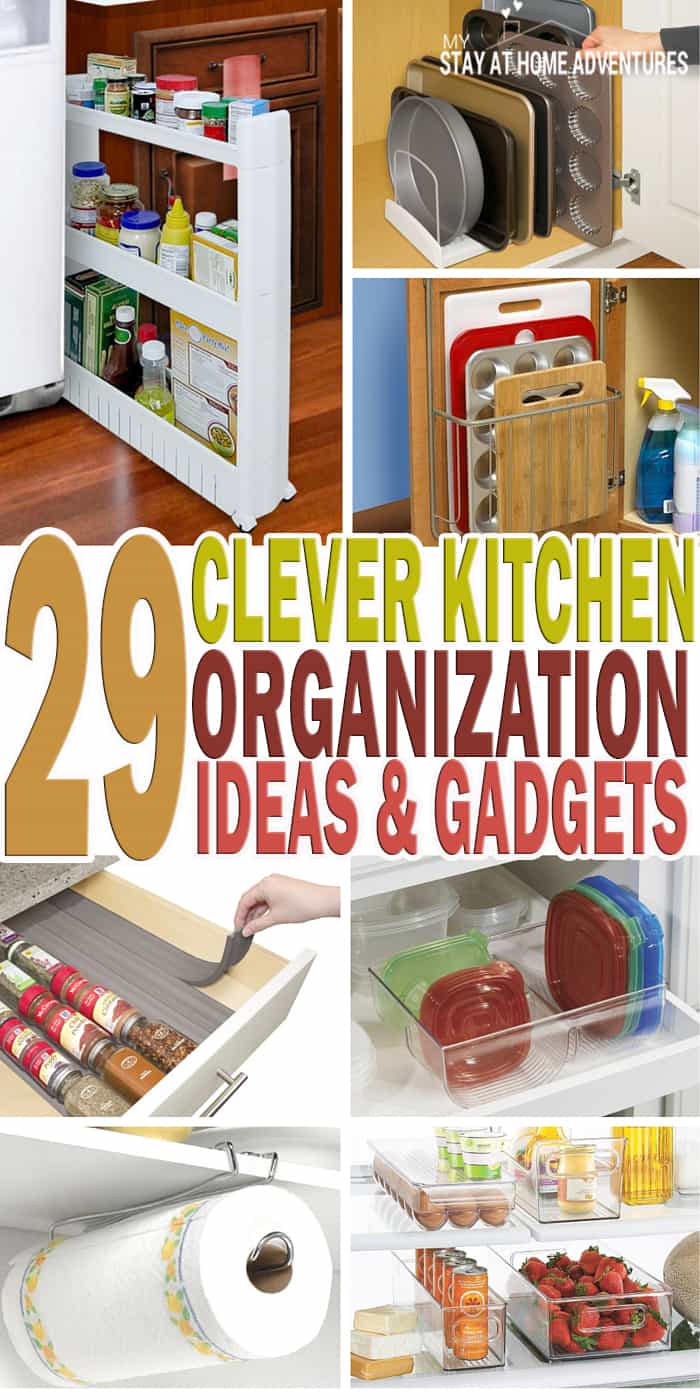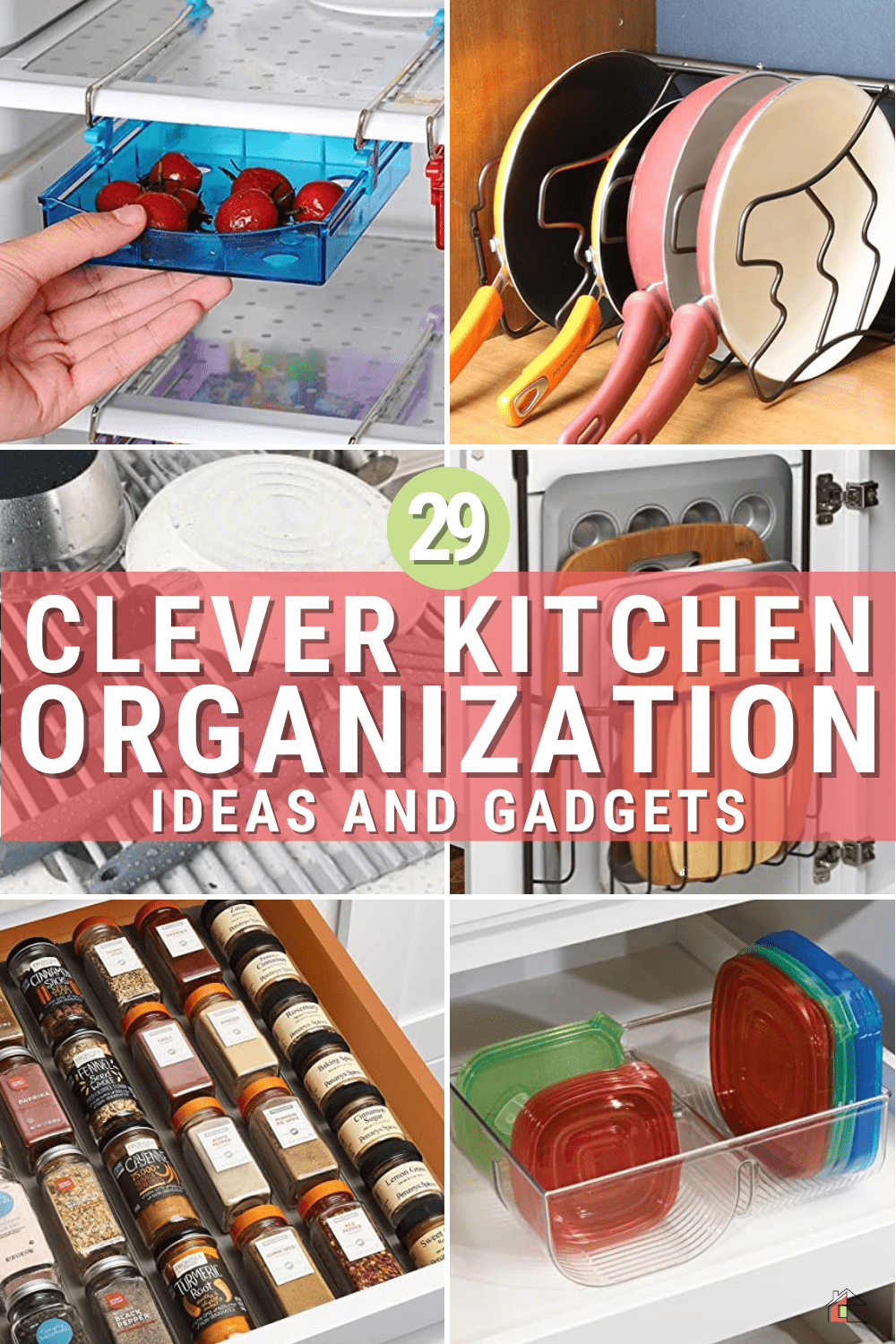 Any home cook knows that organization is key to a successful meal. With a little planning and the right tools, even the most chaotic kitchen can be transformed into a well-oiled machine.
First, If you plan to organize your kitchen, below are seven tips to help you get started.
1. Start with a clean slate. Before you start organizing, take everything out of your cabinets and drawers and give them a good cleaning. This will give you a blank slate to work with and help you spot items you no longer use or need.
2. Utilize vertical space. When it comes to kitchen organization, using vertical space is crucial. Install shelves and pegboards to maximize storage and keep frequently used items within easy reach.
3. Contain clutter with baskets and bins. Invest in some baskets and bins to corral small items and keep countertops free from clutter. Label them so you can easily find what you're looking for, and consider assigning each bin a specific function (i.e., one for utensils, one for herbs and spices, etc.).
4. Keep things tidy with drawer dividers. Spice up your drawers with some drawer dividers! Not only will they help keep things organized, but they'll also add an extra bit of style to your kitchen. You can find wood, plastic, metal, or even fabric dividers.
5. Invest in some smart storage solutions. There are tons of great storage solutions on the market these days designed specifically for the kitchen. From pull-out pantry shelves to over-the-door spice racks, there's sure to be something that will fit your needs and help you get the most out of your space.
6. Get rid of unused appliances and gadgets. If your kitchen is cluttered with unused appliances and gadgets, it's time to get rid of them! Free up valuable countertop and cabinet space by removing those dust-collecting items you never use.
7. Make use of wall space. Bare walls are wasted space! Utilize empty wall space in your kitchen by hanging pots and pans from hooks or installing shelves to store frequently used ingredients or cooking tools.
29 Clever Kitchen Organization Ideas and Gadgets
1. Check out these adorable hangable kid cups. When you are tired of seeing cups all over the counter and seeing dirty cups all over the place.
2. These affordable Multipurpose Fridge Storage Sliding Drawers will help keep the refrigerator organized.
3. To help keep the cutting boards in one place, this Over-The-Cabinet Cutting Board & Bakeware Holder will work.
4. To organize your spices, check out this Spice Gripper Clip Strip.
5. Need help keeping your pans organized? Check out this pan organizer rack.
6. This Wall Door Mounted Pot Lid Rack will help with your pan or pot lids.
7. Tired of lids being all over the place? Check out this Food Storage Lid Organizer for Kitchen Cabinet.
8. Need help keeping your platters, pans, and cutting board organized under the counter? This Adjustable Bakeware Rack can help.
9. This Drawer Spice Organizer will come in handy when you want to keep your spice drawer organized.
10. This Magnetic Knife Bar gives you more counter space and helps keeps your knives within easy grip.

11. Another great tool to keep your refrigerator organized is having these Freezer and Kitchen Storage Organizer Bins.
12. If keeping the space under your sink is a major pain, try using this Adjustable Under Sink Shelf Storage Shelves.
13. Find a great spot for your sponge and brush with this Kitchen Soap and Sponge Holder.
14. Need help with your foil and food wrap boxes? Check out this Kitchen Wrap Organizer Rack.
15. To get cabinet and countertop space try this Paper Towel Holder.
16. Add some Fridge Organizer Drawer Shelves with Cuttable Refrigerator Liners Set to give your fridge a colorful, organized look.
17. Need to label some items in your kitchen? Check out these Chalkboard Labels.
18. An Over-the-Door Pantry Organizer is a favorite item to have!
19. This Limited Edition Original SpiceStack store and organize 18 full-size or 36 half-size spice bottles.
20. This heat-resistant Slim Oven Trim will make the area between your stove and countertop look cleaner.

21. If your kitchen lacks space, create additional storage with a Slide Out Storage Tower.
22. Need a better place for your Kitchen Aid mixer? Check out this Full Height Base Cabinet Heavy Duty Mixer Lift.
23. This Over the Sink Multipurpose Roll-Up Dish Drying Rack works as a dish dryer, a vegetable colander, and a prep works platform.

24. Tired of fighting with the rest of the family to do their chores? Check out this DISHWASHER Magnet CLEAN DIRTY Sign Indicator.
25. I love this Kitchen Compost Caddy under sink mounted compost system and decided to add it to this list.

26. I know this Pull-Out Wood Base Cabinet Tray Divider and Foil & Wrap Organizer is a bit extreme, but something to consider in my future kitchen remodels.

27. Chef Remi Jar Opener is designed for small hands and senior citizens.

28. For shelves and fridges, check out Millennium Washable, Non Adhesive Refrigerator Bins and Shelf Liners.
29. This gadget is one of my favorites, Premium Chip Clips Plastic Bag Sealer Stick to keep chip bags sealed.
Like this post? Check these organization posts out: