5 Things You Shouldn't Say To A Parent With A Special Needs Child
This post may contain affiliate links which might earn us money. Please read my Disclosure and Privacy policies here
5 Things You Shouldn't Say To A Parent With A Special Needs Child
We as parents of special needs children have a lot on our plates and the last thing we need is to worry about how YOU view our child, our parenting skills, our decisions, and our beliefs.
Our time and attention is not only on taking care of our family, jobs, other children, spouses, bills and any other day to day tasks but add to that worrying about, taking care of and making life-changing decisions for our children with special needs that not only will impact their lives but the family as a whole.
Why write 5 Things You Shouldn't Say To A Parent With A Special Needs Child? So you can learn and be aware how hurtful your comments are.
The moment our child has a diagnosis, it is life-changing and we are no longer in the same world as parents with "normal" children.
We will now have to fit in our emotions over this news and how this will affect their future, specialist appointments, tests, blood work, research to learn all we can about their diagnosis, medical bills, therapy appointments, medications, IEP's (Individualized Education Program), and making decisions all for their best interest.
We will have to learn new parenting skills specific to our special need child and their disorder. The way we grew up does not pertain to our child because it will be ineffective.
Our goal is to love our children and give them a happy and safe environment.
To teach them right from wrong and instill our values in them. To help them succeed in life to the best of their ability.
To be their voice even when we feel we are up against the world. Doesn't sound like we want anymore or any less than most parents want for their children, right? The only difference is how we get there.
My point is you are not in a place to judge any aspect of our special need child or the decisions we make as parents.
So, next time you are thinking about giving advice or making a comment to a family member, friend or even a stranger think about this, unless you are offering your support, wanting to learn more or be educated about their child's disorder, or wanting to help in any way then there is no need to say anything to us.
Your personal opinions, if not specifically asked by us on how you would do it differently or better is an insult.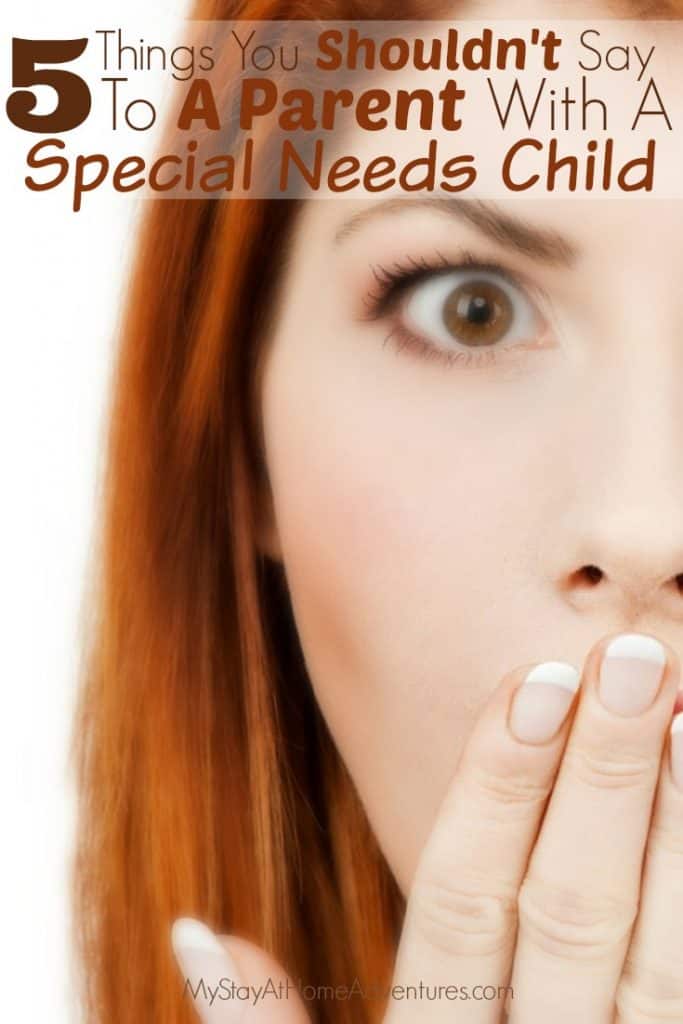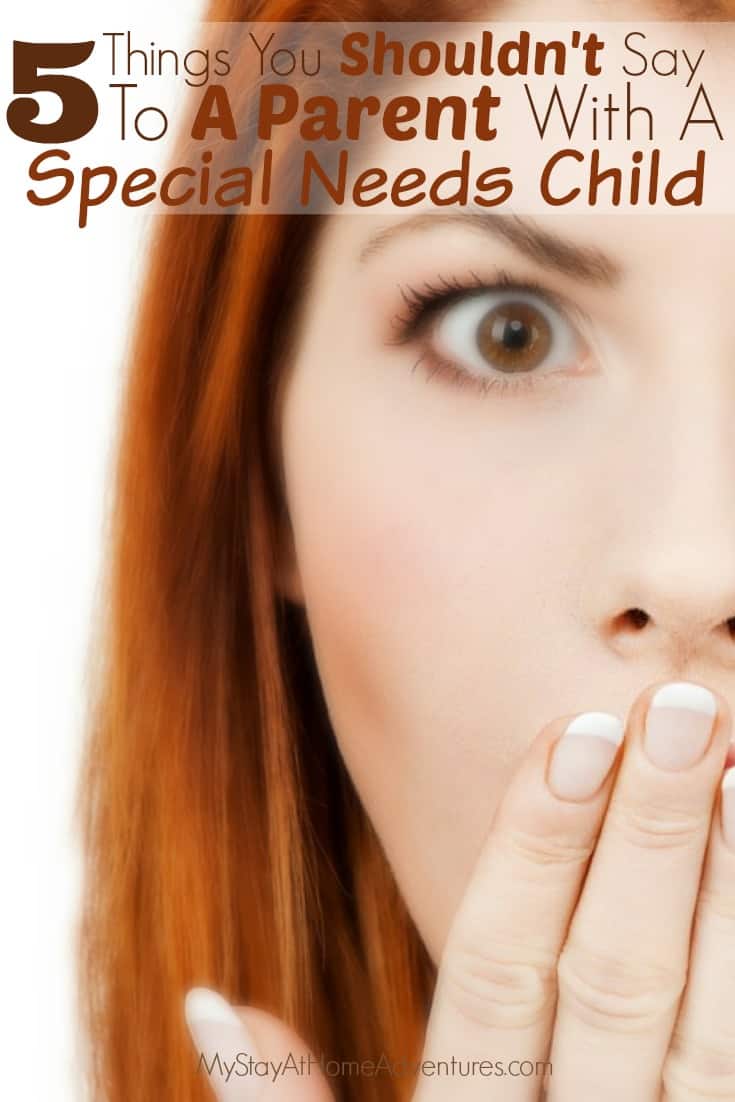 5 THINGS YOU SHOULDN'T SAY TO A PARENT WITH A SPECIAL NEEDS CHILD
1. HE/SHE JUST NEEDS A SPANKING.
Not only has this been said to me, I have heard it said to complete strangers in public. When our children are having a meltdown this is not helpful! You are expressing your opinion on a situation you know nothing about.
If after you learned all the facts and you still feel we need to hit our children…then hopefully a child with special needs never has to rely on you to love, protect and fight for them.
It takes a lot of strength(both physically and mentally), patience and self-discipline to do what is best for your child instead of taking your anger out on your child.
Just one example would be if your child is not able to communicate their needs due to their disorder and it was coming out through their behavior because that is all they are capable of doing and the way you react is by physically hitting them, how is that teaching them?
How is that helping them?
It isn't! So we do our best to help them learn how to communicate as best as they can in other positive ways.
2. IF HE/SHE WAS MY CHILD THEY WOULDN'T BE ACTING THAT WAY!
The key word here is IF. They are not your child so you have nothing to gain by continuing that sentence. When people make this comment it equals to you saying, we are doing a bad job parenting and your way is the only right way which is based on your own experience with children that don't have any disorders.
Again, another insult. No parent is perfect, no matter what the circumstances are. No matter how much we want to always make the right choices. People jump to judge others when they don't know what it is like walking in their shoes. If my child was YOUR child…they would be acting this way.
The difference would be how you would respond to your child with special needs vs. your child with no disability…that definitely would change because you then will be in my shoes.
3. IT'S YOUR FAULT!
This is a hurtful and damaging statement. No one can be more judging on us than ourselves. From the moment our children are diagnosed and even sometimes before the diagnosis comes when we start realizing there is a problem we are already going over our history.
Did I do something to cause this?! We question if it happened during pregnancy…something we did or didn't do. Is it genetic…did we pass this on to our child? Did we not discipline them enough? Were we too strict on them?
The end result is the same…they do have special needs no matter what the reason is behind it. Maybe it was something we did unknowingly or maybe not but we cannot focus too long on that. We need to focus on making their life the best it can be.
So when you are passing judgment on us…what are you really hoping to get out of it?!
4. HE/SHE LOOKS NORMAL.
He/she looks normal so there is no reason he/she should be acting that way. This one is so frustrating! My child does not wear their disorder on their sleeve. They do not wear a shirt announcing…I am autistic so please excuse my behavior, nor should they have to in order to receive understanding or compassion from our fellow human beings.
There are many disorders that are not obvious to the eye but they are there. Again, you are assuming things based on your own personal experiences.
5. HE/SHE IS DISRUPTING AND NEED TO LEAVE.
When our special need child is having a meltdown, trust me when I say this…we know! No matter where we happen to be during this we are thinking and feeling many things. Trying to figure out what triggered it so we can take them away from it and into a comfortable frame of mind.
We are concerned for their safety depending on their outburst and where it is happening at. We are overwhelmed and sometimes embarrassed by the scene they are making.
Amongst all that going on in our heads…to have someone, whether it be a family member/friend asking you to leave their home or a manager at a store tell you your child is disrupting their customers and to take your child out of the store is mind-boggling. If you see someone in need…say, having a seizure.
Would you tell their loved one to take them because they are disrupting? No, I don't think so. We as parents of children with special needs, whether autism, mental retardation, oppositional defiant disorder, ADD/ADHD deserve and would appreciate the same compassion.
CONCLUSION
There you have 5 Things You Shouldn't Say To A Parent With A Special Needs Child. I hope you understand why this is so important to us parents with special need children. What other things shouldn't be said to a parent with a special need child? Share it with us.