Solar-Powered Garden Lights: Energy-Efficient Outdoor Illumination
This post may contain affiliate links which might earn us money. Please read my Disclosure and Privacy policies here
Outdoor solar lights for houses once seemed like a fantasy, but now it is a practical decoration, which in our days has ceased to be a luxury.
Today solar lanterns can be seen both on the estates of celebrities, and on 6 hectares of cottage dwellers, as well as in summer cafes, recreation centers, and any other garden and park areas.
The organization of landscape lighting is an expensive and time-consuming process, however solar companies near me can help you create an exclusive, exquisite, eco-friendly project.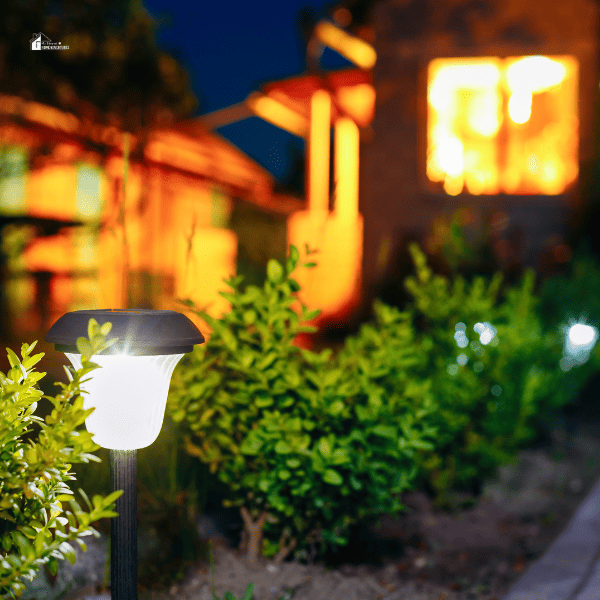 How Do Solar-Powered Garden Lights Work?
The principle of operation is simple. In the lanterns, as in any lighting device, a lamp is installed. But not an energy-saving or incandescent lamp, but an LED lamp with an LED base. It does not have the usual fragile bulb with gaseous substances. The lamp is a rigid semiconductor board with crystals.
Consuming energy, the LEDs heat up and emit light. The built-in diffuser evenly distributes the flow of light particles in different directions, so the lamp gives a soft, muted, diffused light. The crystals do not actually burn out for several years.
The lamp is powered by rechargeable batteries, which are charged from sunlight. The device has a built-in light-sensitive element – a photosensor that reacts to the rays. All the flashlight needs is some sunshine. During the day, it should be in a well-lit place.
The battery will store solar energy, and at night it will give it back in the form of light. When it gets dark outside, the flashlight will light up and go out at dawn. On a fully charged battery, the device shines all night. And for a full charge, it needs a whole day of light.
So, after 8 hours in the sun, the flashlight will emit light for 8 hours in the dark.
Key benefits of solar-powered garden lights
Autonomous: Solar lights outdoor do not need to be powered by mains electricity, regularly changing batteries, or recharging batteries in the traditional way. They provide themselves with energy for normal functioning, getting it from the sun's rays.
Compactness and mobility: Almost all models of lighting devices of this type have a small weight, compact dimensions, and non-stationary mounting, so they can (at any time without the involvement of special equipment) be removed from one part of the site and move to another or simply put in storage.
Cost-effectiveness: Since the main source of energy for these lights is the sun, the cost of lighting will be zero. Even consumables will not practically have to change: LED lamps, which are equipped with devices, last for 50 thousand hours and more.
Ease of installation: Solar systems are easily installed in any part of the site and also easily dismantled if necessary. Installation will not require the involvement of specialists, all work can be done with your own hands, just familiarize yourself with the instructions.
Electrical safety: The devices are not included in the network, they do not need power wires, that is, the probability of getting an electric injury during their operation is reduced to zero.
Environmental friendliness: When using solar energy in the environment do not emit harmful substances. Solar lights themselves do not need non-renewable resources (gas, oil, coal, etc.) to operate.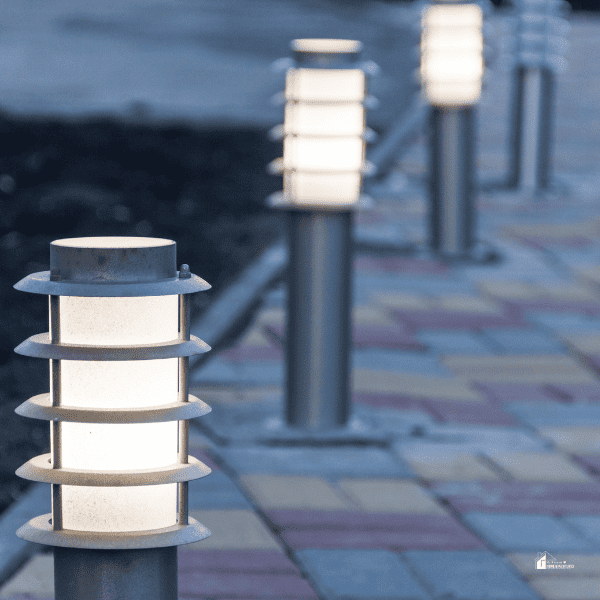 What Are Solar Lanterns Made Of?
The material of manufacture of the body of the garden lamp can be durable plastic, aluminum alloy, or steel with a coating against corrosion. Such a lantern will not break, will not be damaged by accidental impacts, will not crack, and will last a long time.
Plafonds are made of durable glass. It can be transparent, colored, or decorated. Today, the light emitted by the lamp is not just cold white, it has all sorts of shades of the color spectrum.
Decorative patterns on the lamp, such as mosaics, patterns with veins, and dot spraying help to create a spectacular play of light, color, and reflections.
It should be noted that such a lighting device has protection against dust and moisture. According to the international classification IP, it is denoted by a two-digit number: the first digit determines the degree of protection from foreign objects, and the second – from moisture.
Solar lanterns, as a rule, have IP44. This means that small particles with a diameter of 1 mm will not get into the device, and the lamp will not be harmed by splashes falling from any direction.
Protection from moisture is mandatory for such products: after all, they are installed, as a rule, not only on verandas and in gazebos, but also outside, and the summer is not always dry and hot.
Configurations of Solar Lanterns and Their Application Options in Landscape Design
Garden lights on solar batteries have a variety of shapes and depending on this are used to create certain styles of design of the garden plot.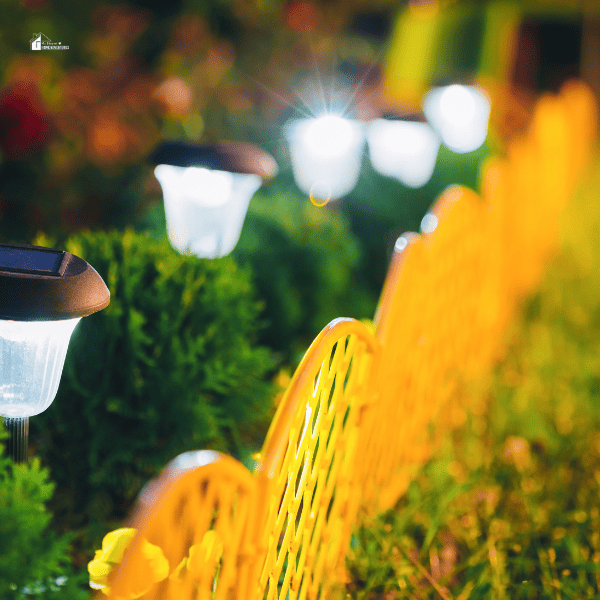 Depending on the shape of the models, there are two main ways to install the lights.
Suspension-light sources are suspended from the surface or various objects. This method of attachment is used for models that:
have a flat side plate; it is applied (attached) to the wall. Such a lantern is also called a facade lantern;
are equipped with a chain or loop for hanging on the wall ledge, tree, or hook on the ceiling of the pergola or balcony;
are garlands.
Installation on the ground. This option is relevant for devices that:
have a long rod with a pointed end, it is stuck into the ground in the right place. They are also called lawn or landscape lights;
are equipped with a wide flat base (sole), so that the lantern can be placed on the lawn, garden path, curb, pool edge, or garden furniture.
Tips for Getting the Most Out of Your Solar-Powered Garden Lights
On average, outdoor solar lights last about 3-4 years. However, there are a number of factors that affect the service life of solar-powered garden lights:
Proper placement in relation to other sources of artificial light: It is important that the garden light is in direct sunlight, but kept away from street or house lights. Otherwise, its sensors will stop responding to darkness and they will not be the ones to light up in the evenings.
Regular maintenance: The cleanliness of a solar panel affects its ability to absorb energy. To keep your garden lighting happy with efficient operation, wipe down the panels a couple of times a month.
Proper placement: Lanterns work most efficiently when they're in bright sunlight all day long. Although most garden lights are resistant to aggressive external factors, it is still important to keep them safe from heavy downpours and snow. Also important is reliable mounting, which prevents the lamps from toppling over in strong winds. During bad weather, it is better to remove the products and store them in a garage.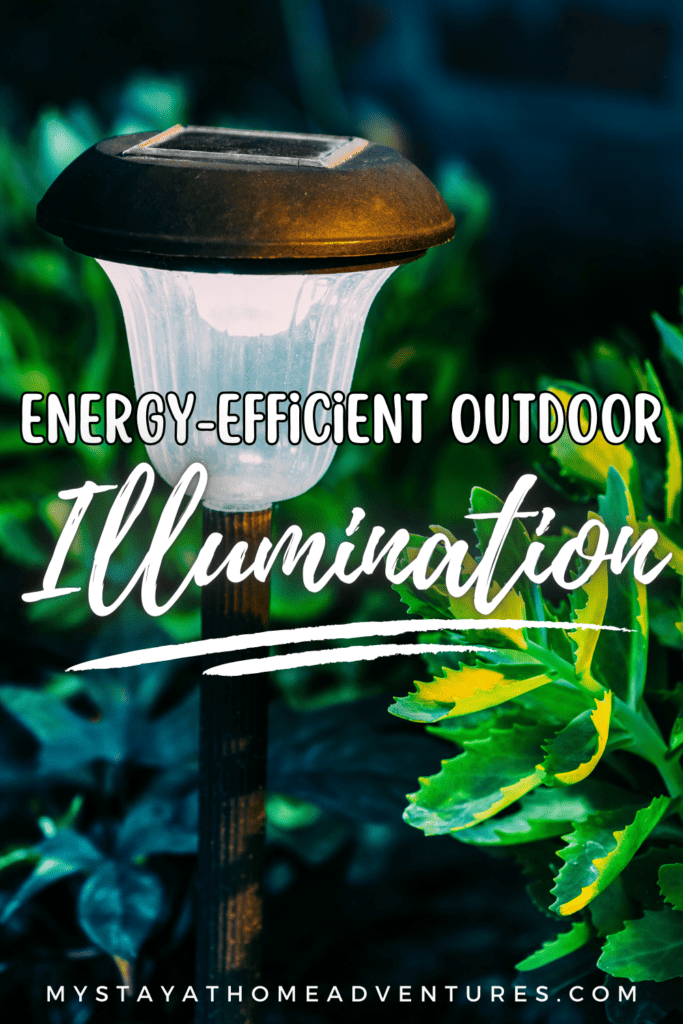 Solar-powered lights are a functional option for organizing the illumination of your garden plot. With a competent approach to selection and placement, they can work on the garden area on par with traditional lighting equipment.
To illuminate the territory of your garden, you need to buy more than one set of lights, since they are not as powerful as a regular lantern, working from the network. Therefore, if you want to save on electricity, it is worth buying several solar lights for yard.