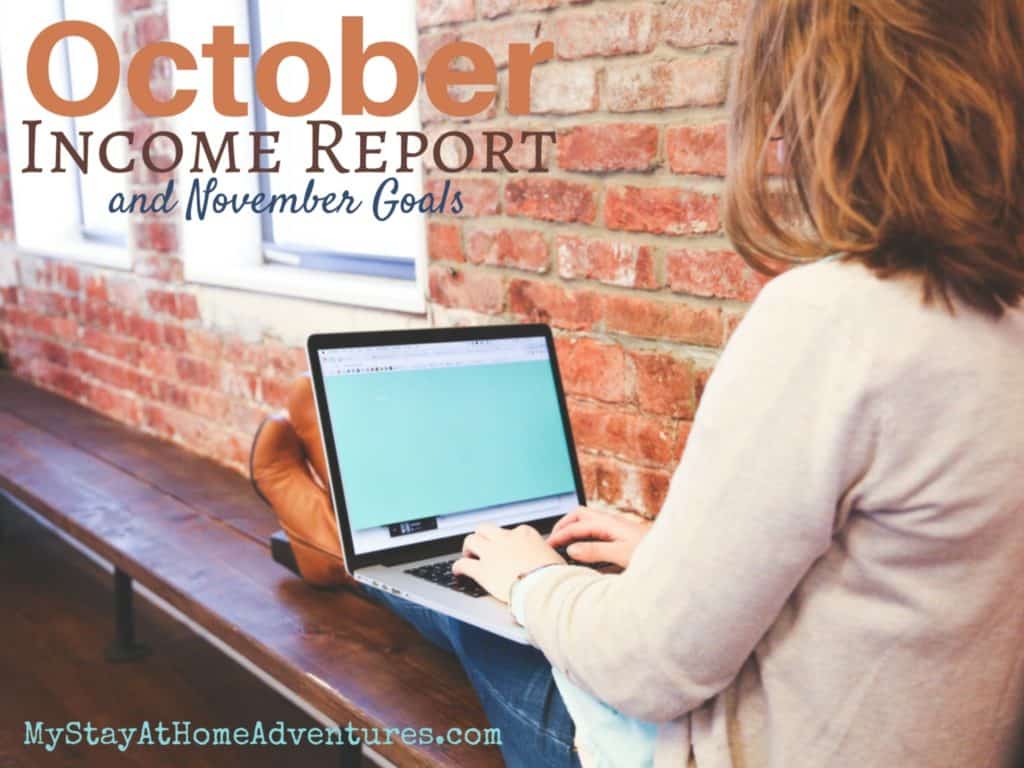 This month went fast, and honestly, I'm super excited that November is here! I am super excited to share my October income report and November goals with you because I am impressed with my overall achievements.
During the month of October, I have to say that it started bad on a personal level. This year has been really rough, and starting this month on a bad note was more than I could handle. My 5 year old was very sick and out of school for about a week. This is the first time in his life he has been this sick. My 2 year old caught what he had, but not as bad.
This, and other news, prevented me from doing what I planned to do this month and kept me pretty busy. Overall, the month turned out to be another life changing one for us; I will share this news with you all later this month.
October Personal Goals
Personal goals
As far as personal goals, even as small as I kept them, trying to keep up with sick kids and mommy prevented me from completing them. We also changed course and decided to start a major project in our home, which we thought was only going to take us a few days. As I type this post, we are still working on this project.
Get rid of clothing we don't need – I started this project and never finished it.
Start doing some fall crafts with the entire family – The fall crafts I had in mind turned into painting the interior of our house. The kids weren't up to doing anything but rest.
Blog goals
Continue to promote the blog

– I think this is working for me.
Revisit old posts – I did a few of them, but didn't finish them all.
Publish my eBook – Still sitting there.
As you can see, I didn't get much of what I had planned accomplished and I am OK with that. I will get them done when things settle in our home.
October Blog Income Report 
September Social Media Update
Pinterest  – 3337              October –

3943

Facebook – 4095              October –

4858

Twitter – 1454                 October –

1446 (down)

I didn't focus on gaining any followers
Visits – 62,535
Pageviews – 83,749 <- Nothing but up!
Below is the income my blog generated but I have not received.
Ad Network Income: $436.37
Affiliate Sales: $269.14
Sponsored Post – $170.00
Total October Site Income – $875.51 <– Best month so far
Now this is the money I received in my accounts.
Escalate Network – $44.79
Media.net – $00.00
Adsense – 00.00
TBN –       $113.80
Sponsored post – $170.00
Izea – 0.00
She Knows – $00.00
EBA – $119.60
Linquia – 69.20
Total amount actually paid in September – $517.39
Total October Blog Expenses
During the month of October, I was busy and also determined to keep my blog expenses down. I continued to invest in Facebook ads and Facebook blog groups.
Add the additional monthly expenses:
BoardBooster – $5.00
Advertisement – $34.95
Canva – $10.00
P.O. Box Renewal -$16.00
Izea – $0.00
Giveaway – $00.00
Total Expenses – $65.95
As you can see, this month my blog did amazing and better than it has done this entire year. Every month I continue to work hard and wait patiently to start earning me money. I have been watching some good blogging related Periscopes and reading some motivating posts to keep me going.
During the month of October, I was able to read an advanced copy of Money Making Mom by Crystal Paine, and though I am still working on this post and reviewing, I will say it was what I needed this month to keep me motivated and on tract.
November Personal Goals
I don't know if I am able to stick to a goal this month since this month is looking like an extremely busy one. This means both personal and work wise. As my blog continues to grow, so does the paying opportunities and I am so happy about this.
Get rid of clothing we don't need – I have to get this done and get our winter clothes ready.
Start doing some fall crafts with the entire family – After we finish our painting project, we will start doing crafts for Thanksgiving.
Blog goals
Continue to promote the blog – As you can see, it is working.
Revisit old posts – Finish doing this project.
Publish my eBook – I am aiming for the end of November.
There you have my October income report and my goals for November. How was your October?
The following two tabs change content below.
Latina mom of 4 married to wonderful Greek gentleman. Living in southeast PA and trying to juggle family and a household while trying to earn an income from home. Follow my stay at home journey as I discover how to earn money and save money so we can continue to live debt-free.
Latest posts by Joyce @ My Stay At Home Adventures (see all)