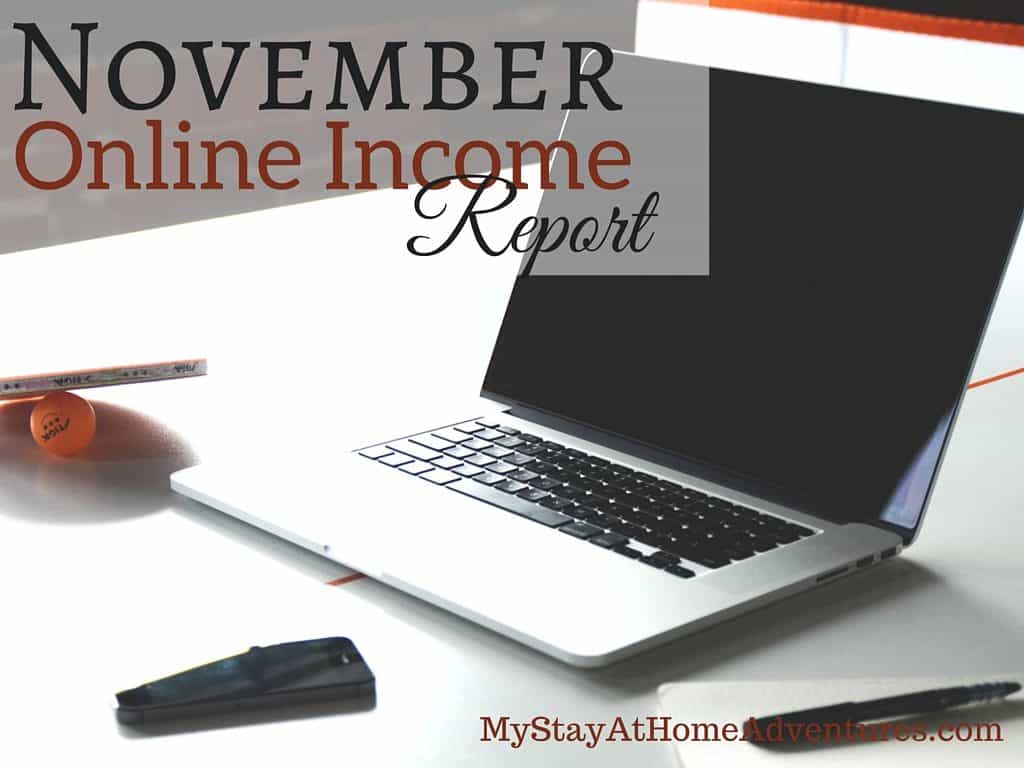 Another month just passed and all I can say is that it seems like I have reached a milestone personally, and professionally! What took me by surprise was how busy I was going to be and that it was time to write and go over November Online Income Report & December Goals. Yes, that's how busy I was in November.
November Personal Goals
I have to say that around this time of the year, we get busy with events; Halloween, Thanksgiving, and birthdays. Baby A just turned 3 on the 28th of November and we had to have a small birthday party for him since every one that wanted to share his special day working retail in previous years could not attend (Black Friday/Thanksgiving). Since this year it fell on a Saturday, we took advantage of that and threw a small party for him. 😉
We also had another round of colds and fevers, and let me say that I didn't anticipate how many times my kids will be getting sick once school started. This time we had upset stomachs and nasty colds and such. We had to pick up my little guy 2 times last month from school because he got sick in school (Nothing major, but when your child is special needs, they tend to send them home to make sure he is OK and to be on the safe side).
Since I knew that we were going to be busy, I decided to keep my personal goals to a minimal since we had no idea what was going to happen.
Get rid of clothing we don't need – This is a continuing process, and let me tell you why. It seems that during the month of November, our boys decided to grow, and at a rapid pace. Mind you, Lil Z lost a few pounds from being sick, but Baby A just grew about an inch. This led me right back to the basement to look at our clothing situation and find the right size for him and remove the clothing I have set aside for him for the winter.

Start doing some fall crafts with the entire family

– We did pretty good and the mess was limited. Baby A enjoyed painting his turkey and Lil Z started, had enough, and left.
November Blog Goals
The blog is growing, and I am very happy with that; however, I have not been felling 100%, and honestly, I felt like I was struggling there for a minute. I even received my first ignorant mail from someone who called me a bad mom and to get over myself!
Of course I was shocked and angry about this email, but decided to move on and not let it bother me… much. The great advice I got from other blogging buddies is that haters are going to hate as your blog grows.
If I let one negative email hold me back from what I worked so hard for, I will never succeed. I know I am not a bad mom, I know that this person didn't even read my blog, nor know me personally and is not worth my time.
For November, I stuck to my goals but didn't finish the eBook because again, we were very busy, but this eBook will be done; I promise.
Continue to promote the blog

– Love them or hate them, Facebook groups do work!

Revisit old posts

– Done

Publish my eBook

– um…
November Blog Income Report
November Social Media Update
Pinterest – 3943 November –

4507

Facebook – 4858 November –

5348

Twitter – 1446 November –

1528

<- This surprises me!
Page views – 137,682 <- Outstanding!
Below is the income my blog generated, but I have not received in my accounts.

Ad Network Income: $783.39 <– YES!
Affiliate Sales: $55.25
Sponsored Posts – $135.15
Total November Site Income – $973.79 <– I am speechless!
Now this is the money I received in my accounts.
Escalate Network – $70.19
Media.net – $196.47
Adsense – $150.18
TBN – $189.39
Sponsored post – $200.00
Izea – $101.83
She Knows – $175.00
EBA – $00.00
Linquia – $85.00
Capital One 360 – $20.00
Total amount actually paid in November – $1188.06 <—- Best Month So Far!!!
Total November Blog Expenses
Expenses were a bit high, and during Black Friday, I took advantage of some hosting packages. Also, as the blog grows I have to not only deal with haters, but my expenses are going to grow as well.
Add the additional monthly expenses:
BoardBooster – $10.00
Advertisement – $35.85
Canva – $10.00
P.O. Box Renewal -$00.00
Izea – $1.00
Giveaway – $20.00
MadMimi – $12.72
Domain – $6.06
New Host – $25.00
Total Expenses – $119.63
I am very happy with these numbers, and I honestly, I didn't expect myself to even be over 50,000 page views by the end of 2015. I also have been busy working on projects and sponsored posts and dealing with other things that at some point last month, I felt myself feeling a bit overwhelmed.
What I learned from this blog journey is to question everything. I challenge you to experiment and see what works for you and take it from there. To try new things, because I felt that at one point I was doing the same thing over and over again, my blog seemed to be stuck. Was 1,000 page views a day good enough for me, or did I want to reach 1,500? How could I improve what I was doing?
The truth is that the insecure girl in me worries if I will be able to handle success and family. I worried that I will receive those awful emails from strangers, and if I will be able to handle them. I worry that I will fail and then I read and go back to my goals and realize that I need to fail (maybe a lot) to succeed.
I am not afraid to share what I have done to reach my blogging goals, but I will tell you that it didn't happen overnight and that I was determined to reach my goals, and then some.
December Personal Goals
Share my secret in the next post. – You are going to have to read the next post and find my little secret. Have to make it fun for everyone and hard!
Start looking at our budget and goals for 2015 – Yes it is that time!
Mini Make over our bedroom – this is something I have always wanted to do and I think this month I'll keep myself busy and start remaking our bedroom.
December Blog Goals
I am seriously shocked by these numbers that I'm afraid to even create goals, but I have to!
Look at my editorial calendar for this month and next month – With opportunities appearing, I have to make sure that my posts are set and scheduled before taking any more work.
Start looking for a blog designer – YES! Invest back into the blog is one of my goals. Anyone knows a good, affordable designer, let me know.
Continue to push and promote – Promoting is the part I hate the most, but it is working and I have to continue to do it.
So there you have my November Income Report & December Goals. How was your November?
The following two tabs change content below.
Latina mom of 4 married to wonderful Greek gentleman. Living in southeast PA and trying to juggle family and a household while trying to earn an income from home. Follow my stay at home journey as I discover how to earn money and save money so we can continue to live debt-free.
Latest posts by Joyce @ My Stay At Home Adventures (see all)