10 Delicious Flan Recipes You Are Going To Love
This post may contain affiliate links which might earn us money. Please read my Disclosure and Privacy policies here
Flan is a popular dish in Latin America, and it has its roots in Spain. Flan is a custard-type dessert that has been popularized in Latin America and spread around the world, but it originated from France as crème caramel.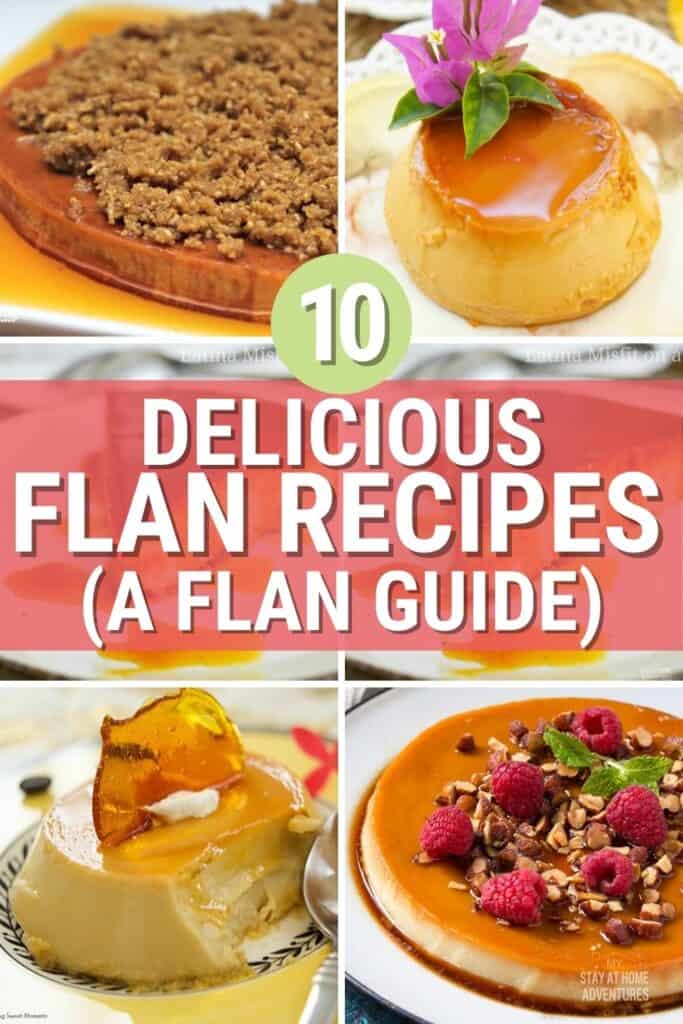 In Spanish, "flan" means "a type of rich cream cake or tart." The word flan is derived from the French phrase 'flamande,' which refers to a custard served with baked apples.
A traditional flan consists of an egg-based custard flavored with sugar and milk and then cooked on top of a water bath until set.
There are many flans variations – some are baked like pies with sweet crusts on top. While other flans are more like custards or puddings, which are cooked in a ceramic dish.
There's also the classic flan that is more similar to crème caramel: eggs (no vegan alternatives here!), sugar, and milk whisked together with either vanilla extract or cinnamon until they're light and fluffy before being poured into ramekins to bake in the oven.
The type of flan you choose to make will depend on your preference for how it's served and what flavors are used.
Flan is a dessert that can be made ahead, so taking some time off from cooking or baking to have a carefree weekend with friends and family but still providing them with something delightful like flan to eat.
What are the ingredients for flan?
Flans are made of a custard base flavored with milk, sugar, eggs, and vanilla extract. Additional ingredients can also be added to the mix, such as fruit purees or pastries.
How are flans made?
The ingredients for the custard base are generally mixed together and then cooked on top of a water bath to ensure that it doesn't overcook.
In some recipes, eggs get tempered with sugar first before being whisked into the milk mixture.
The dish is baked in an oven until set or chilled overnight to help cook further while ensuring a more stable consistency when removed from the oven. Once cooled sufficiently, this type of flan can be served directly out of its baking pan as well!
Flans come in various shapes and sizes: round tarts called crème brûlée; individual ramekins; sundaes topped with whipped cream, syrup, and nuts; thick slices cut into squares like brownies.
.
Flans are often made by cooking them in individual cups or ramekins because it's easy for people to serve themselves from this type of dish without having any leftovers (or if there are leftovers, they'll only last one day). Flan is typically served cold, but some variations include flan hot out of the oven served with whipped cream on top!
What makes a good flan?
A good flan is not too sweet but still creamy and rich. It should have a nice caramelized crust on the top, or in some cases be served with a crispy layer of sugar that has been dusted over the top before baking (called crème brûlée).
The texture should be smooth without any lumps. The flan should be soft and silky but not too runny, like a pudding or custard.
How is flan served?
Flan can also be served chilled with whipped cream on top, nuts or fruits. It all depends on your flan recipe and preference.
Can you freeze flan?
No, you can't freeze flan because the eggs will become rubbery when thawed.
Flan Molds on Sale:
Types of Flan:
-Custard flans are a decadent, creamy dessert that's perfect for serving at holiday get-togethers or when you want to impress your in-laws with a showstopping dish. They're cooked by whisking eggs and milk together before being poured into the casserole dish or mold to cook in the oven.
-Caramel flans are a lighter dessert that's perfect for folks who don't want something too heavy before dinner. The flan is made by stirring sugar and milk together until it is caramelized, then whisking eggs into the mixture before pouring it into ramekins to bake in the oven.
-Egg custard flans are probably the most well-known type out there, and they're popular among Latin Americans. These are cooked by whisking eggs with milk before pouring it into a casserole dish or mold to cook in the oven until set.
Ingredients for Flans:
The essential ingredients for any of these are going to be eggs and milk of some kind, with sugar added.
The eggs can be either separated or just whole ones whisked together. The type of milk will also vary based on the recipe you're using – in general, it'll use a lactose product like cream, evaporated milk, condensed milk, yogurt, or half and half.
Below you will find the best flan recipes around. To access the recipes, all you have to do is click the links. I hope you enjoy and let me know which flan recipe is your favorite and why!
Delicious Flan Recipes
Would you like to try a new dessert recipe? Whether it's for your own personal enjoyment or if you're cooking up something special, we've got 10 delicious flan recipes that will make your mouth water.
Flan is made by cooking eggs with milk or cream in a saucepan over medium heat until they thicken into a custard. Flan can also bake it in an oven, but it takes longer this way, so we recommend using a stovetop method if possible.
There are many methods to create a delicious flan, and you can check them out on this list.