How Much Should I Budget For Thanksgiving Dinner?
This post may contain affiliate links which might earn us money. Please read my Disclosure and Privacy policies here
Are you wondering how much to budget for Thanksgiving dinner this year? With the holiday season fast approaching, it's time to start planning. Let's explore different factors that can influence the cost of your Thanksgiving feast and provide some handy tips to help you create a budget that won't leave you with a financial hangover.
We've got you covered whether you're hosting a small, intimate dinner or a grand family reunion. Let's dive into the details and help you prepare a memorable yet affordable feast!
2022 the average cost of a classic Thanksgiving feast for 10 people was $64.05, equating to less than $6.50 per person, according to the American Farm Bureau's 37th annual survey.
This marked a significant increase from the previous year, with prices rising by more than 20%. Some sources reported an even higher average total price of $66.39. Meanwhile, it was found that 25% of consumers in the United States were planning to spend between 100 to 149 U.S. dollars for Thanksgiving. Regarding broader spending, Americans were expected to spend $1.1 billion on Thanksgiving turkeys alone.
Please note that these figures are averages, and actual costs can vary significantly depending on factors such as location, menu, and number of guests.
Let's continue.
Regarding the most popular Thanksgiving dishes, turkey is typically considered the show's star. However, other traditional favorites include stuffing, mashed potatoes, cranberry sauce, pumpkin pie, or similar desserts.
There are many ways to keep costs down when it comes to planning a budget-friendly Thanksgiving dinner. For example, you could make some dishes from scratch instead of buying pre-made versions. Also, choosing store brands or generic items can often be cheaper than buying name-brand products.
You could also ask family and friends to bring along their prepared dishes. This is a great way to ensure there's plenty of food while at the same time-saving money on your grocery bill.
Finally, don't forget to plan ahead when it comes to finding the best deals. Start shopping early and compare prices at different stores. This will give you plenty of time to stock up on all the ingredients for your feast without breaking the bank.
Let's take a closer look at what you can expect to spend on Thanksgiving dinner and some ways to help cut the costs.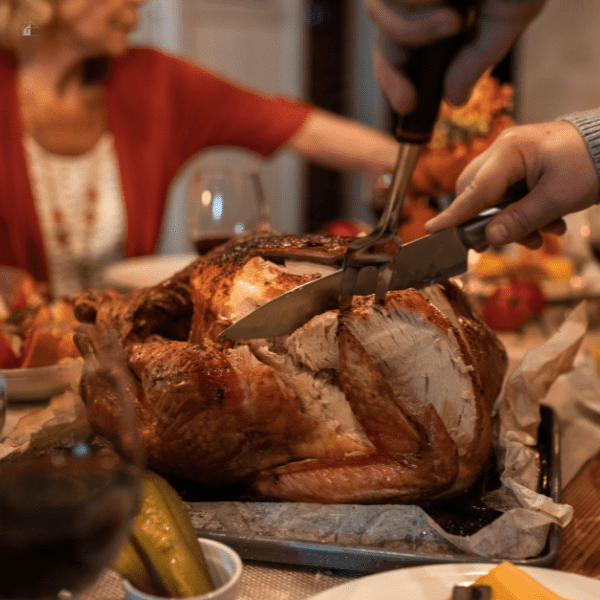 How much should you budget for Thanksgiving dinner?
It's hard to determine the cost of Thanksgiving dinner as prices vary widely from region to region. However, a good rule of thumb is to budget at least $6-10 per person, depending on the number of guests and the dish type.
You may want to save money for larger groups or more elaborate menus. If you're hosting a dinner party for 10 people or more, you may want to spend around $100-150.
Of course, the exact amount of money you need to budget for your Thanksgiving dinner will depend on the number of guests, whether or not you want leftovers, etc. If you want to be extra cautious, it's always best to round up. For example, consider budgeting $75 for your Thanksgiving dinner for a family of ten.
Sure, here's an example of a budget breakdown for a traditional Thanksgiving dinner:
| Item | Estimated Cost (USD) |
| --- | --- |
| Turkey (15 lbs) | $30 |
| Stuffing | $3 |
| Mashed Potatoes | $3 |
| Gravy | $2 |
| Cranberry Sauce | $2 |
| Green Bean Casserole | $5 |
| Sweet Potato Casserole | $5 |
| Dinner Rolls | $3 |
| Pumpkin Pie | $6 |
| Apple Pie | $6 |
| Drinks | $10 |
| Total | $75 |
Please note that these are rough estimates, and actual prices can vary based on location, store, brand, and portion sizes. You may also have additional costs if you include extras like appetizers or buy pre-made dishes instead of making them from scratch.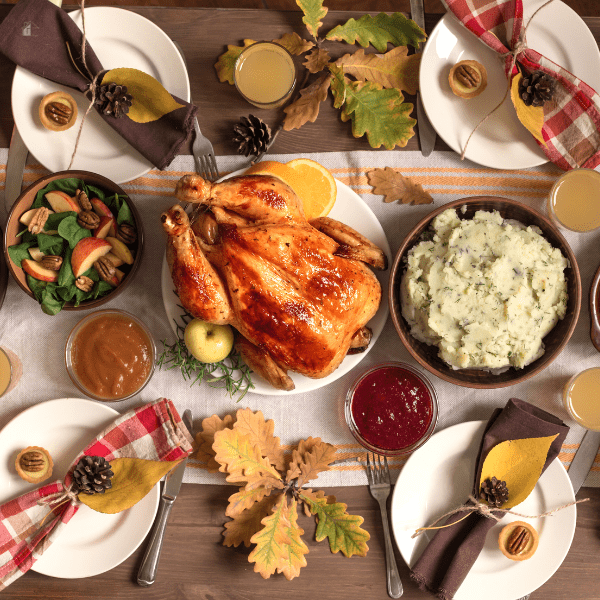 How much should a Thanksgiving dinner cost?
The cost of a Thanksgiving dinner can vary widely depending on several factors, such as the number of guests, the specific dishes you plan to serve, and whether you're making everything from scratch or buying some items pre-made.
In 2022, the American Farm Bureau's annual survey reported that the average cost for a complete Thanksgiving feast in the U.S. was $64.05. This meal was designed to serve ten people, costing about $6.40 per person.
However, this is just an average. Your own Thanksgiving dinner could cost more or less, depending on your circumstances. If you're looking to save money, there are many resources available that can help you plan a budget-friendly Thanksgiving meal.
You might like these Thanksgiving posts:
How much does a basic Thanksgiving meal cost?
The cost of a basic Thanksgiving meal can fluctuate depending on the current economy, the ingredients used, and whether the meal is homemade or premade. The American Farm Bureau's 36th annual survey in 2022 indicated that the average cost of a classic Thanksgiving feast for ten people was $53.31.
However, another study found that the average price for a complete Thanksgiving feast in the U.S. amounted to $64.05. This increase is largely due to the rise in food prices. For instance, the forecasted turkey cost in 2023 is estimated at $1.524 per pound, marking a decrease of 11.3 cents compared to the prior month.
This shows a downward trend from the previous years, with turkey prices being $1.55 per pound in 2022 and $1.23 per pound in 2021. However, the wholesale pricing for turkey meat in the United States in 2023 varies more widely, ranging from $1.59 to $2.54 per pound.
This means that a basic Thanksgiving meal's cost may differ in various regions.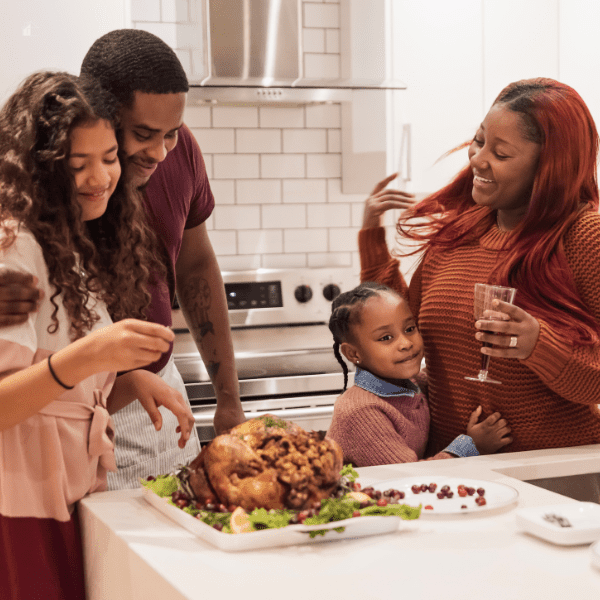 How can you cut the cost of Thanksgiving dinner?
Thankfully, there are things you can do to help cut the cost of Thanksgiving dinner. Will you come in under last year's average? It will all depend on various factors, but you can do things that will help make the meal as inexpensive as possible.
Consider Your Menu Carefully
Think about your menu. Write it down and then really look at it. Are you trying to be Martha Stewart? Do you really need ten different side dishes? Try to work your menu down to the most loved dishes. Cut out all the unnecessary items, and don't let this be the year to try extravagant things. Focus on making the basics the best they can be.
Start Shopping Early
In early October, you'll start seeing sales for items you can use in Thanksgiving dinner preparation. Make a list of everything you'll need, and then start buying them as you see great prices.
Items will have the longest shelf life and can be purchased months in advance. You'll need to wait until you get closer to the big day before you purchase fresh vegetables or other items with a shorter shelf life, but keeping a close watch on the sales will help you get the best prices possible.
Take Advantage of Store Promotions
Stores often run promotions that let you earn gift cards or a free turkey. For example, a promotion might be to spend $50 a week for six weeks to earn a $25 gift card. If you're already going to be spending that on weekly groceries, take advantage of this promotion. That gift card can go a long way in paying for your Thanksgiving dinner.
Opt for a Potluck Style Thanksgiving Dinner
Another great tip is to have a potluck-style Thanksgiving dinner where each person brings a dish. As the host, you could offer to fix the turkey, and then each person could bring a side or dessert. This way, no one is footing the entire bill for the meal.
Another bonus is not having to do all the work yourself. If you choose this option, start early to coordinate so everyone knows what to bring. The last thing you want is to end up with ten bowls of mashed potatoes and nothing else.
Thanksgiving dinner will almost certainly be more expensive this year. Due to rising food costs, there's no way around it. But you can make an effort to limit the amount spent so that you stick to a budget.