This is a sponsored conversation written by me on behalf of Pampers and Luvs at Sam's Club. The opinions and text are all mine.
Who doesn't love a baby shower? They are full of joy and tiny outfits….just plain fun! As a mother to four kids, I have learned a LOT about what moms really need at a baby shower. So many gifts are cute, but impractical, and don't end up getting used at all. You know I hate wasting money! So I have a list of the best baby shower gifts for new parents that will actually get used!!
The Best Baby Shower Gifts for New Parents
Baby shower gifts can be broken into a few different categories. There are the practical gifts that may not seem as exciting, but that parents will really end up appreciating. There are the sentimental gifts that are usually a big hit and fun to buy. Last are the gifts that people buy because THEY like them…not necessarily because the new parents want or need the item. 🙂
I personally prefer to give practical baby shower gifts, because these are items that will save the parents time and money. These are gift ideas that will make life easier for new parents. We all know that new parents need all the help they can get!! I really think that practical gifts are the best baby shower gifts for new parents.
Practical Baby Shower Gifts
Diapers
I know it may sound cliché and dull, but diapers are my GO-TO baby shower gift. When I have a shower to attend I grab a box of Pampers or Luvs diapers and wipes when I am at Sam's Club. I will do Club Pickup to save even more time. What new mommy wouldn't be thrilled with a huge box of diapers!!
This saves her time because she won't have to shop for diapers as often and it saves her MONEY! Personally, I think diapers are the BEST baby shower gift you can give. I know I loved getting big boxes of Pampers or Luvs at my showers.
Books
I have been reading to my kids since before they were even born. Most parents love to read to their babies too, but may not have planned ahead and bought any books! Giving a good selection of quality children's books is a gift that will last the family for years.
Gift Cards
I know gift cards seem a little impersonal, but I was always thrilled to receive them. New parents are constantly having to run out and buy something that didn't realize they needed. Having a gift card to grab and use for these last-minute purchases can really take a load off of their family budget.
I like to pair a gift card with a small baby toy, bib, etc. so that the gift card is rounded out! Find out where they are registered and give them a gift card to that store. It is also a way for new parents to buy larger items they need!
Onesies
Onesies never go out of style, and most babies spend a lot of time in them. I prefer to buy an assortment of sizes for new moms so they have what they need as the baby starts outgrowing things. There are so many adorable onesies now that you can find really special gifts. You can even buy personalized onesies that make a great keepsake items too!
Meals
I don't know of any new moms who would NOT want someone to make dinner for her family after baby is born. One gift idea that is ALWAYS a hit is to give a couple of coupons for a FREE HOMECOOKED MEAL delivered to them after their new baby is born.
Taking a meal to a family with a new baby is a caring gesture that will be so appreciated. Cooking will be the last thing they have time or energy for. If you are feeling froggy you could even set up a meal train!
What is Your Go-To Baby Shower Gift?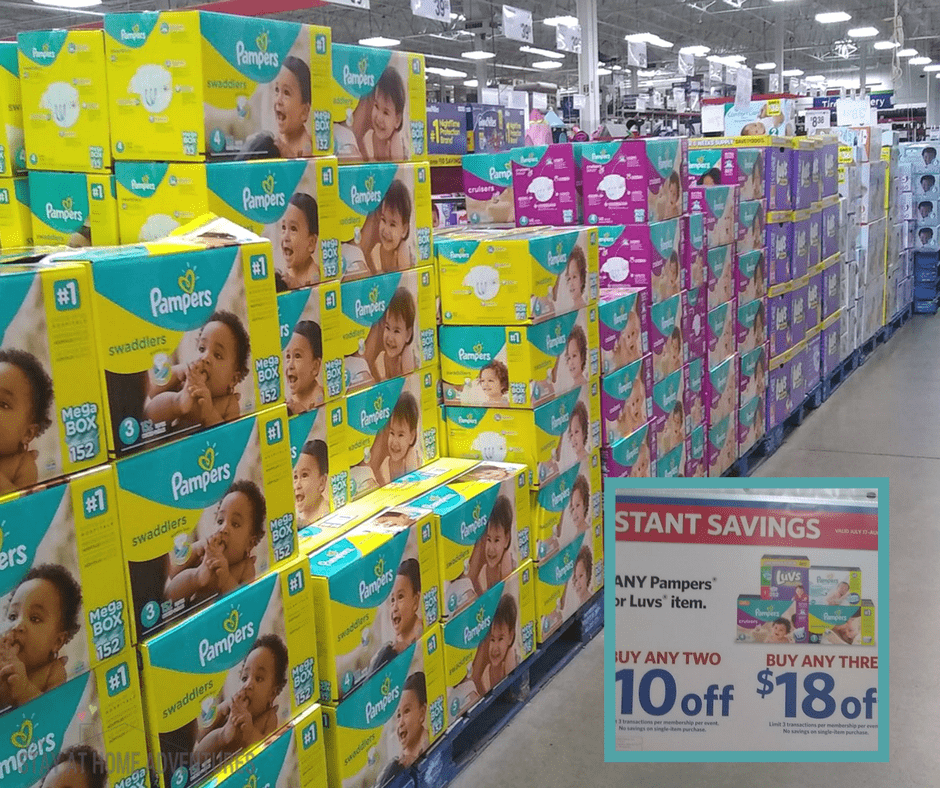 What are the best baby shower gifts for new parents in your experience? Do you have a go-to baby shower gift to share with me? Be sure to take advantage of the special Sam's Club is running through August 22nd. You will save $10 off the purchase of two Pampers or Luvs diapers or wipes items, or $18 off the purchase of three items AND free shipping or Club Pickup (where available). That makes your baby shower gift even more affordable!
Don't Forget To Use the app!
No more waiting in the checkout line to buy diapers in bulk when you download the Sam's Club Scan & Go App. This latest app allows you to use your phone and scan your items with your phone as you shop. When it is time to check out, use your app to pay with your phone, a receipt will appear on your phone, and you will be on your way.
When it is time to check out, use your app, and when you pay with your phone, a receipt will appear on your phone, and you will be on your way.
Don't forget to learn more about buying diapers in bulk and its benefits!
The following two tabs change content below.
Latina mom of 4 married to wonderful Greek gentleman. Living in southeast PA and trying to juggle family and a household while trying to earn an income from home. Follow my stay at home journey as I discover how to earn money and save money so we can continue to live debt free.
Latest posts by Joyce @ My Stay At Home Adventures (see all)