This is a sponsored post in partnership with The Motherhood on behalf of Nature's Bounty.
It is hard to believe we are already into March. The year is moving quickly and I am pleased to say that I have made some positive changes. The older I get the more I realize that being healthy makes every area of my life better. There are 5 ways I'm improving my health this year so that I can accomplish my goals.
5 Ways I'm Improving My Health This Year
It surprises me how even small changes can make a big difference in how I feel. I think everyone wants to be healthy. Everyone has their own definition of health and what healthy means to them. Don't forget that health includes physical, spiritual, emotional, mental and even social well-being.
Drink More Water
Drinking water is a really easy way for me to improve my health. I love that this is an inexpensive task to undertake too! You know I am always looking at my budget.
Keeping my body well hydrated really does seem to give me more energy and I am not as hungry! I am saving money on "drinks" and am setting a healthy example for my children.
Daily Supplements
I want to be my best, healthiest self….because I know that I am better off healthy. One way I am improving my health is to take daily supplements. Supplements help support me along the path to achieving my goals.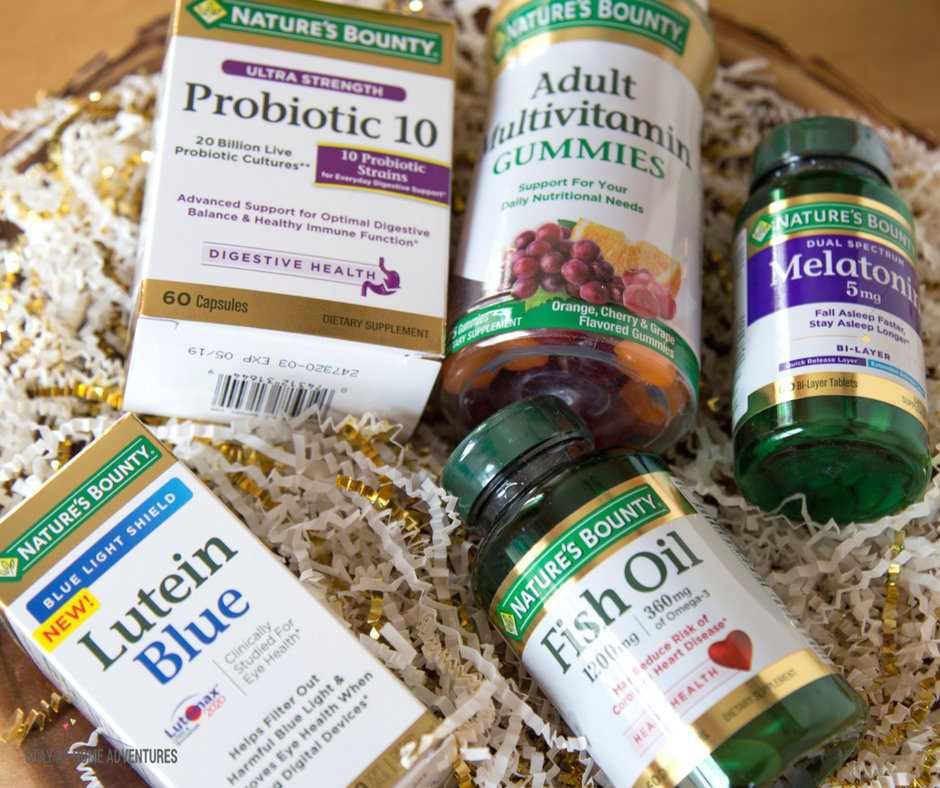 Lately, I have been taking Nature's Bounty supplements. I love that Nature's Bounty has been a trusted brand for almost 50 years. They have the finest ingredients and extremely high-quality standards.
I take Nature's Bounty® Ultra Strength Probiotic10. This provides me with advanced support for digestive balance and a healthy immune function.*
Another must have is the Nature's Bounty Adult Multi Gummy. This is an easy and yummy way to get the nutrients my body needs. Every serving provides me with 100% daily value or more of four key B Vitamins, Vitamin C and Vitamin D. This really keeps me going while supporting my immune system and promoting my bone health.*
I recently started taking Nature's Bounty® Lutein Blue. As a blogger, I spend a lot of time on electronic devices. Research shows that digital devices emit high amounts of the high energy blue light which may induce oxidative stress to the eyes. I was excited to see a product that will help protect my eyes from the damaging blue light of electronic devices.* This is a clinically studied formula to support eye health.*
More Time Outdoors
There are many quotes about how nature is good for the soul and I really believe it. Spending more time outdoors is one more way I am improving my health this year. I will be spending a lot of time in the garden and will be getting my kids involved too.
Spending quality time outside as a family will help us all grow closer together.
Scheduling Movement
The word exercise just turns me off, but the word movement makes me want to get up and go. I decided this year I wouldn't just work fitness in when I have a spare moment.
Putting time for movement into my schedule is helping me achieve this goal the easy way. There are small pockets of time when I can go for a quick walk, do some yoga or even just dance in my kitchen.
I know that staying active and fit will improve my long-term health goals.
Positive Thinking
The mind is a powerful thing and that is why I am being deliberate about my thoughts. I want this to be the year I change my mindset towards the positive.
Happiness and a positive attitude can be contagious too! I want to try to spread smiles and positive thoughts to others during my day.
What Are You Doing For Your Health This Year?
Do you have any health goals this year? I know that I want to be around for the small, everyday moments for many years to come. What motivates you to be healthier?
Nature's Bounty is here to support you on your health journey. Sign up for Nature's Bounty's mailing list to receive news, offers, and announcements right to your inbox visit http://bit.ly/NBSignUpNow.
*These statements have not been evaluated by the Food and Drug Administration. These products are not intended to diagnose, treat, cure or prevent any disease.
The following two tabs change content below.
Latina mom of 4 married to wonderful Greek gentleman. Living in southeast PA and trying to juggle family and a household while trying to earn an income from home. Follow my stay at home journey as I discover how to earn money and save money so we can continue to live debt-free.
Latest posts by Joyce @ My Stay At Home Adventures (see all)