Pasta De Guayaba Con Queso Recipe / Guava Paste With Cheese Recipe
This post may contain affiliate links which might earn us money. Please read my Disclosure and Privacy policies here
Heluva Good!® Cheese sponsored this post as part of an Influence Central campaign, and all opinions expressed in my post are my own.
Guava paste with cheese over crackers is a delicious appetizer that is perfect for any occasion. Kids love this recipe because it's easy to make, and the flavors are kid-friendly.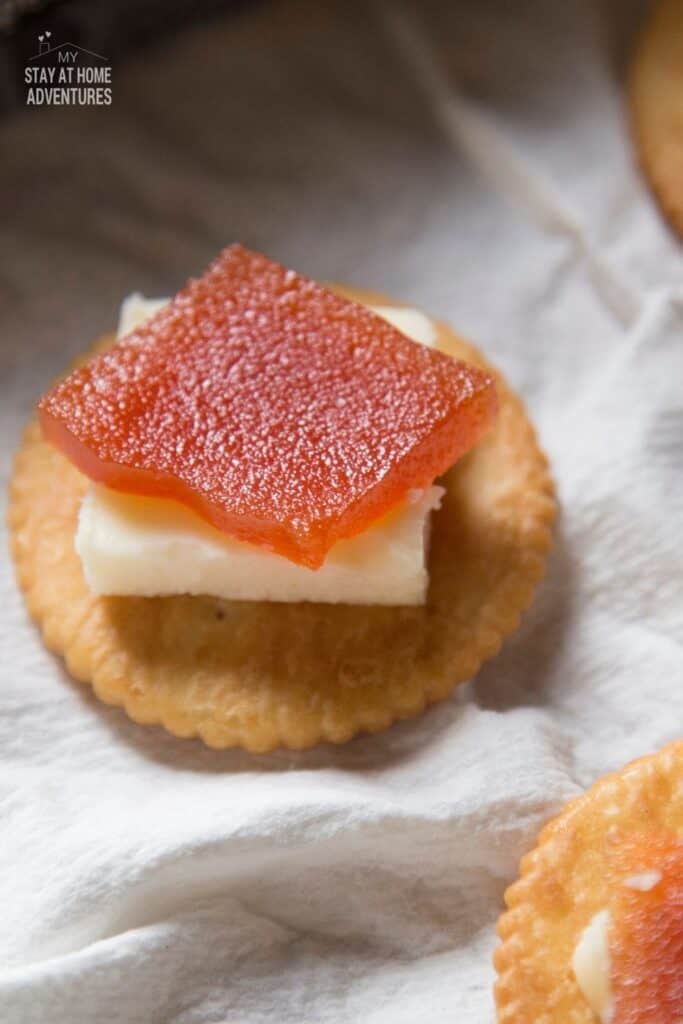 Guava paste, extra sharp cheddar cheese, and crackers are all you need to create this simple dish. Guava paste with cheese over crackers can be served as an appetizer or snack. So why not give it a try?
Now I live in Pennsylvania, and guava paste is found almost anywhere, but the cheese? It has to be good quality cheese to bring that taste that these two ingredients bring out together.
The good news that we have found you can find the perfect cheese to go with the pasta de guayaba/guava paste.
All you must do is a stroll to your local Walmart, head to the dairy wall, and grab a few blocks of Heluva Good!® Cheese block cheese.
Heluva Good Cheese comes in different assortments, and as I visited different Walmarts, I found that each one of them has different assortments.
Heluva Good! offers an assortment of flavors including:
Colby Jack
Pepper Jack
Extra Sharp Cheddar
Sharp Cheddar
White Extra Sharp Cheddar
White Sharp Cheddar
White Mild Cheddar
Muenster
Monterey Jack
Special Reserve Extra Sharp Cheddar
Colby
Mild Cheddar
If you are not familiar with Heluva Good! Cheese, then check out these facts about it and why we love it:
Gluten Free
Made with milk
0 grams trans-fat per serving
Good source of protein
Excellent source of calcium
Now that we have covered our sponsored, let's get to the recipe, shall we?
It takes just minutes to prepare these yummy guava pastes with cheese for your family and friends!
This appetizer is very popular in Puerto Rico and it's a crowd-pleaser.
What is guava paste?
Guava paste is a fruit spread that is made from guava puree or chunks of peeled and seeded guavas.
Is guava a fruit?
Guava is a fruit. The guava (Spanish pronunciation: [ɡwaˈba]) or guayaba ([gwajáˈba], in Spanish) is the national fruit of Venezuela and Ecuador, as well as Costa Rica, Guatemala, El Salvador, Honduras, Panama and in Puerto Rico it is called "guayaba". Guavas are also cultivated in northern Australia, southern China, and Taiwan.
Guavas are rich in vitamin C, fiber, potassium, calcium, and iron – making them a nutritious addition to your diet!
What cheese goes well with guava paste?
The type of cheese you can serve with guava paste depends on your taste. You can use Heluva Good! Special Reserve Extra Sharp Cheddar or any sharp cheddar cheese, Mozzarella, feta cheese or cream cheese, and many more.
Sharp cheddar works best because it has a more balanced flavor. Alternatively, you could use feta cheese which has a creamier flavor and is milder.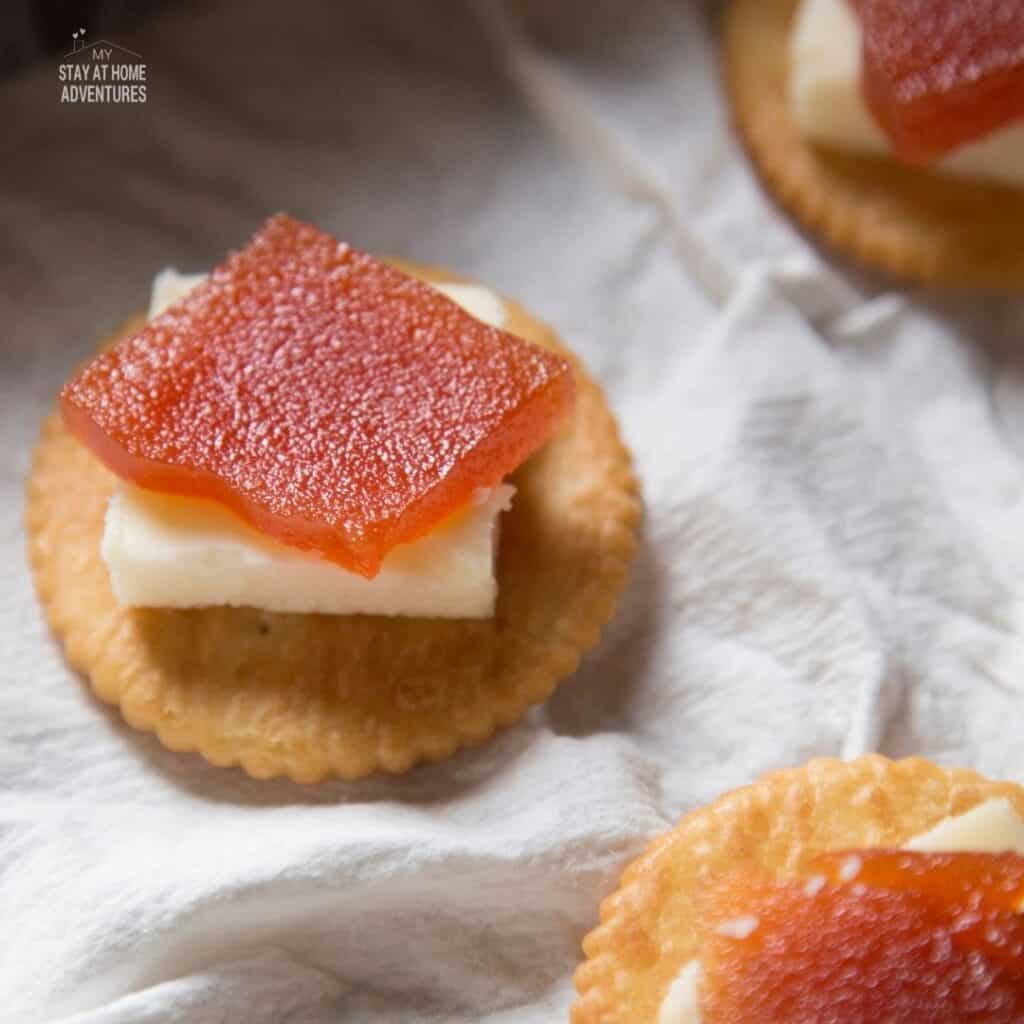 Can I make guava paste with cheese over crackers ahead of time?
Yes, guava paste with cheese can be pre-made ahead of time. Cover them and store them in the fridge until you're ready to serve.
However, if you want to make this dish ahead of time for a party, you might prefer sharp cheddar for this appetizer because it helps the crackers stay fresh.
The guava paste with cheese can be served warm or cold, so it's easy to make ahead of time!
If you serve the dish at a party, cut crackers in small squares (about an inch) and keep them separate from the guava paste and cheese ready to assemble just before serving.
What type of crackers can be served with guava and cheese?
Guava and cheese can be served on any type of crackers, but we prefer using Ritz Crackers.
What are other guava paste recipes to try?
Guava paste and cheese can be served with pineapple chunks, or you could make guava pie or salami for a sweet and salty combination.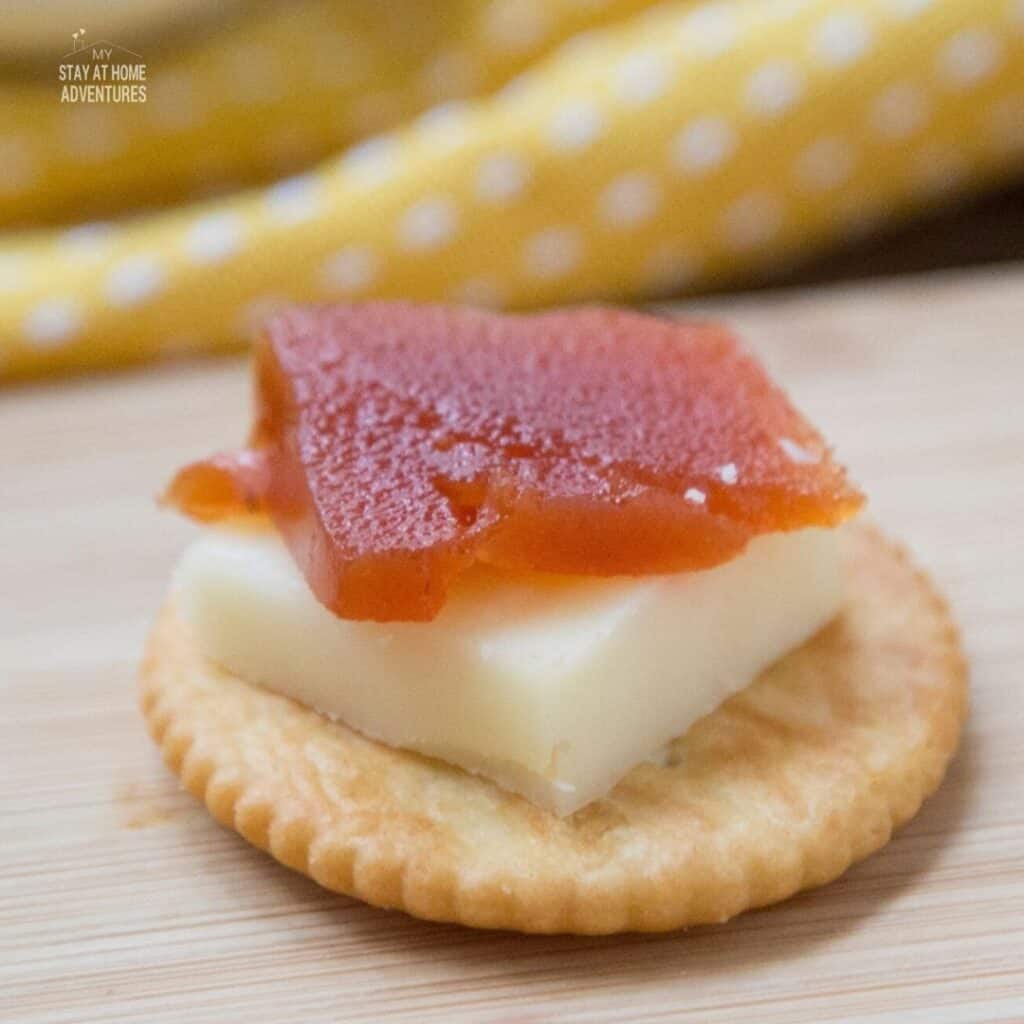 What are the ingredients to make Guava Paste with Cheese over Crackers?
Guava paste
Heluva Good! Special Reserve Extra Sharp Cheddar Cheese (or favorite sharp cheddar cheese) cut into about a one-inch square.
Crackers of choice, such as Ritz crackers or similar types of crackers.
How do you make guava paste with cheese over crackers?
Cut cheese in about an inch square, cut guava paste to an inch square. Place the cheese and guava on top of the cracker. Repeat the process with other crackers for a total to create as many as you need.
Now that you know all you need to know about creating this appetizer, it is time to print or save the recipe. To print, just click the print button located below. To save it, you can click the social share buttons and save it for later.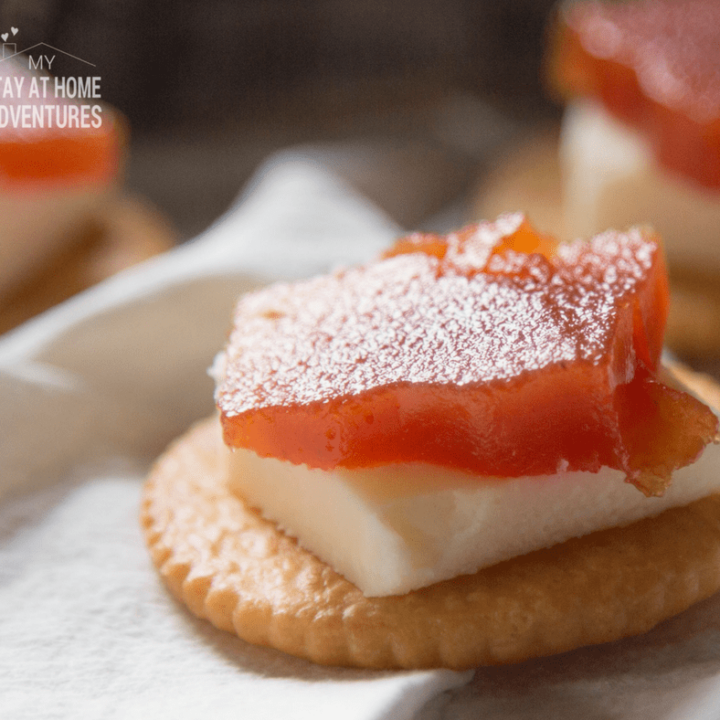 Pasta De Guayaba Con Queso Recipes / Guava Paste With Cheese Recipes
Looking for an appetizer or snack that kids will love? Try this easy-to-make guava paste and cheese over crackers. It's ready in minutes, simple to prepare, and budget-friendly too!
Ingredients
Guava paste
Heluva Good! Special Reserve Extra Sharp Cheddar or favorite Sharp Cheddar Cheese
Favorite crackers - We use Ritz Crackers
Instructions
Cut the cheese in about 1-inch square
Cut guava paste to about 1-inch square
Stack the cheese and guava paste on top of the cracker.
Repeat the process until you have the desired amount.

Notes
You can use any cheese you want. We recommend sharp cheddar cheese for its taste.
You can top each cracker with an olive as well.
Nutrition Information:
Yield:

12
Serving Size:

1
Amount Per Serving:
Calories:

32
Total Fat:

2g
Saturated Fat:

1g
Trans Fat:

0g
Unsaturated Fat:

1g
Cholesterol:

5mg
Sodium:

35mg
Carbohydrates:

2g
Fiber:

1g
Sugar:

1g
Protein:

2g
These nutritional calculations might not be accurate. Please speak with a licensed nutritionist to assist you.