How to Make Your Backyard a Relaxing Space
This post may contain affiliate links which might earn us money. Please read my Disclosure and Privacy policies here
Can you make your backyard a relaxing space? Are you someone that loves to be outside? If so, you probably like spending time in your outdoor space. Having a garden is a huge asset for any property and instantly makes it more appealing. The great thing about having a backyard is that you don't need to venture any further than outside your back door to enjoy nature's beauty.
Having a backyard offers you the chance to fully engage with the outdoors and enjoy all the benefits of spending time outside whenever you choose to. This is a significant benefit and can really help to enhance your sense of well-being and improve your mental health.
While having outdoor space to call your own delivers many potential advantages, for you to fully make the most of your garden, you need to ensure that it is designed to meet your needs perfectly. Construction estimating software can significantly assist in this process by helping you accurately project the costs associated with your garden enhancements.
A usable garden can make a vast difference to your quality of life and enhance your life in many ways. But, knowing how to create a back garden that enhances your life in this way can be challenging.
You might enjoy these posts:
Knowing where to start when designing a relaxing yard is often the biggest stumbling block. But with help from a professional landscaping service, such as MasterScapes Landscaping, it will be easy to create your perfect outdoor space.
Creating a garden is not difficult, but making a relaxing yard can be a little trickier to achieve. If you hope to use your backyard as a relaxing place to spend your time, the following ideas will help you to transform your space to suit this purpose perfectly:
Attract Wildlife
The benefits of being surrounded by nature and spending time in the natural environment are well-documented. Research into the advantages of time spent in nature and its positive impact on wellness is the subject of much attention in recent years. So far, researchers have been busy building their understanding of the benefits of being around nature and how much time you need to spend in the natural environment to get the maximum health benefits.
While this area of research continues, one thing you are probably already sure about is that you feel more relaxed when you spend time outdoors and being around nature. One excellent way to maximize the benefits of being in nature is to attract more wildlife to your backyard.
Spending time quietly sitting in the fresh air while you watch butterflies float around your yard, quickly moving from flower to flower, is guaranteed to make you feel more relaxed. Introducing flowers that attract more butterflies and bees to your backyard is an excellent way to see even more of these beautiful creatures in your garden.
You may also want to introduce some bird-friendly features to your yard so that you can enjoy even more wildlife in the garden. Watching the birds feed is equally relaxing, and you will also be doing your part to keep the bird population healthy.
Make it Beautiful
Of course, one of the best ways to make your backyard a relaxing space is to ensure that it looks beautiful. When your garden looks amazing, it is almost impossible not to feel relaxed. Using the landscaping company to take care of the basic maintenance of your backyard will means that you can solely focus on enjoying it. With all the hard work taken care of on your behalf, your backyard becomes simply a space for you to feel calm and relaxed.
Making your backyard look beautiful often involves ensuring the space stimulates your senses and is alive with color. This could mean planting flowers that are both attractive to look at and are bursting with a gorgeous fragrance. This double-hit of sensory stimulation can help you to forget about the outside world and focus on the here and now.
Introducing colors, textures, and fragrances to your garden can make it your go-to place to relax. Add in a sheltered area or summer house, and you will have a backyard that you can enjoy looking at throughout the year while staying covered and dry.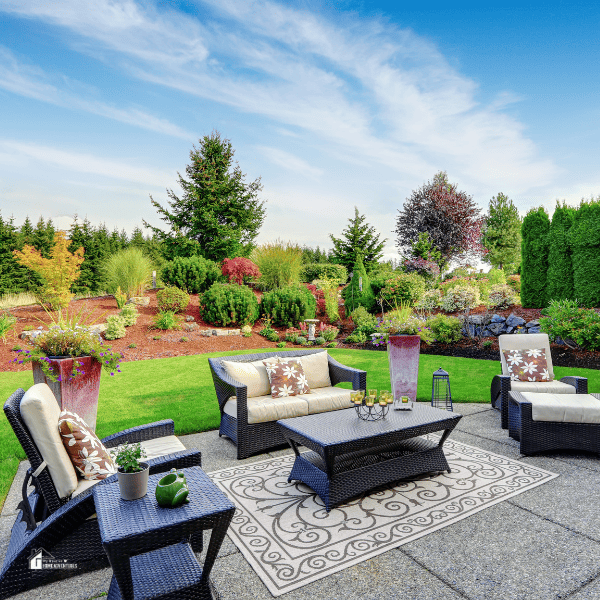 Divide Up the Space
If you have children, a backyard can be the perfect place for them to play. However, having lots of outdoor play equipment can ruin your relaxing experience. With this in mind, it can be helpful to divide up your space and use different areas of your backyard for different purposes.
Focusing on using your space in different ways will mean that you have a backyard that suits the needs of everyone in the family.
Introduce Calming Features
Adding some calming features to your backyard will instantly promote feelings of relaxation. Spending time in your backyard will be a far more pleasant experience when you have designed it specifically for this purpose. To achieve this, you could create specific areas of your garden designed for relaxation, such as a simple, understated zen area.
Alternatively, you could choose to add attractive elements such as wind chimes and water features. These extra features can really enhance the space and bring an unsurpassed feeling of calm to your backyard.
The sound of wind chimes gently knocking together in the breeze and the running water babbling gently over your water feature will help you feel much more relaxed.
You will find that you can spend hours simply sitting in your backyard and enjoying a sensory experience with the help of these features. This will surely provoke a feeling of calmness and relaxation that helps to soothe your senses.
The real beauty of designing a backyard like this is that you can step outside and enjoy it whenever you choose to. So, whether you want to get your day off to a relaxing start or you need to find a calming space to recharge your batteries after a stressful day, you can make all of this happen in your new relaxing garden.