You want to start your first indoor gardening but are afraid of making a mistake? Relax! The good news is that I have made them all and decided to give you some helpful tips to avoid those indoor gardening mistakes beginners like us make.
I'm in no way an expert gardener, but I can tell you that when I decided to start my garden I went in full force making so many beginner gardener mistakes along the way and ending loving gardening even more!
How is that possible?
You learn from mistakes and gardening is an example of that but you just keep going and once your garden starts to grow and you taste your crops you will fall in love with gardening.
Even if you don't feel like taking a big chance with a bigger garden start indoor! You can start an indoor gardening that will grow as you an outside one. I am growing herbs indoors year round. And if I can grow my indoor garden so can you!
6 Indoor Gardening Mistakes Beginners Should Avoid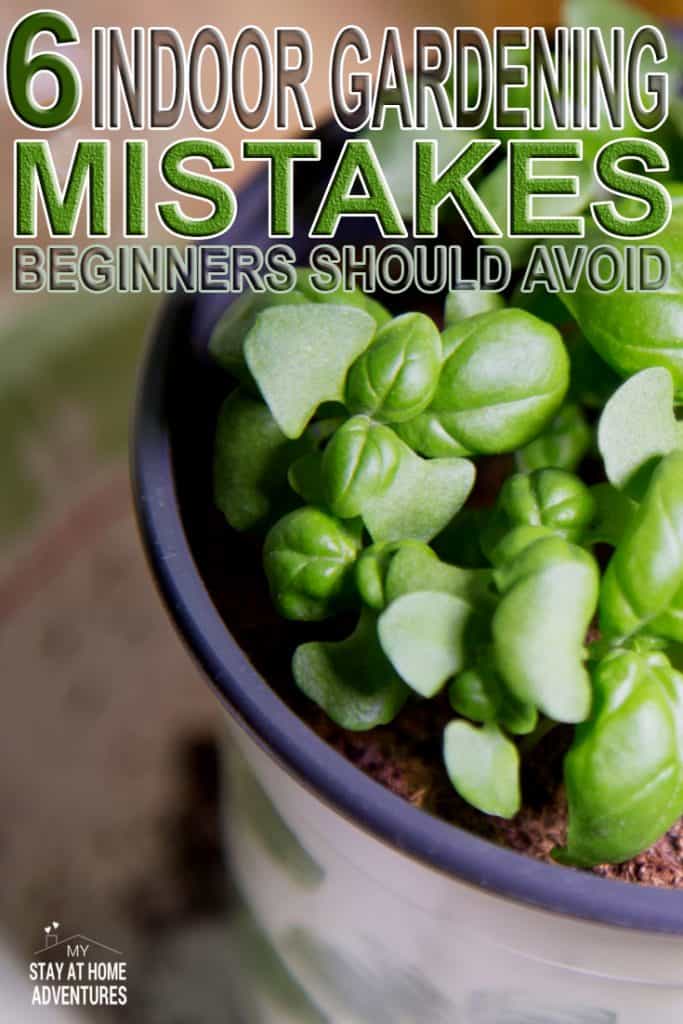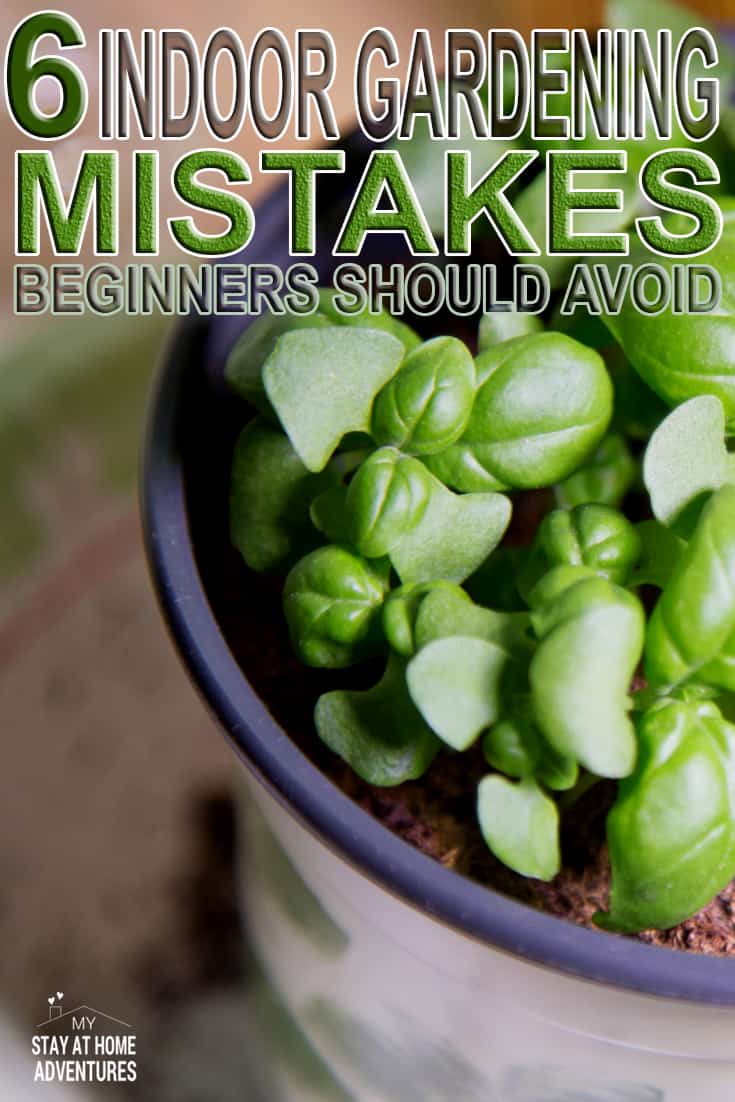 Before you start your indoor gardening let's go over  6 beginner indoor gardening mistakes you must avoid:
Not doing proper research
Before you begin to plant, make sure you take the time to do some research about indoor gardening, the plants you would like to plant and everything else you need to know. Researching is important to avoid wasting your time and money gardening when the plant or plants won't make it due to lack of research.
Not having proper lighting
The best will be indirect sunlight, but some plants thrive in full sun. If proper lighting is an issue, use artificial lights. Grow lights, and white reflectors will help your indoor plants grow.
Grow lights are very important, and you can find them just about anywhere. Grow lights prices vary, and so does sizes. They also come in different styles:
High-intensity Discharge (HID) – Normally for commercial growth and large growing spaces.
Fluorescent – The most popular choices for home gardeners. They are good to start growing your seeds and herbs.
Not having proper soil
Having the proper soil is very important when it comes to indoor gardening. You see good soil means good plants and you need to make sure you use soil that will provide for your plants. Getting soil from outside is not a great idea. As stated before make sure you do your research as not all plants will do well with the same soil.
Not having proper nutrients
Giving plants the proper nutrients is important the key is to not over do it.  When in doubt, always read the label of the fertilizers or soil  and of course your plant.
Not having proper space
Your plants are going to grow and for that reason you need to make sure they have room to grow. Tomato plants can grow on a table and you can grow other plants on shelves, but please make sure that they get proper lighting.
Growing too much
This is a beginner gardener mistakes and that is too grow too much plants and not have enough space or create waste. We get sucked up into the moment of starting our indoor plant and not realized that. Always make a plan and start small at first to get a feel of this gardening thing.
Conclusion
I can't stop repeating myself when I say that everyone should grow something! Gardening even indoor is the best thing to do. There are so many benefits to starting a garden and an indoor garden thought limited in space, will give you such joy.
Remember to start small and take the time to do research before you begin your indoor garden. Below is a list of gardening plants you can grow in your indoor garden.
Herbs:
    Basil
    Catnip
    Chives
    Cilantro
    Cumin
    Dill
    Garlic Chives
    Lavender
    Mint
    Oregano
    Rosemary
    Sage
    Thyme
Vegetables:
    Broccoli
    Brussels Sprouts
    Tomatoes
    Peppers
    Cabbage
    Cauliflower
    Kale
    Leeks
    Lettuce
    Mustard Greens
    Spinach
What other tips or ideas do you have for us indoor gardening beginners?
Love gardening posts? Check these posts out: