How to Clean Your Flower Beds This Fall
This post may contain affiliate links which might earn us money. Please read my Disclosure and Privacy policies here
You are going to learn how to clean our flower beds this fall, what tools you are going to need to get this job done, and why you should clean out your flower beds.
With fall around the corner, cleaning up your flower beds is essential if you want to grow gorgeous flowers in the spring.
Let's begin!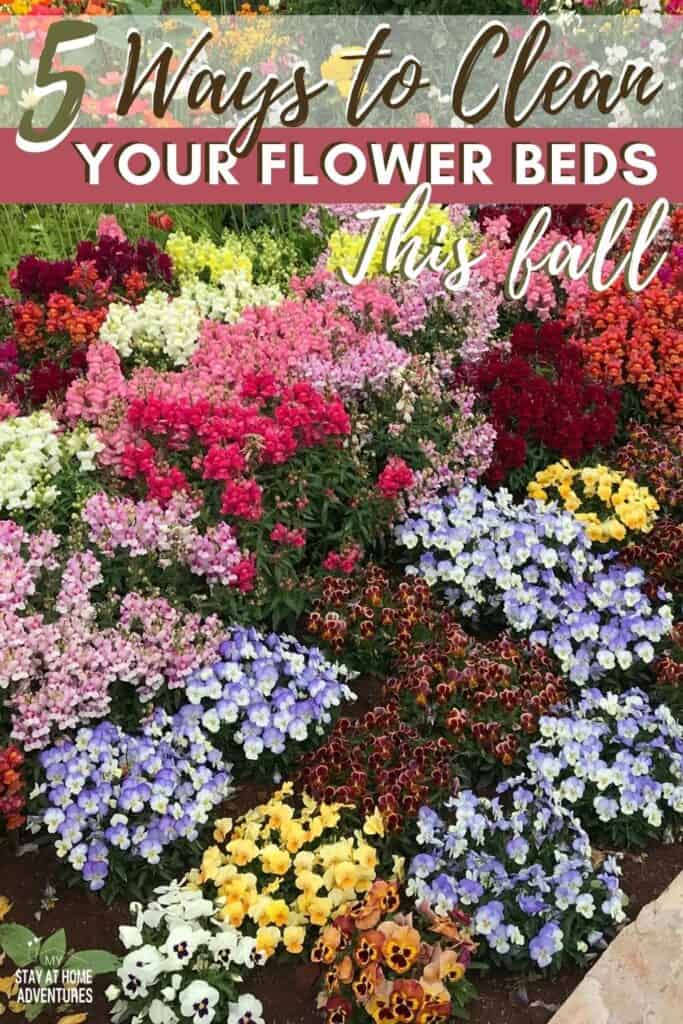 Is cleaning my flower bed necessary?
Removing dead flowers, weeds, and non-friendly leaves will help your flower bed to thrive in spring. Adding fertilizers and pruning down plants is another way to improve your flower bed during the cold season.
What are the steps to clean a flower garden for the fall?
Remove decorations and any plant support
To clean you your flower garden bed, start by removing anything that is supporting your plants and any decoration in the bed.
Trim your plants or remove flowers
Before starting to clean up your flower garden bed, take a moment to access your garden. Decide what you want to keep in your garden and what you want.
Next, trim your flowers according to each plant pruning and care information. Not all plants can be pruned the same.
To learn about pruning, check out their tag information, or search the web for information about pruning and caring for each plant.
If you have Ornamental plants in your flower bed, most of them need to be cut down at the end of the season.
More Garden Post:
Weed your Flower Bed
Though pulling weeds is not a favorite to many, it is essential. Start removing weeds by hands to get the roots out.
Once you have removed the weeds from your flower bed, finish the job with a rake. Now, when it comes to raking, we recommend you use a rake that won't rip off your plants. Do not use a plastic leaf rake.
If you need recommendations on what are the best rakes to use in your flower garden, we have them below:
Fertilize your Garden
Once you have removed plants, prune flower plants, weeded, and rake, it is time to fertilize your flower bed.
Now before you use any fertilizer, make sure you research if the flower plants and applying fertilizers.
Many plants might need it, and others might not, and using more than one fertilizer might be required depending on the plants in your flower bed.
Add Mulch
Once you have followed all the steps above to clean your flower bed for this fall, it is time to add mulch.
Adding mulch to your garden will keep weed growth down, keep the soil moist, and it makes the flower bed look attractive.
Of course, there are other questions you might have as no size fit all when it comes to flower bed fall clean up.
Should you clear fallen leaves from flower beds?
Depending on the fallen leaves, they might be beneficial to your flower bed. Leaves can work as mulch in your flower bed.
It can protect bulbs and roots from the winter temperatures, but it all depends on the type of leaves they are as some maybe do more harm than good.
You can learn more about this by clicking this link that leads to an article called, How Soon Do You Remove Leaves from Flowerbeds?
When should you clean out flower beds?
If you want to clean your flower bed, we recommend starting when you feel its right for you. We usually wait until the first frost starts, and plants are not thriving.
What tools do I need to clean up a flower garden?
Depending on the fall cleaning job, you might need the following tools to clean your flower garden:
Rake
Pruner
Fertilizer
Bulb planter
Depending on your flower bed and what you plant, we recommend you research information about the flower plants in your bed. Make sure you use the proper rake and the right fertilizers to clean up your garden bed.
There are also many ways to clean up your flower garden. You can add wildflower seeds or cover crop seeds to help your soils get nutrients for next year.