How To Know When You Need A Financial Planner
This post may contain affiliate links which might earn us money. Please read my Disclosure and Privacy policies here
This is a Sponsored post and all opinion expressed in this post are all my own.
We talk about the importance of managing your finances and making sure you are in control. A personal financial journey is not easy, we know; but finding solutions to help you on this journey is a priority for us.
We talk about everything that we have done to make sure we are on the right path to financial freedom and grow our wealth.
I walked away from a 15-year career to become a stay-at-home mom, and later started my own small business.
But when do you know it is time to start planning?
When do you know you need a financial planner? Not just any financial planner, a CFP® professional, but more about this later.
On this site, we talk about planning and managing your money, but I am no certified expert. I can recommend how to live frugally and how to possibly grow your saving and wealth on my essential experience; but when it comes to things like what retirement investment is best for you, I can't.
Our financial journeys differ from person to person, and no one single financial situation is alike. We have mentioned this before, and we will say it again: there may be a time when you might need to seek the guidance and knowledge of a professional.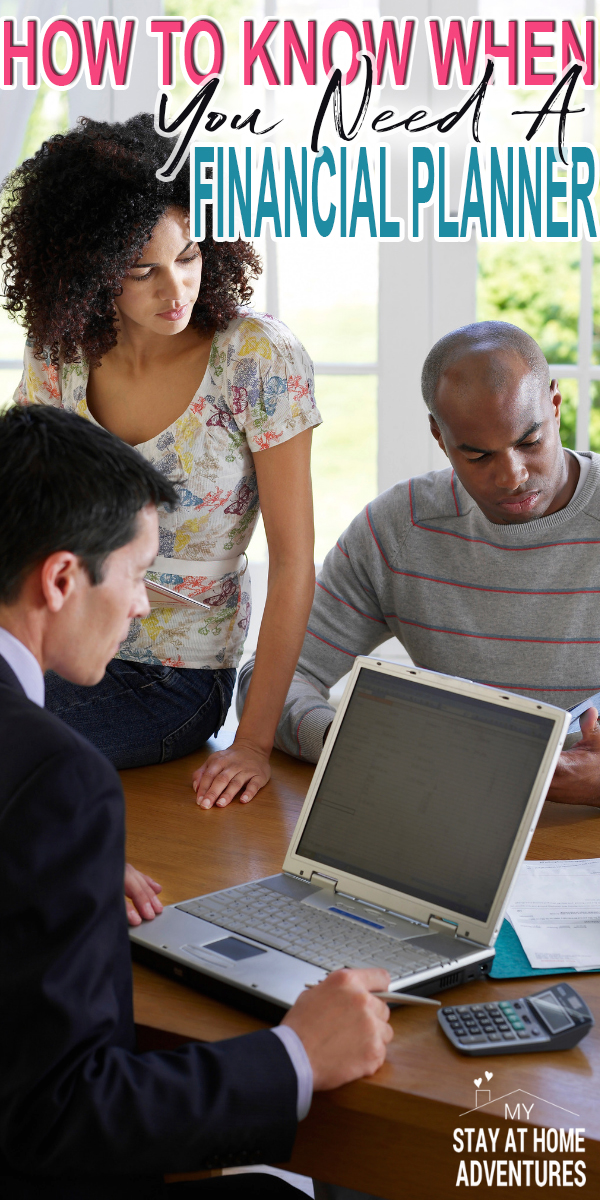 So, do you need a financial planner?
To answer that question, it is up to you and your knowledge. For someone like me, I make sure I leave some of this money matters to a professional who is a CFP® professional.
Now, remember when I mentioned you needed more than just a financial planner? Below I explain why CFP® professionals are required to complete extensive training before obtaining the certification.
Let's begin by breaking down what a CFP® certification is, shall we?
The CFP® mark stands for CERTIFIED FINANCIAL PLANNER ™ professional.
CFP® certification is the symbol of excellence when it comes to financial planning and a CFP® professional is required to act in your best interest when providing financial planning services.
If you want to let a professional handle your finances such as retirement, investing, or a major critical money matter, then make sure that the financial planner you seek out has this CFP® certification, so you know that you are working with a competent and ethical professional.
As a personal finance and frugal living blogger, I feel that this is something that needs to be shared and to always make sure that when you have decided that you are seeking someone to manage your finances, they are a CERTIFIED FINANCIAL PLANNER™ professional.
For us, making sure that our retirement and other investments are handled in a professional manner was a step in the right direction for us, as a family.
My CFP® professional is helping manage one side of our finances while we focus on other finances that we can manage on our own.
By doing this, we have reduced our money stress and know that when retirement comes, we can rest easy. Remember, we can't do it all every time, we can't always focus all our attention to our finances. Why not have a CERTIFIED FINANCIAL PLANNER™ professional do the work for us so we can focus on what's important to us?
Think about it!
Now, if you are interested in finding a CFP® pro, head over to Letsmakeaplan.org.
A financial planner doesn't have to be an intimidating or scary process! Now that you know what you need to look for, make sure you always look for a CFP® professional.
Remember the certification, and know it has the rigor standing behind it.
Your turn: When it comes to financial planners, what are your best tips?
Follow #LetsMakeAPlan on Facebook.