Easy Fall Punch Recipe
This post may contain affiliate links which might earn us money. Please read my Disclosure and Privacy policies here
Are you looking for the perfect fall drink to spice up your autumn gatherings? Well, you're in luck! Today, I'm sharing a delightful recipe for a delicious Fall Punch. It's a vibrant blend of warming flavors will make your taste buds dance with joy. Isn't it exciting to bring something new to your table?
So, what makes this punch so special? It combines apple cider's tangy sweetness, ginger ale's zesty zip, and the cranberry cocktail juice's tartness with the citrusy orange juice pop. But wait, there's more!
We've added some frozen cranberries for a frosty bite, cinnamon sticks for a cozy hint of spice, and sliced apples for an extra burst of fall flavor. Sounds heavenly.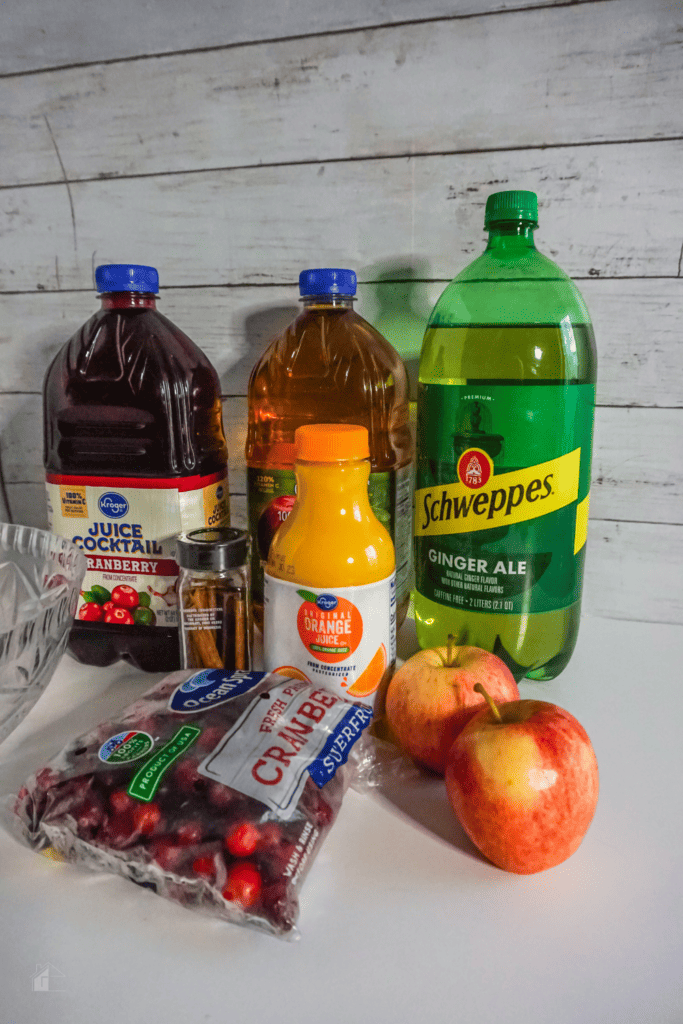 Easy Fall Punch Ingredients:
Below are the ingredients you are going to need to create this autumn punch.
Ingredients:
16oz Ginger Ale
16oz Apple Cider
16oz Cranberry Cocktail Juice
8oz Orange Juice
½ cup Frozen Cranberries
3-6 Cinnamon Sticks
2 Sliced Apples
Now, let's get to the fun part, the making! The best part about this recipe is its simplicity. Ready to stir up some magic?
You might enjoy these recipes: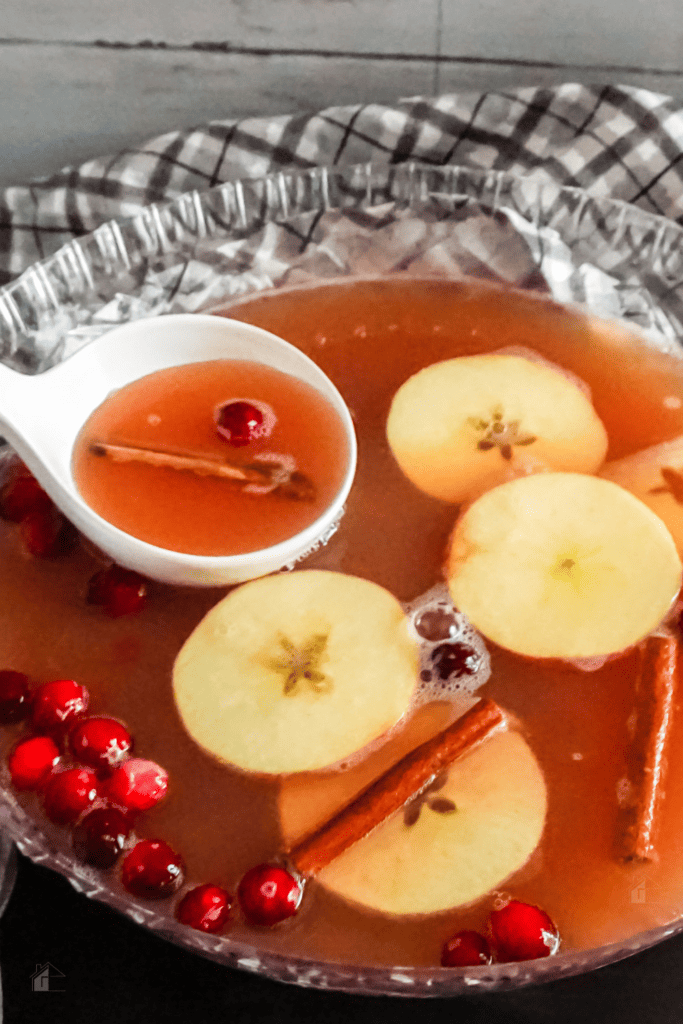 How to Make Fall Punch
Once you have gathered your ingredients, it is time to create this punch. Follow the steps below:
Instructions:
Gather all your ingredients.
Pour them into a large bowl.
Give everything a good stir until well combined.
Serve it over ice.
That's it! In just a few easy steps, you have a refreshing, beautifully layered Fall Punch that will surely be a hit at any gathering.
Isn't it amazing how simple ingredients can come together to create something so delightful? So, why not give it a try? Your friends and family will be thanking you for this tasty treat!
Remember, the joy of cooking is all about experimenting and making it your own. So, feel free to tweak this recipe as you see fit. Add a splash of your favorite spirit for an adult version, or garnish with some fresh mint leaves for an extra touch of freshness.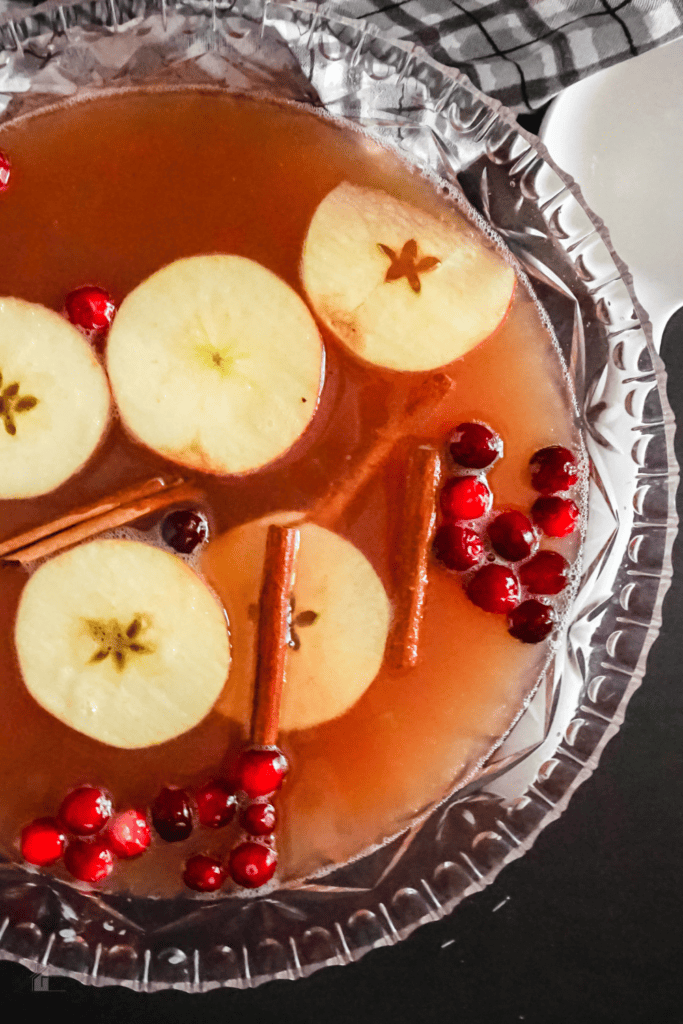 Frequent Ask Questions
Can I make this Fall Punch ahead of time?
Absolutely! You can mix all the ingredients together and store the punch in the fridge until you're ready to serve. Just give it a quick stir before serving.
Can I use different types of juice?
Of course! The great thing about this recipe is that you can switch up the juices to your liking. Feel free to experiment with different combinations and find your perfect match.
How can I make a larger batch?
Simply double or triple the ingredients to make a bigger batch. Just remember to adjust the amount of ice and garnishes accordingly.
Can I use fresh cranberries instead of frozen?
Yes, you can use fresh cranberries instead of frozen. Just make sure to wash them thoroughly before adding them to the punch.
Can I add alcohol to this punch?
Absolutely! This punch can be easily turned into a festive cocktail by adding your favorite spirit, such as vodka or rum. Just be sure to drink responsibly.
Can I serve this punch warm?
Yes, you can heat the ingredients in a pot before serving for a warm and cozy twist on this fall punch.
Additional Ideas Tips:
For a spicier kick, add a dash of ground cinnamon or nutmeg to the punch.
Use different types of apples for added flavor and color.
Freeze apple slices to use as ice cubes that won't dilute your punch.
Garnish with extra cranberries and cinnamon sticks for a festive touch.
Enjoy making and sipping this delicious Fall Punch, and share your experience. Happy Fall, everyone! 🍁🍂🍎🍊 Cheers!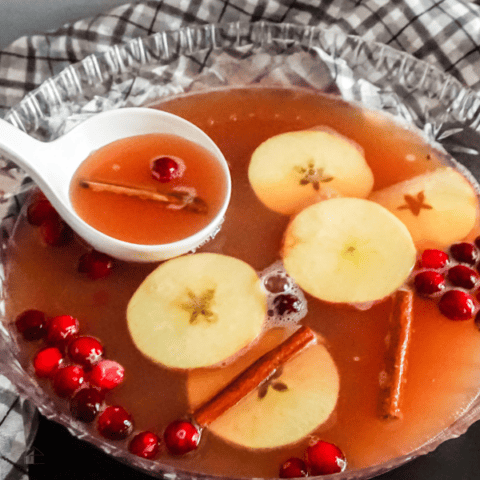 Easy Fall Punch Recipe
This Fall Punch is the perfect blend of autumn flavors to spice up your seasonal gatherings. A delightful mix of tangy apple cider, fizzy ginger ale, tart cranberry juice, and a citrusy burst of orange juice, it's as refreshing as it is delicious.
The added touch of cranberries, aromatic cinnamon sticks, and sliced apples elevate this punch to a whole new level of yumminess. Easy to prepare and sure to be a crowd-pleaser, this punch will make your autumn celebrations even more special. Enjoy the taste of fall in every sip!
Ingredients
16oz Ginger Ale
16oz Apple Cider
16oz Cranberry Cocktail Juice
8oz Orange Juice
½ cup Frozen Cranberries
3-6 Cinnamon Sticks
2 Sliced Apples
Instructions
Combine all ingredients in a bowl and stir well.
Serve with ice.

Recommended Products
As an Amazon Associate and member of other affiliate programs, I earn from qualifying purchases.
Nutrition Information:
Yield:

12
Serving Size:

1
Amount Per Serving:
Calories:

103
Total Fat:

0g
Saturated Fat:

0g
Trans Fat:

0g
Unsaturated Fat:

0g
Cholesterol:

0mg
Sodium:

18mg
Carbohydrates:

24g
Fiber:

3g
Sugar:

18g
Protein:

1g
These nutritional calculations might not be accurate. Please speak with a licensed nutritionist to assist you.