My Stay At Home Adventures Recommendations that saved us thousands and made us thousands!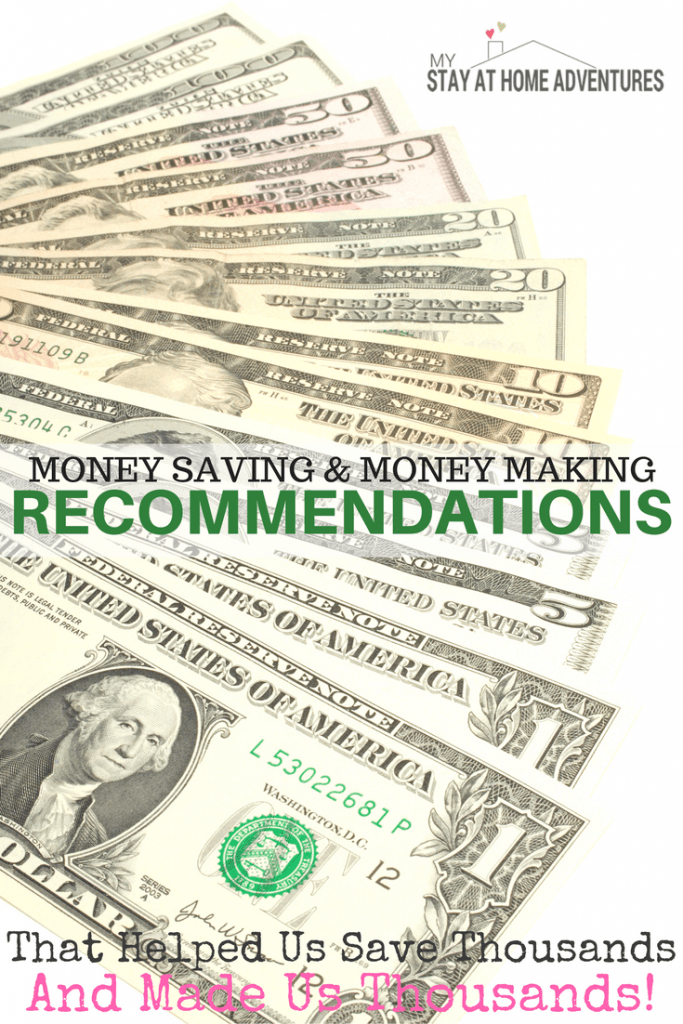 I love saving and making money. It's part of my DNA! I created this page to show you the companies and products that I used, use, and value. This way you can save and or earn money in one page! Using these products or companies the smart way have saved us thousands and have made us thousands!
Thanks to these products and services I have been able to stay debt free and grow my home business.
Where We Shop
Payless – Our family can find a great deal when we shop in Payless. We bought our wedding shoes there at a great price.
Best Buy – We love our electronics and Best Buy is a great place to find them. We love their price matching policy.
Raise – We use it when we need to purchase gift cards at a discounted price or sell them to make extra cash.
Fiverr – We use fiver mostly for my blogging business. If you are  a blogger I recommend you use Fiverr for your blogging needs!
Amazon – Who doesn't shop at Amazon. At time we are a bit obsessed with Amazon and their deals. Can we say Amazon Prime?

Boscov's – This is like a family institution where we live! You can find amazing deals for the entire family.
Ebay  – We have been Ebay customers for many, many years. I love it and enjoy it.
Dollar Tree – What's not to love about the Dollar Tree.
Gymboree – I love their clothing and how affordable we get them when shopping deals and using coupon and codes.
Hot Topic – My teens simply love their clothing.
Carter – Love their prices and quality of clothing for my boys.
OshKosh – Their boys clothing is amazing. I love dressing my boys with their clothing.
Mobile Money Earning Apps
Products We Love

ABC Mouse – We recommend this program to anyone who wants to find a great learning program for your kids. We got this for our back then 3 year old and it helped him.
For The Home
If you love magazines then I recommend checking ValueMags. Sometimes you can even score free magazine subscriptions.
Skip cable and try a MOHU antenna, we have one and we truly enjoy it!
This Living Well Planner is one of my favorite and it keeps my home life and working life organized.
If you enjoy reading books I recommend you try Amazon Kindle Unlimited.
Oneida – I discovered how amazing Oneida's site and the deals you can score!!
Republic Wireless is the mobile phone service I used and I have paid as low as $13 bucks a month (taxes included) for my smart phone services!
Office Depot / Office Max – You can score some great back to school deals and I also print my planners and other documents here with their promo codes.
Blogging
These products are products and services that I personally used when it comes to blogging. For more information you are more than welcome to click on the image. I am currently using Small Orange to host a smaller blog and currently use BlueHost for My Stay At Home Adventures.
If you have not kept up with my online income reports you know that I have grown my income thanks to EBA.
Reward Programs We Love
Kellogg's Family Rewards – This is a reward program that we enjoy using in our home. You get rewards points for purchasing Kellogg's brand.
Pamper Rewards – A favorite of mine for many years! Buy Pamper products and earn rewards and cash them out for prices.
P&G Everyday – As a busy mom, you always want the best for your family.With tons of coupons for the best P&G Products from Pampers, Tide, Crest and much more.
Swagbucks – This is how we earn free gift cards to help us pay for the holidays.