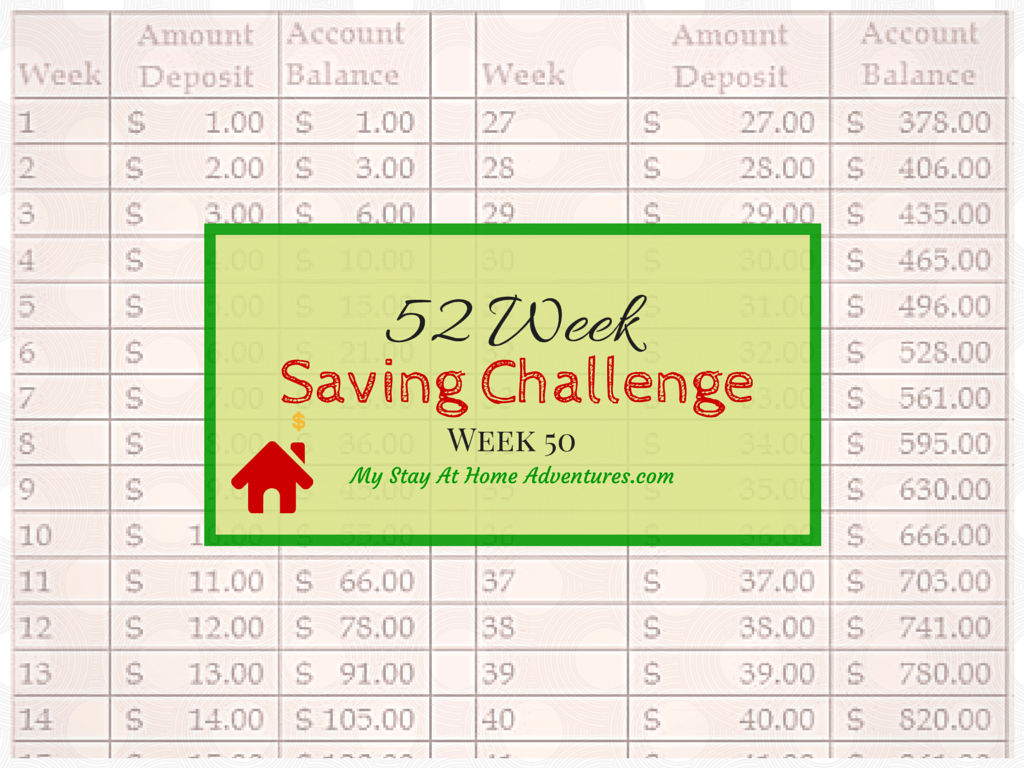 Oh Yah! Week number 50 is here of my 52 Week Saving Challenge. The year financial challenge where this girl puts away a certain amount of money to her CapitalOne360 checking account until she reaches week 52. Sadly, 52 Week Saving Challenge Week 50 will be my last weekly post about my 2014 financial challenge. Before you get upset at me, read on. 🙂
Week 52 Week Saving Challenge Week 50
This Week Recap
I can't believe that I did this challenge for over 49 weeks and still continue to put aside money into this account. Though I never reached my $1378 goal, I managed to get to 1369.63. I still feel like I reached my goal of completing my 52 Week Challenge, and then some. Why? Because the point of the challenge was to save money, learn to save money, budget, plan, etc; and I was able to do this every week.
I used the money that was saved each week into my CaptialOne360 checking account for what we intended and more. Due to the benefits of this challenge, we decided that it was worth doing it again for 2015; except we will just save $20.00 a week every Friday.
$20.00 x 52 = eh.. um.. $1040 <- yeah!
If we continue to save $20 every week for the next 52 weeks, we will save $1040 around this time next year. The main reason as to why I felt like I didn't complete the challenge was because we used the money before we reached $1378.
Since doing this challenge, I have expressed to my readers that the money being saved for this challenge is to use as they wish, and when they needed. So why do I feel like I didn't finish it? Is it because I didn't reach the goal of $1378? After feeling like I failed, I decided to really look at the positive. I was able to keep this challenge going when others have given up. I was able to post about it each week and hold myself accountable each week. I gained support from other fellow bloggers and readers that helped me out through this challenge.
The point of the challenge is to save money, and I think I managed to do so pretty well. I also managed to create a plan to when, how, and why we will use our saved money. The feeling of not completing this challenge turned into achievement and happiness.
While others struggle financially this season, we don't and it's all thanks to this challenge. If you are planning on taking this challenge, I would be more than willing to cheer you on. My biggest advice is to never give up. The 52 Week Challenge is more than just saving each week, it's how to plan, budget, and execute this challenge. There are going to be weeks, or months, when you will want to give up and others when you are able to save money without struggling. The first weeks seems like nothing, but as the money increases each week, it becomes harder. That's what makes it a challenge. If you don't make a plan, a budget, and execute; you are going to suffer during this challenge.
That's why I decided to start this challenge reversed, depositing the higher amount the first week of the challenge instead of the $1. I wanted to get the hard part done first, and because I knew that during this time of the year is where we spend more money. It was because I planned, budgeted, and executed that we were able to save each week, and save enough money to spend this Christmas season.
Knowing that we had a set amount saved for this year was the best feeling ever. The peace of mind it gave us was worth the challenge. If you want to do this challenge, or anything similar, I will recommend it. It might be hard, but the reward is so worth it, just like when you become debt free! 😉
There, you now have my year summed up. I think I have repeated myself through the months but, hey, it worked.
Not sure what plans I have for 2015, but if you have a financial challenge, and would love to share, please do. I'm all for a good financial challenge that will save us some money next year.
What do you think of this 52 Week Challenge? Please be honest, I would love to hear your opinion.
Head over here to read all my posts. If you would like to download my 52 Week Saving Challenge spreadsheet, simply click here!
The following two tabs change content below.
Latina mom of 4 married to wonderful Greek gentleman. Living in southeast PA and trying to juggle family and a household while trying to earn an income from home. Follow my stay at home journey as I discover how to earn money and save money so we can continue to live debt-free.
Latest posts by Joyce @ My Stay At Home Adventures (see all)