How To Simplify Our Guest List With These 3 Steps
This post may contain affiliate links which might earn us money. Please read my Disclosure and Privacy policies here
Getting married? Let's talk about how to simplify our guest list for a minute here.
As our wedding date approaches and the planning begins, one of the hardest thing we have to deal with is our guest lists.
We had set our budget, we have rented our venue; even decided to limit our guest list to 75 people.
This looked like a great plan until we sat down with our guest lists. How do we simplify our guest list?
We want to make sure that the people we invited are the people we want there.
This is where social media is a curse.
After posting statuses about it ( I know!!) that's when the, "I hope I'm invited" comments started coming. Does this sound familiar?
These comments were from friends from high school, work, and such. Since we are funding our wedding and not trying to go broke in the process, keeping our wedding guest list to a minimal is important.
As much as we love to have everyone there. We have to be realistic and stick to our guest list because we can't afford it!
How do we simplify our wedding guest list?
We are not doing things traditional because in this country a traditional wedding means overpriced.
Do we want children at our wedding?
To create a formula to make everyone happy is not going to work. We welcome families with children, we have children of our own that will be attending our wedding.
Related posts:
Because we have children, and most of our family have children, we have to add them to our guest count.
This will expand our wedding guest list and will make it even harder to simplify it.

Steps to Simplifying Our Wedding List
Create A, B, C Lists
The best way to start our guest list is to create an A List, B List, and C List. We both made a list of people we wanted to invite.
We created 3 lists with A being Family and Close friends to C being distant cousins and old high school friends.
We will send the A group first with the request to be RSVP by a certain date. When the regrets start coming in we will start sending invitations from list B and so on until 75 is reached. I'm pretty sure by B List our 75 will be reached.
One Year Test
We decided that we will invite people that have been in contact with us in person (not social media) and have share special events with us.
Friends and family that will pick up the phone and keep in contact with us and our family. People that are part of our everyday lives.
This will help eliminate a lot of confusion and guilt. If we have not talked or hung out for more than a year then chances are you will not be invited.
Give each of our parents a set of number of invitations
We are sure that our parents would love to invite certain friends to our wedding.
We are OK with that so the best way to keep our guest lists low is by giving them a set number of invitations each.
By doing this they can invite the people of their choice. This doesn't mean they will attend but at least both of our parents will feel somehow included.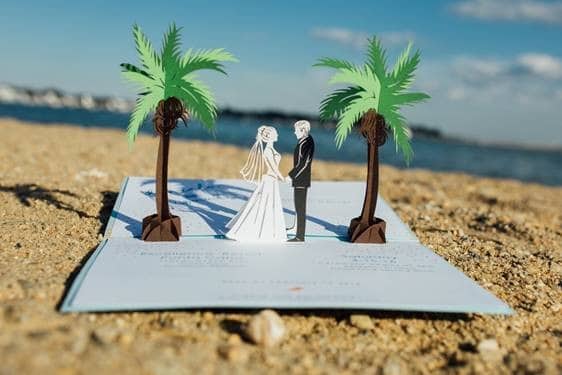 To simplify our guest list we went over these three steps and honestly it worked.
Family first, close friends second, and the rest third. Keeping our guest list under control is very important in order to stay under budget.
Weddings should not be about the family and guests, but about us. For that reason taking control of our guest lists is extremely important.
We used free Microsoft documents to help us keep our wedding guest list in order. Remember that anything that has the word wedding is going to cost you double the amount.
Stick to free planning software to help you organized your wedding and to help you keep track of your wedding.
Do you have any tips for us to help us simplify our guest list?