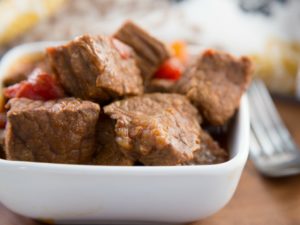 Simple Puerto Rican Carne Guisada Instant Pot
Ingredients
1 Tablespoon of Olive Oil
2 Tablespoon of Sofrito and you can find the recipe here or purchase it!
1 lb. of beef cubes
Salt and pepper
½ teaspoon of ground Cumin – or to taste
8 oz. Can of Tomato Sause
1 packet of Sazon
1 to 1.5 cups of Beef Broth
1 – 14 oz. of Roasted diced tomatoes
2 Tablespoon of Red wine vinegar
2 bay leaves
1 teaspoon of Knorr® Bouillon Chicken Bouillon or any other
Instructions
You can either brown the meat on the stove top or use the Saute feature in your Instant Pot or Pot Express.
You are going to add olive oil and meat and brown the meat and salt and pepper.
After that add sofrito, tomato sauce, sazon, cumin and cook for about 5 minutes.
Add the broth, vinegar, bay leafs and chicken bouillon.
Stir!
Press meat and set it for 35 minutes.
Let the pot release manually.
Recipe by My Stay At Home Adventures at https://www.mystayathomeadventures.com/instant-pot-carne-guisada-puerto-rican-beef-stew-recipe/