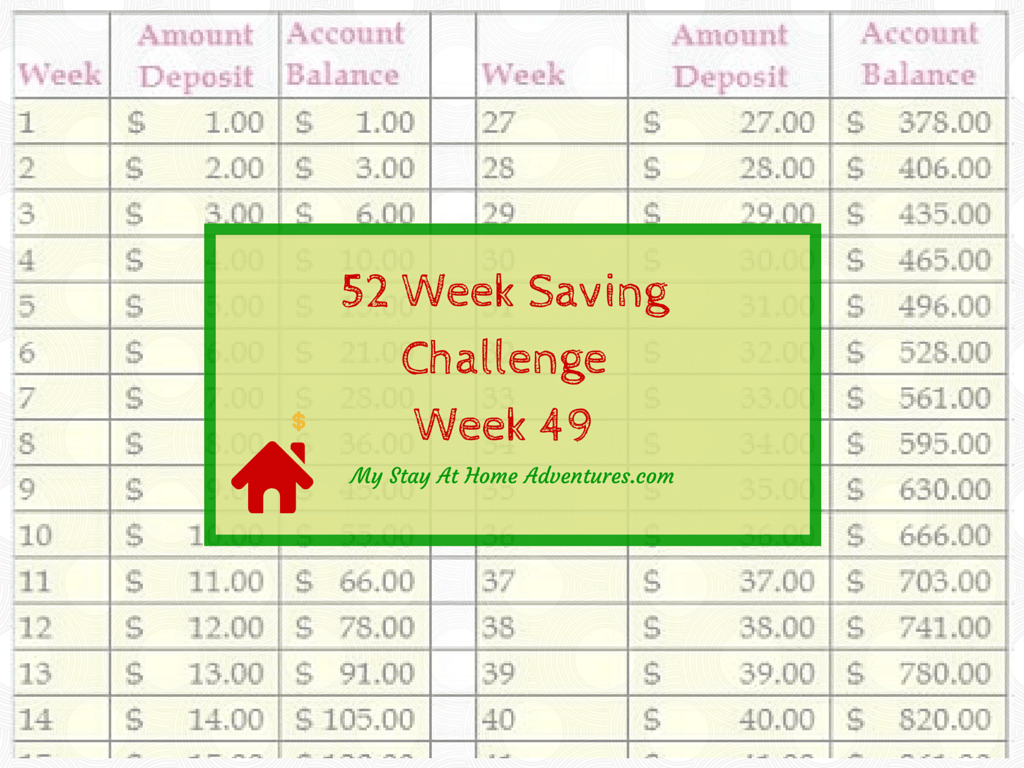 Welcome back to my weekly 52 Week Saving Challenge post where I go over my savings and discuss motivations and other things that helps me stay motivated during this year long challenge. I have made a big decision about this challenge this week, but before I go into more details, let's go over this weeks 52 Week Saving Challenge; Week 49.
52 Week Saving Challenge Week 49
Week 49 Deposit – $49.00 Total – $1225.00
Week 49 Reverse – $4.00 Total – $1372.00
This Weeks Recap
For 48 weeks I have been saving each week and making transfers into my CapitalOne360 checking account. I have watched patiently for my money to grow. Last week during Black Friday, after many discussions and consideration to use our 52 Week Saving money, we decided it was time.
We knew we were going to use the money eventually, but we wanted it to be for the right things. We felt that because we have this amount of money saved, we will just use it. Normally people go nuts buying toys and other merchandise for Christmas. We took the opportunity to buy items we needed that are on sale.
Regardless of what others say, yes, outerwear goes on sale in January. As some probably already know, try finding something you want and the size you want during that time. We desperately needed a coat for our daughter, and I wanted to buy a good quality one. We took advantage of the sale and bought a coat she was happy with, and the price was great. I had budgeted $150.00; we got it for $75. The original price was $200. You see what I am talking about?
We bought a much needed comforter set and sheets for our bed. This is kind of embarrassing, but we really haven't invested in bedroom decor for years as we have been paying off debts and saving money. We found great deals on a good quality comforter set and sheets.
We bought much needed clothing for our entire family. Undershirts were on sale, and so were PJs, so we took advantage of that. We also bought gifts for our neighbors' kids, and since we are so not buying toys, we took advantage of getting them much needed clothing (since our children are experiencing growth spurts this years).
The biggest purchase came on Friday, where we spent $299. I really want to tell you what this purchase was all about, but if you are patient, I promise I will in a few weeks. I promise I will tell you. I can also tell you that we have not spent any more of our money either.
It was because I was only a few dollars short from reaching $1378 (I reached $1369.63), I decided that I really didn't want to give up on this 52 Week Saving Challenge. I really did enjoy it very much, but I want to try something else for next year.
I decided that I will be setting aside $20 each week into my CapitalOne 360 checking account and see where that leads us again. You don't know how stress free this Christmas season has been for us since we know we have money set aside for this season. Why would we give this up? This financial challenge was one of the best we have ever done.
Next week I will be wrapping up my yearlong 52 Week Saving Challenge, so be prepared for a farewell post. I need to focus on other projects for 2015, and I'm not seeing the point of writing 4 more weeks of it when I kind of basically made it, huh?
Want to join this challenge? Head over here to read all my posts. If you would like to download my 52 Week Saving Challenge spreadsheet simply click here. I would love to hear how you are all doing with your 52 Week Saving Challenge. If you are a blogger that is doing this challenge, we would love to hear from you.  Until next week, keep on saving!
The following two tabs change content below.
Latina mom of 4 married to wonderful Greek gentleman. Living in southeast PA and trying to juggle family and a household while trying to earn an income from home. Follow my stay at home journey as I discover how to earn money and save money so we can continue to live debt free.
Latest posts by Joyce @ My Stay At Home Adventures (see all)