52 Week Saving Challenge Week 45
This post may contain affiliate links which might earn us money. Please read my Disclosure and Privacy policies here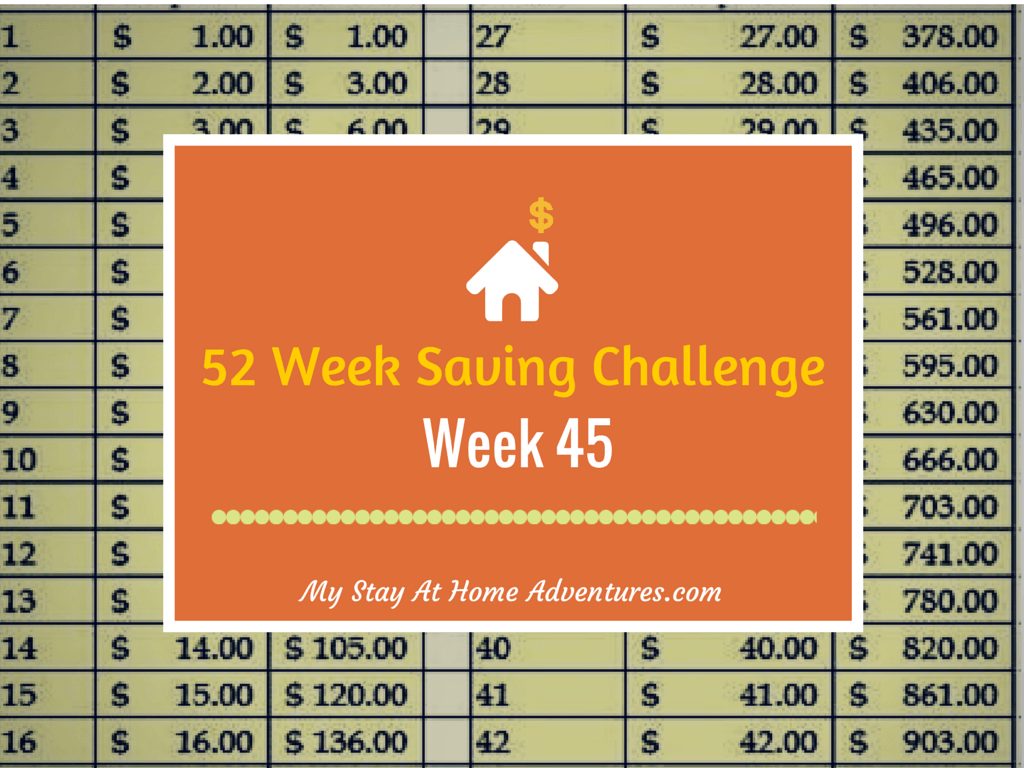 We are getting close to our goals, if you are doing this 52 Week Saving Challenge. I'm super excited with my progress and how much I have achieved. We are back from our honeymoon from Puerto Rico. Where we spent 7 days of kids free-catching up on sleep-time ever! Before I get into this week 52 Week Saving Challenge Week 45 details, let's recap our weekly savings.
52 Week Saving Challenge Week 45
Week 45 Deposit – $45.00 Total – $1035.00
Week 45 Reverse – $8.00 Total – $1350.00
This Week Recap
A few weeks ago, during one of my weekly 52 Week Challenge post, I was talking about the possibility of using our 52 Week Challenge saving towards our honeymoon. We know that we will not spent $1378 on Christmas for presents. We have this money saved up and we really wanted to enjoy our honeymoon.
Before this, we weren't even sure that we wanted to go on a honeymoon ourselves. After speaking about it several times we decided we were going to. You see, we have this problem where we were in a pretty bad financial situation a few years back, worked our asses off to kill our debt and now feel like the fear of going back to where we were is preventing us from doing certain things that we want to do now.
We have saved a lot of money. We both continue to budget and live frugally but these fears seems to affect the way we live now! So after talking about it and saying [email protected] You Money, we said lets go on a honeymoon, stay at a resort, and enjoy ourselves! And WE DID!
Here's where our 52 Week Saving Challenge money discussion came about. For spending money we were thinking of using our weekly saving from this personal challenge for our honeymoon. After our wedding, we received enough money and then some to cover that and save a few bucks (I know me and my damn saving money!). This mean that our 52 Week Saving Challenge was not needed at all!
Dealing with this fear issue.
I have said about this fear before and have written about it. I am improving tremendously this year and how I am doing it is by reading financial blogs that relate to me personally. There are tons of FB out there. Some are awesome, but is the little one, more personal, more realistic to me blogs are what I truly enjoy.
These blogs keeps me motivated and on point. A few days ago while sitting in my hotel balcony enjoying the beach side view about Fruclassity: Frugality for the Not-So-Badass from my friend Laurie and it got me wondering about the 10 Commandments of Fruclassity. Number 7 (read the post people!! ) is my biggest fear and worries for me. Society can suck back into our old ways for sure if we are not careful.
We are surrounded by people that don't have a clue about money, sadly. We are surrounded by people that don't understand why we have chosen to live the way we live. Every day is a struggle and to be honest my biggest challenge was planning our wedding. If I didn't stick to our plan and piss some people off, we could have been financially in trouble ourselves. Family and friends can influence us to the point of affecting our finances if we let them. They don't do it on purpose at all but if we were to go all out "traditional" wedding we would have been in big time trouble.
Write this down, learning to say no is very important when attacking your finances. Remember this!
As you can see just because we have paid our debt and save money we don't have daily financial struggles, like my fears of falling back, like many others do. Becoming debt free was not easy but do-able and maintaining a life debt free is even harder if you are not careful.

Want to join this challenge? Head over here to read all my posts. If you would like to download my 52 Week Saving Challenge file simply click here. I would love to hear how you are all doing with your 52 Week Saving Challenge.If you are a blogger that is doing this challenge we will love to hear from you. Until next week, keep on saving!