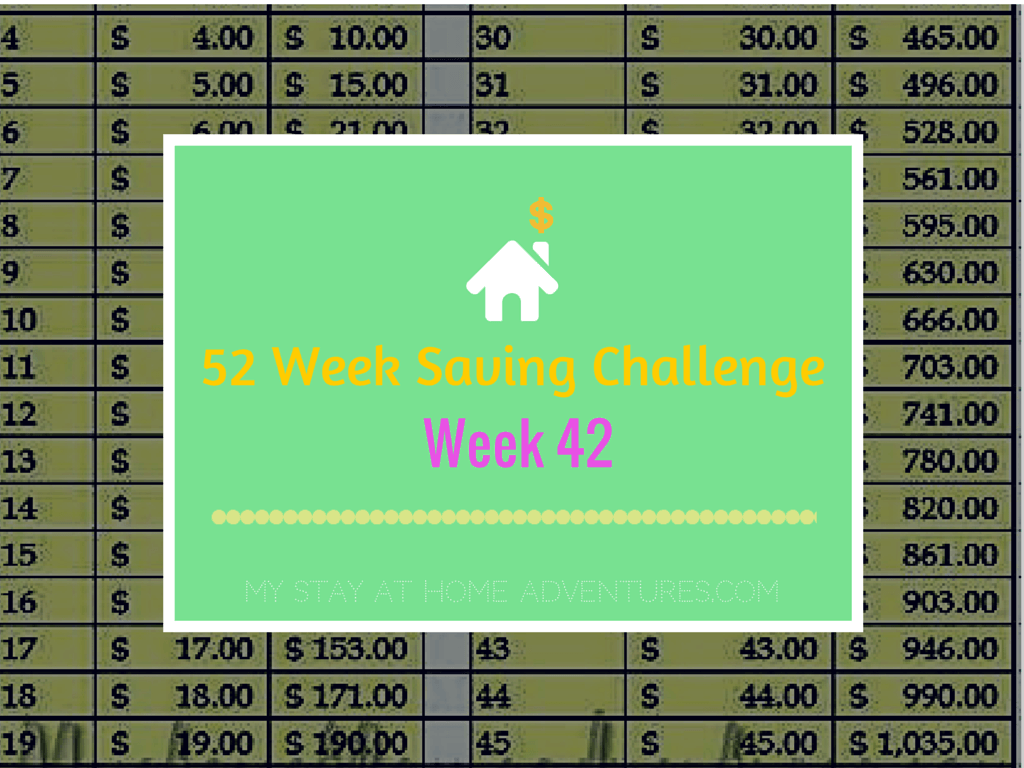 Welcome to my weekly 52 Week Saving Challenge recap where I post about my progress and write about motivation and helpful ways to save money. This week 52 Week Saving Challenge Week 42 recap I will tell you about my plans for my saved up money.
52 Week Saving Challenge Week 42
Week 42 Deposit – $42.00 Total – $903.00
Week 42 Reverse – $11.00 Total – $1323.00
This Week Recap
As you all know we are getting married and is only a few days away! How is my excitement level? High to the max 😉 I have been trying to keep under our wedding budget and save money weekly for this challenge.
I think we are doing pretty freaking good, don't you think? This 52 Week Saving Challenge has been a blessing for us. It has taught us many things through out each week. One being commitment and endurance.
Yes, endurance! We have grown to endure a lot with this challenge. From having to save an extra $200 a month, to remember each week to transfer money into our Capital One 360 checking account.
My persistent and commitment to continue to post about this challenge every week when other's have given up a long time ago. All because if I could help anyone out there and vice versa it will be all worth it.
When I write about it each week, it helps me with my accountability as well. There are weeks when I was all positive and there were weeks where I struggled to even write a post about it. But when I did and pressed published I felt good about it.
All because I made a commitment to take on this 52 Week Saving Challenge back in January the results is paying off. Not only on my account but personally. Just like when I took and made a commitment years ago to kill my debt and become a stay at home mom.
Now to my reveal on what I am going to do with my money. When we decided on a date to get married we decided that we will not go on a "nice" honeymoon. Why? Because we thought we didn't want to spend the money. We constantly run figures every time we make a decision about anything.
Then it hit us, again, we are saving money for? We won't be in debt if we take a honeymoon. Our children will be taken care of. We could finally catch up sleep without interruption! 😉 We only live once (YOLO!) and we worked hard each day to continue to live the way we live.
We can't live our lives fearing about falling back to old ways and be in debt. We have to start living. So we decided to go for it and go and enjoy our "NICE" honeymoon!
We know that we will not spend all $1378 saved from this challenge just for Christmas so I suggested we use some for spending money when we go to our honeymoon. We worked hard to save money each week, so why not? I will let you know if this happens but I can see this happening.
Want to join this challenge? Head over here to read all my posts. If you would like to download my 52 Week Saving Challenge file simply click here. I would love to hear how you are all doing with your 52 Week Saving Challenge. If you are a blogger that is doing this challenge we will love to hear from you.  Until next week, keep on saving!
The following two tabs change content below.
Latina mom of 4 married to wonderful Greek gentleman. Living in southeast PA and trying to juggle family and a household while trying to earn an income from home. Follow my stay at home journey as I discover how to earn money and save money so we can continue to live debt free.
Latest posts by Joyce @ My Stay At Home Adventures (see all)