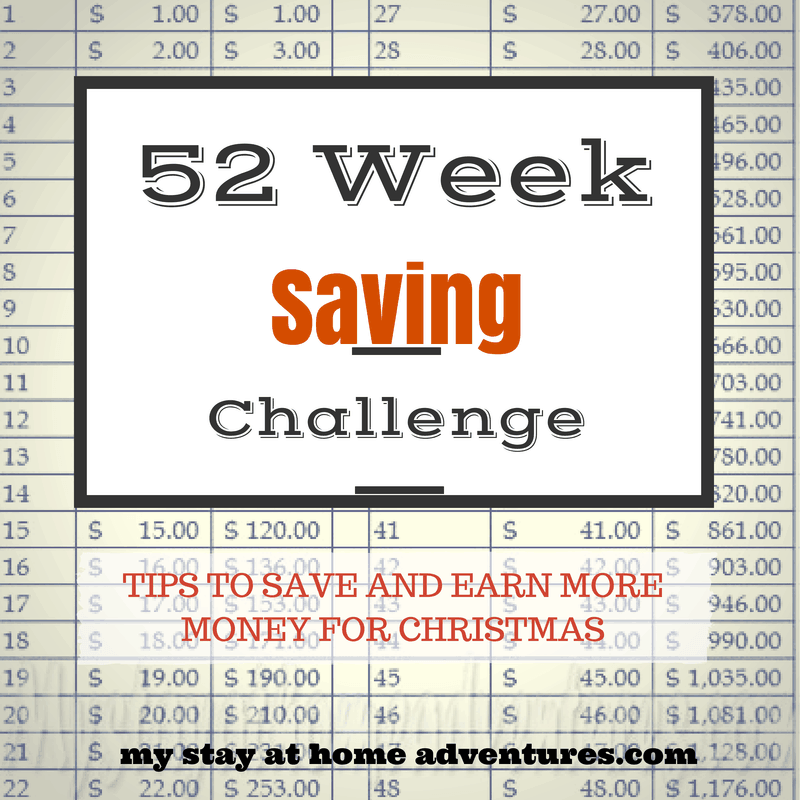 Good morning and happy Saturday! A little bit late posting this 52 Week Saving Challenge post, huh? Wedding fast approaching and things are really picking up. Let's get this 52 Week Saving Challenge Week 36 started.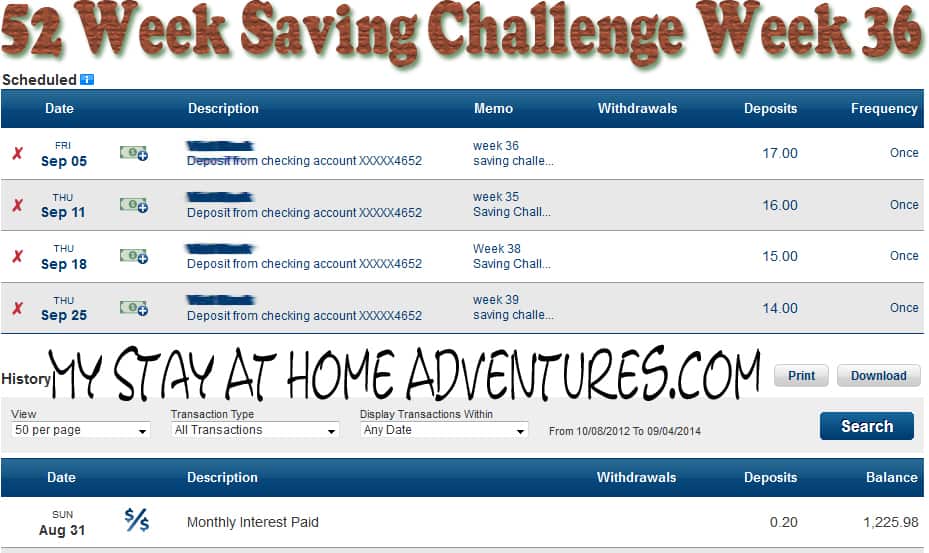 52 Week Saving Challenge Week 36
Week 36 Deposit – $36.00 Total- $666.00 – If you want add another dollar! 😉
Week 36 Reverse- $17.00 Total- $1242.00
This Week Recap
September is here and if you are working or worked on your budget for the month please know to budget to this challenge for this month. If you are doing the 52 Week Saving Challenge the "normal" way you must budget for $150.00 for this month. If you are doing the Reverse 52 Week Saving Challenge you must budget for a total amount of $62.00 for the month of September.
Remember that this is your personal challenge and if you can't save this amount save what you can. The goal is to have money save and to learn the benefits of saving money.
This week I wanted to speak to you about Christmas saving and earning extra cash. As you all know December can be a very stressful month and since September is the most relax month of the year according researchers creating a plan for this upcoming holidays might be best thing to do right now.
Here are tips to help you save money and earn money for the upcoming holidays:
Make a plan – Just like I suggest you do with your finances , wedding planning, and such, making a plan of action for the holidays will keep you focus and on track. Write your plans, your goals, anything you think that will be happening during the holiday seasons.
Set the gift budget for now – After making a plan, start a budget. Food, Gifts, travel and such. Whatever works for you. If you are doing the 52 Week Challenge each week start planning your budget. Do you really want to use all that hard money you saved all years in gifts for others? Just a question.. 😉 Remember that this budget is designed for you so never compare your budget with others.
Earn extra cash – If you need extra cash plan a fall yard sale, sell unwanted items, earn free gift cards, look for a part-time job. Around this time of the year many retailers are starting to hire for the holiday season since merchandise load starts peaking around this time.
Buy less – Yes, buy less! Just because is Christmas we seem to go overboard on things. We spend money on stocking stuffer, Christmas candy, Christmas anything. We spend on things that are really not important just because is Christmas.
I will buy gifts for my family, buy candy and little gifts for the stockings. I will buy Christmas decorations for the house. Red cups and plates for dinner. Now a days if is in my budget we get it if not is OK. I don't accustom my children that they are going to get everything they want on Christmas. One gift is enough is not being harsh is what we can afford. Who cares if the cups and plates you are drinking/eating from are not red! When you buy less you stress less. Your kids will survive if their Christmas stockings are not full to the max with MORE stuff.
So there you have my tips on how to start saving and earning extra money for the upcoming holidays. Add this and your 52 Week Saving Challenge weekly deposit and you will have a less stressful Christmas season. I can't guarantee that it will be stress free, just financially.
Want to join this challenge? Head over here to read all my posts. If you would like to download my 52 Week Saving Challenge file simply click here. I would love to hear how you are all doing with your 52 Week Saving Challenge. If you are a blogger that is doing this challenge we will love to hear from you.  Until next week keep on saving!
The following two tabs change content below.
Latina mom of 4 married to wonderful Greek gentleman. Living in southeast PA and trying to juggle family and a household while trying to earn an income from home. Follow my stay at home journey as I discover how to earn money and save money so we can continue to live debt-free.
Latest posts by Joyce @ My Stay At Home Adventures (see all)