52 Week Saving Challenge Week 34
This post may contain affiliate links which might earn us money. Please read my Disclosure and Privacy policies here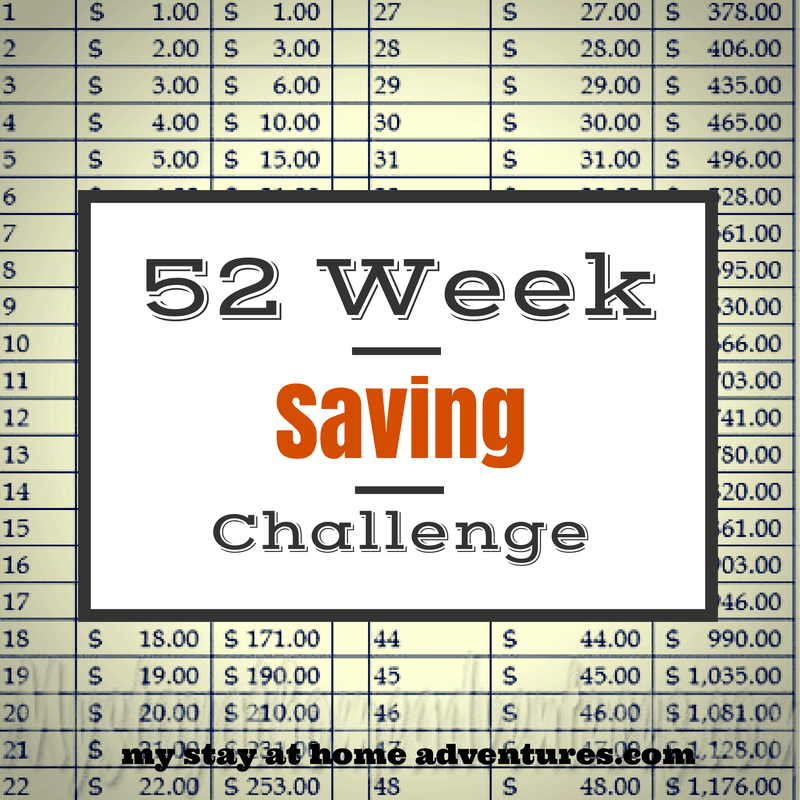 Summer…. Where did summer go? I have to say that I was kind of disappointed with our temperatures. I kind of miss having heat waves after heat wave each week. Kids are going back to school, I know my girl will be going starting Monday. As another week passes, fall is near, wedding is near, and my 52 week challenge goal is nearing. Let's start this week 52 Week Saving Challenge Week 34, shall we?
52 Week Saving Challenge Week 34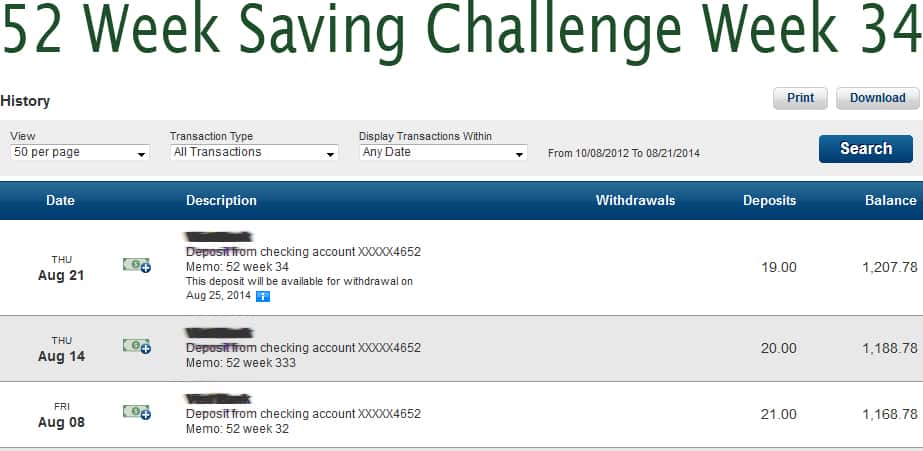 Week 34 Deposit – $34.00 Total- $595.00
Week 34 Reverse- $19.00 Total- $1207.00
Weekly Recap
If this challenge was pregnant it will be in its last trimester and full term…. Haha..OK I get serious now.. or try.
This week my weekly deposit is below $20, hurray! I am going to need every penny I can get because our wedding is fast approaching and I don't have to touch our wedding fund I'm all for it.
You can't imagine how good it feels to know that we won't have to be worrying about Christmas this year because we planned and committed to this challenge. That you won't have to worry about which paycheck you are going to be using to purchase Christmas presents.
I have been there and done that. Instead of enjoying our holidays we are worrying about our finances. This is one of the reason why saving money helps you enjoy other things, like Christmas.
If you are thinking of using your credit cards and you have credit card debt for Christmas shopping, you are not helping your financial problem. This is the kind of mindset that gets people in trouble. If you haven't started this challenge you still have time to start saving some much needed dinero and start paying your debt.
I have written many posts about budgeting, cutting spending and such in my site. If you are looking for ways to earn some extra cash or how to earn free gift cards click here. The point that is never too late to start getting your finances in order before Christmas. This will help you focus on what's important, your family!
Remember if you are serious about killing your debt and getting your finances under control then start today. What's stopping you but yourself.
If you are looking for more ideas that will help you save money check out these posts from my favorite sites.
do the math: energy vampires By Ryan @ Impersonal Finance – You can save tons of money by simply unplugging. Read more and see the numbers.
How to Happily Live on a Poverty Budget by Alexa – If you are a single mom or not you could benefit from reading this post.
Save Over $25.00 a Hour Making Your Own Laundry Soap by Kipp – I have to admit that I was very iffy about homemade laundry soap until I read this. This will save us lots of money.
Want to join this challenge? Head over here to read all my posts. If you would like to download my 52 Week Saving Challenge file simply click here. I would love to hear how you are all doing with your 52 Week Saving Challenge. If you are a blogger that is doing this challenge we will love to hear from you. Until next week keep on saving!