52 Week Saving Challenge Week 20
This post may contain affiliate links which might earn us money. Please read my Disclosure and Privacy policies here
Happy Thursday everyone!! Another week, another deposit! I hope you all had a great week and are continuing with this saving challenge. As I typed the title 52 Week Saving Challenge Week 20 it just hit me that we have been doing this for 20 weeks!! Let's look at 52 Week Saving Challenge Week 20 recap and see how we did this week
52 Week Saving Challenge Week 20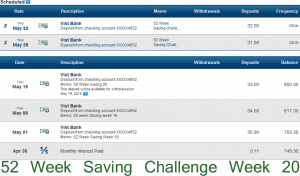 Week 20
Save/Deposit – $20.00 Total Saved – $210.00
Week 20 – Reverse
Save/Deposit – $33.00 Total Saved $850.00
This Week Recap
If you have been reading my 52 Week Saving Challenge recaps you will know that I am getting married this fall. I had everything planned and stated the reasons why I personally continue to do this challenge each week.
This week I was going over our list of expenses when I came across my daughter's school trip paper. I completely forgot all about this.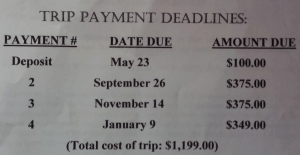 Yes, a student registration information form about their Florida trip that will be happening next year. The paper informs me about their payment plans and the total cost of the trip, $1199.00. The music department is going to Disney World in Orlando, FL next year.
I know the amount will shock any parents and to be honest it scares me too but she's going. We decided she is going. Before you jump down my throat here's why we decided she is going. Can we say honor roll student and great kid. If we have the money she is going and we do. She is willing to do anything to go. That being said, she is willing to make the money to go and, that my friends, is music to my ears!
I know she won't come up with all the amount and that's when the 52 Week Saving Challenge money will come into place. I am saving this money for Christmas. The reality is that I don't spent $1378 in Christmas gifts. If and only IF, I need to use this saving I will for this trip.
Remember, I have a wedding and now a trip to add to my budget. This mean I have to get a game plan going and fast. In June, I am planning on having a yard sale. I am thinking of starting to sell a few things online too. I am also going to start using some of the money made from this blog (if any) towards the wedding or the trip. Any suggestions are welcome!
As long as I have a game plan, we can do this. The 52 Week Saving Challenge fund is not just for Christmas spending but things that are unpredictable. What I love is the willingness and how eager my kid is to make money so she can go to Florida next year.
Want to join this challenge head over here to read all my posts. If you would like to download my 52 Week Saving Challenge file simply click here. I would love to hear how you are all doing with your 52 Week Saving Challenge. If you are a blogger that is doing this challenge we will love to hear from you. Until next week keep on saving!
Photo Credit: Grant Cochrane