52 Week Saving Challenge Week 17
This post may contain affiliate links which might earn us money. Please read my Disclosure and Privacy policies here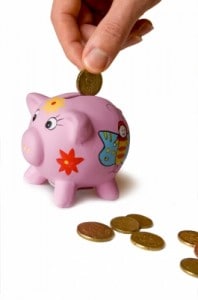 Hello happy savers and welcome to another week of 52 Week Saving Challenge Week 17. We made it another week and you should be proud. Thank you for joining me in my journey and for your support. Let's begin this 52 Week Saving Challenge Week 17 recap
52 Week Saving Challenge Week 17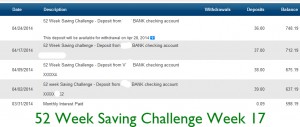 Week 17
Save/Deposit – $17.00 Total Saved – $153.00
Week 17 – Reverse
Save/Deposit – $36.00 Total Saved $748.00
This Week Recap
This week let's all do this, let's be proud of what we have accomplished so far. This morning while drinking coffee I was reading one of my favorite blogs. I've been a long time reader hardly a commentator (until recently) and today's post was very motivational. J. Money wrote a post called Be Proud of Your Emergency Fund! And, mis amigos, I would love for you to read this and simply be proud.
Weeks ago some of you didn't have much saved or anything and weeks later here we are. Regardless of how much you have saved, $50, $153, or $748, remember to be proud! We are getting there. You are doing it right. Just keep going and don't give up! Remember the goal and if you are saving so you won't feel the Christmas financial pinch it will be worth. Heck you might change the way you will spend your money and try not to spend all of your $1378 at once.
So be proud and stand tall because "you gotz this!"
Want to join this challenge head over here to read all my posts. If you would like to download my 52 Week Saving Challenge file simply click here. I would love to hear how you are all doing with your 52 Week Saving Challenge. If you are a blogger that is doing this challenge we will love to hear from you. Until next week keep on saving!
Photo Credit: graur razvan ionut