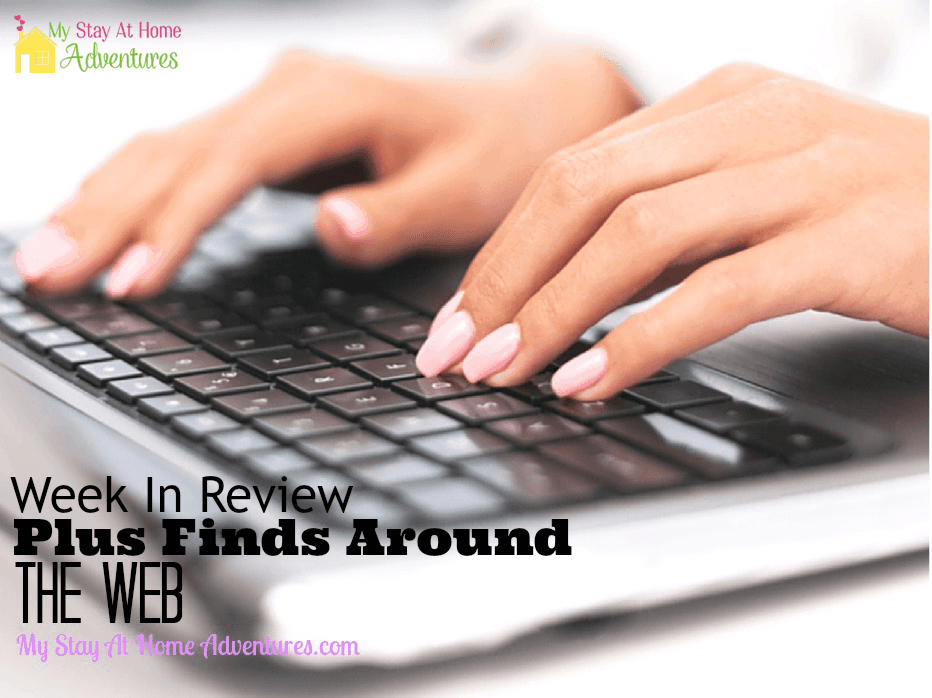 Good morning and happy Saturday to you all sexy people out there. I hope that you are having a fabulous weekend and thank you for visiting my Stay At Home Adventures! On today's post you will read what stay at home adventures we had this week and awesome finds I found around the web.
This week I have to admit was a busy one for us and I could call it life changing, but this will be written for later as we are still getting accustom to this news before sharing it to the world.
Personal
I have three wonderful children and I am blessed to be their moms that being said, I had never experience this terrible two people talk about until now! Baby A, my 2 year old, all I can say is, um what!?!
I'm going to be honest sleeping 2 hour straight for me rare. Some of you might of thought it was funny when I said I was looking forward to our honeymoon so I could sleep. I wasn't lying at all. This week I have been researching on how to solve the issue because mommy is getting tired, very tired. Did I mention I breastfeed him too?
If anyone has any tips or ideas on how to make bed time fun for Baby A please let me know. This mama is getting impatient. Here's a photo of him, don't let that cute face fool you.
Blog Business
I have to say that when I made the decision to quit being a sissy and take this blog to the level I want, I didn't think it was going to kind of blow up like it has been doing. I was ready for the hard work and the challenge, but I wasn't expected to see amazing results like I am having.
As of yesterday the number of views continue to increase at a rapid rate. I continue to research and learn more about blogging and I'm actually considering having a few friends of mine join My Stay At Home Adventures. More details about this on a later post.
I tell you one thing, I enjoy the behind the scene aspect of blogging so much, is nuts. Maybe I found my side hustle.
This week's Link Up Party was a bust, but that was my fault for not doing a better job of advertising. I won't give up!! Remember that every Wednesday I will be hosting a Link Party

Weekend Web Finds
Because I am constantly working the blog or researching (I also read tons of blogs), I thought I share with you post I truly enjoyed this week. Please make sure you visit each link and support this awesome bloggers. Some of this blogs have truly helped me personally.
How to Machine Wash Pillows – Frugally Blonde – Great step by step post on how to machine wash your pillows with baking soda.
6 Lies That Broke People Believe – The Fugal Farmer.Net – Another great post from my frugal friend Laurie. This is one of my favorite blogs around. If you are struggling with debt this is the blog for you. Is inspiring and you learn so much. I like to consider myself the president of her fan club but others will disagree.
Why You Need to Know Your "Enough" – Single Moms Income – Awesome post about finding what your "enough" and finding your fulfillment. I truly enjoy her blog and is one I normally go back to and recommend to other fellow mamis. Great resource and very inspiring.
Hope: The Most Valuable Commodity – Femme Frugality – If you haven't read her blog I will order you to do it. Do IT! LOL I encourage you all to read this blog because is deep and moving and makes you realize that you can have all the money in the world but without hope….
How To Dress A Toddler In 30 Easy Steps – Mommy Sanest – Lou writes a very funny step by step on how to dress a toddler. Good laugh.
There you have my fabulous finds around the web for this week. Before I let you all go, here are some reminders:
Wednesday we host our tanking Link Party. Maybe next week it won't be a tanking link party LOL
If you haven't join Pinterest, you need too. When you do follow me and join our group board.
Thank you so much for joining me, hope you like my site look because I freaking did it myself! Haha. See you all later. Enjoy your weekend and thank you so much for loving My Stay At Home Adventures.
What awesome find you found this week? Share it!
The following two tabs change content below.
Latina mom of 3 married to wonderful Greek gentleman. Living in southeast PA and trying to juggle family and a household while trying to earn an income from home. Follow my stay at home journey as I discover how to earn money and save money so we can continue to live debt free.
Latest posts by Joyce @ My Stay At Home Adventures (see all)