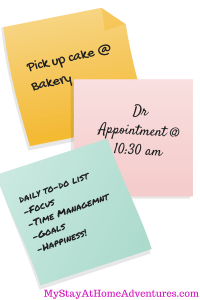 Good afternoon! I hope you are all having a wonderful day. Can you believe July is almost gone? Let's go over my to-do list from yesterday and see how I did before we get to To-Do List of 07/29/2014.
Yesterday's To-Do List
Head to the store in the morning

– DONE!
Walk the trail – Got the kids ready to have a nice Thunderstorm. I didn't even know it was coming nor did I get a warning.
Work on giveaway post – I am still working on this.

Continue to look for the PERFECT CAKE

– I think I have the perfect cake down to 10! I'm getting there.

Research honeymoon

– Puerto Rico? Yes, please! This sounds good, really good, right now. My fiancé never been to Puerto Rico so maybe is time we go and check out this place. No passport required!
So the trail walking is becoming one of those task where something always happen and I can't get it done. Try explaining to my kids that we couldn't go after they got dressed and ready for this walk. We decided to watch cartoons and I decided to exercise instead.
To-Do List for 07/29/2014
Today is a beautiful day outside and I want to enjoy it. Not sure how the trail is going to be since it rained most of the night but we are going to check it out.
WALK THE TRAIL WITH THE KIDS! – this is going to happen!
Clean the stairs – I don't know what it is about the stairs that I love when they are freaking clean!!
Research Self-Uniting Marriage license– This where we are heading. I learned all about it when I visit one of my favorite blogs and is something we both want to do. This will save us money.
Start filling out paper work for day care for my 3 year old. This is a package with lots of information so this is going to take me a few days.
There you have my to-do list for 07/29/2014. How are you doing with your to-do list?
The following two tabs change content below.
Latina mom of 3 married to wonderful Greek gentleman. Living in southeast PA and trying to juggle family and a household while trying to earn an income from home. Follow my stay at home journey as I discover how to earn money and save money so we can continue to live debt free.
Latest posts by Joyce @ My Stay At Home Adventures (see all)