Since I'm starting my weekly money fast of not spending money (I'm cutting down on my spending), last month we spent like we won millions and didn't save much. I wanted to get back on track by doing a financial challenge during the month of June, and a spending freeze was more of what we needed.
You can find many tips on how to not spend money when you search online. Some suggestions are greats, others too extreme for me. The key is to find the one tip or idea that works for you and your family. For example: Not spending money on toilet paper. Great way not to spend money I'm sure, but this doesn't work for me. However, cutting coupons and using a shopping list to save money works better for me. Do you get the idea?
The difference to this month challenge is that I want to do them weekly by writing a weekly goal list and sticking to it. That way I don't get bored, is more challenging for me, and I can hold myself accountable for not getting it done! To not spend money I created a list of tips on how to not spend money. What's amazing is that these tips work and by following them, I can not spend money.
8 Tips on how to not spend money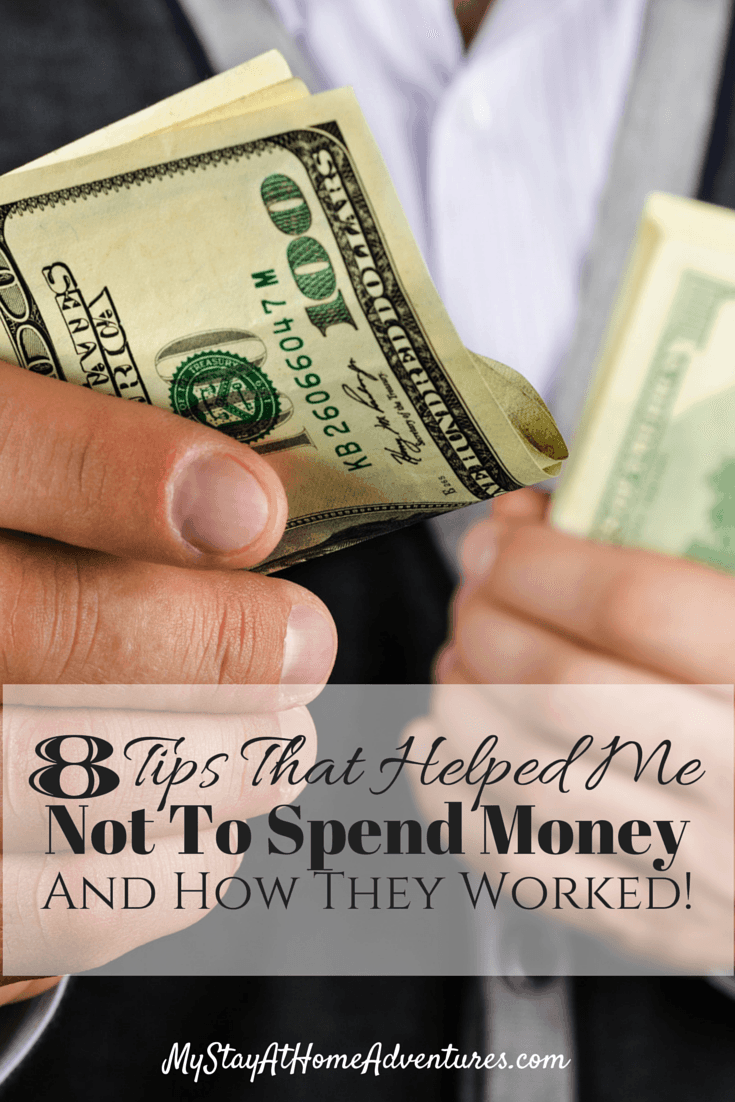 Write down goals. By starting my week with goals, it sets the pace for how the rest of the week it's going to be.
Weekly budget. I will do my budget by week instead of a monthly budget. This will give me a more detail look on my spending. If the week amount is $100 then I should be able to account for all that money that week.
Cash only. The reason I do this is because I know personally that when I use cash I tend to save more. All the loose change go into our pickle jar and knowing that I only have that set amount keeps me on track.
Shop with a shopping list. This always helps me out and keeps me on track. My problem is that when I go shopping I tend to forget the list. I finally got this app for my mobile phone that is helping me on this department.
Create a menu plan. I'm a big fan of menu planning. I love creating them and using them. If you don't have a menu plan you are missing out on how much time and money you can save by creating them. Below are two important reasons why I love creating and using a menu plan:
Convenience:

Creating a meal plan will reduce the amount you spent going to the grocery store to look for what you need. You have all the ingredients available for your meals. This will avoid stress and the "what's for dinner" from the rest of the family.

Less waste:

When you plan what your family is going to eat for the week, you will plan meals that you know everyone will enjoy. This avoids having food wasted because you didn't overbuy products you didn't need. You avoided creating meals that were not popular with your family.
Analyze my bad habits. I think I know what went wrong during the month of May 2014, no planning. I budgeted for the same amount each month and didn't take to account birthdays, Mother's Day, and such. I have to analyze my budgeting skills and look at my calendar. I also need to stop being hard on myself, we are not perfect.
Avoid shopping for fun. I will go shopping when I need to go shopping. Shopping just because I'm bored or need to get out of the house is no excuse for spending money. If I have no reason to go to the store, then I will not.
Will not go to the store hungry. Believe it or not, this seems to be one of my downfall. I tend to go around the time when I am craving lunch. You know what happens when you are hungry and you are shopping; you overspend.
Look not spending money is not as simple when we are so programmed to spend it. However, knowing this and doing this steps will help you to limit your overspending once a week at a time. I was skeptical at first about a not spending week, but it worked and one week can turn into two weeks and so on. When you start implementing these tips, you will see your saving grow and that my friend is such a great feeling.
What other tips to NOT spend money do you have or use?
Save
Save
The following two tabs change content below.
Latina mom of 3 married to wonderful Greek gentleman. Living in southeast PA and trying to juggle family and a household while trying to earn an income from home. Follow my stay at home journey as I discover how to earn money and save money so we can continue to live debt free.
Latest posts by Joyce @ My Stay At Home Adventures (see all)