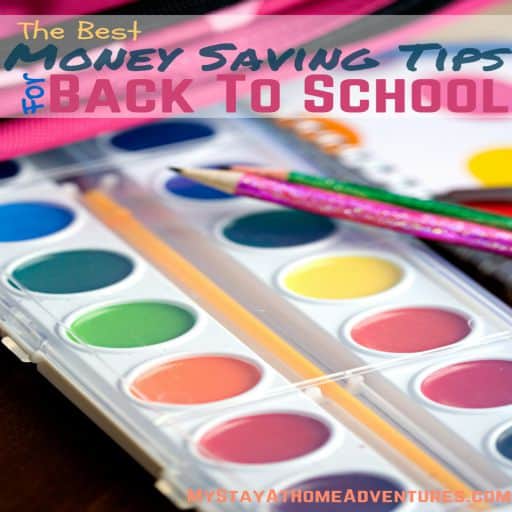 Back to school season is here and I have gathered the best money saving tips for back to school in one post. These money saving tips will help your finances during the upcoming BTS shopping . From Tax Free Days to finding the hottest deals these tips will help you for sure.
This Back to school shopping season is a big expense for some families. Americans spend billions of dollars during back to school. Schools are requiring more than just pencils, pens, and papers, they are requiring electronics which can bring the cost of back to school up.
Add back to school clothing, sports, and lunch and we are ready to cry as we see our hard earned money go. Finding ways to save money is important, I know it is for me, during this back to school season. I need to find quality BTS merchandise for less and these money saving tips for back to school will surely help.
The Best Money Saving Tips For Back To School
Shop during Tax Free Days.
If you are lucky to live in states where these even happens simply enjoy it and shop during those days. You can save a ton of money not paying taxes. However, some states have certain rules and regulations you must follow so please make sure you check up with your state.
Shop Sales
Each week store will have a weekly sale available with great deals. This is a good thing to check them weekly to see if the items you need will be on sale. This is another way to save money. If you don't want to visit tons of store each week you can always check with your local store to see if they compare prices with local competitors.
What retailers am I referring to? Retailers like Wal-mart, Target, Office Max/Depot, Staples, and so much more are the places to get your children's back to school merchandise.
Use Coupons
The fact is that coupons do save you money. Whether you are using manufacturer coupons or store coupons you can score big savings when you use coupons. For the latest manufacture coupons always check here and here and print the coupons you need. Remember to print your favorite coupons as soon as possible as they may be gone before you know it.
Use Rebate Apps
If you have a smart phone or tablet you might be able to use rebates apps that will give you rebate on selected merchandise. These apps are not only for groceries but for back to school as well. Take advantage of these BTS promotion to save money.
There are many rebate apps out there, below is a list of my favorites and must-have apps that will help you earn money.
Buy Used
If you are tight on money why not buy used clothing. There are many stores that sell good condition clothing and even online stores like ThredUp that sell amazing used clothing at a great price.
Shop Online
Shopping online is amazing and saves you time and money. Again, with back to school season full force you can score great savings on BTS merchandise. You also can score big when you use sites that pay you to shop.
When you go through third party sites, like Ebate or Shop At Home, you can get rebates as well. Shopping online can save you more money than going to the store. Recently, many online sites do have groceries available, and you can score additional savings.
You can save big this back to school season by following these simple steps. Remember to also have a back to school budget set as well as a back to school list ready when you head out to shopping this back to school season. For more Back To School Saving Guide click here to read helpful post on how to make this back to school season a financially stress one!
What are you best money saving tips for back to school?
Financially Savvy Saturday #101
The following two tabs change content below.
Latina mom of 4 married to wonderful Greek gentleman. Living in southeast PA and trying to juggle family and a household while trying to earn an income from home. Follow my stay at home journey as I discover how to earn money and save money so we can continue to live debt free.
Latest posts by Joyce @ My Stay At Home Adventures (see all)