It's been a long time since I have given you all an update about our wedding planning. I think is time since is really approaching fast and I have to tell you it is starting to sink in. Sticking to our wedding budget is a constant struggle at times, and I have to tell you a battle that so far I am winning. Is not easy to stick to your wedding budget and I want to share with you some tips that have helped me stick to my wedding budget.
Here's how to stick to a wedding budget?
Simple, write it down.
Yes, write down your wedding budget. Write down your budget anywhere that you can see it. I have my budget in my cell phone. I have my budget written down next to my desk. Why? Because you need to continuously be reminded of your wedding budget.
We wrote this budget down for a reason. It wasn't a number we pulled out of thin air. Our budget has meaning and a purpose. For that reason I have to always be reminded when I have the urge to go crazy and spend money on things I think we "need" for our wedding.
You know what else you need to write down, any wedding changes. If you are making your own decorations, write it down. Write down the amount you paid for purchases toward your wedding Keep an inventory of everything you have purchase for your wedding. This will help you keep track of your expenses and help you stay focus.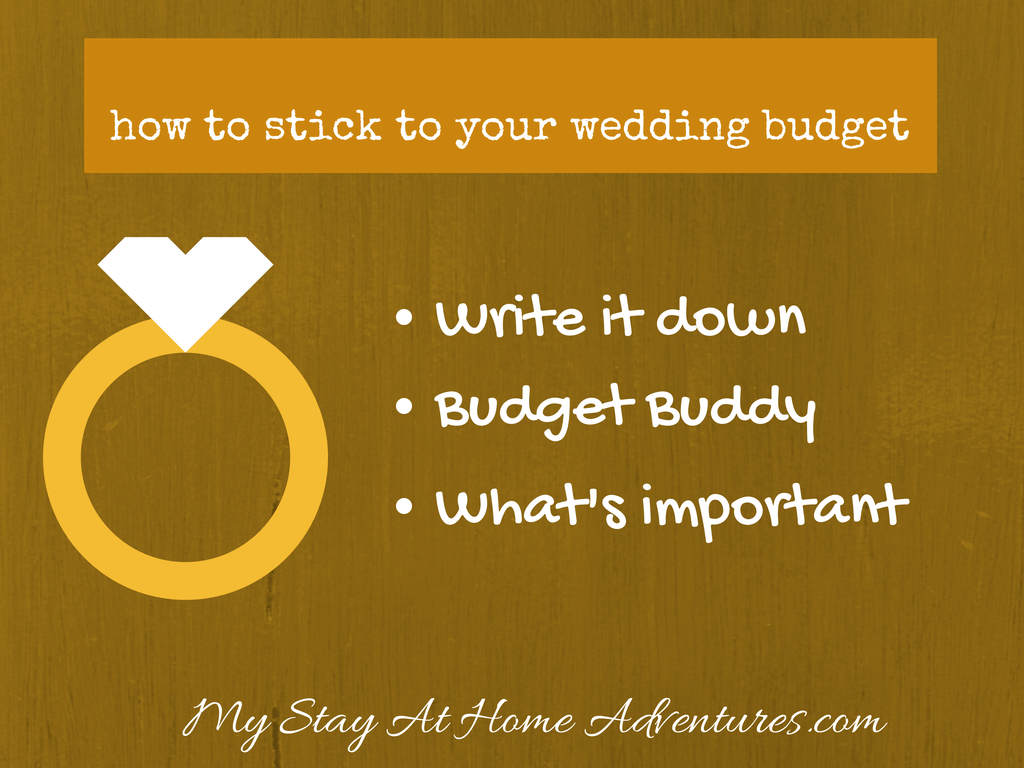 If you spoke to someone about some wedding arrangement, write the contact's name down because if you are like me, and have other things going on you will forget. Being forgetful can cost money.
If you don't like to write (lazy) use your PC or smart phone to help you with your wedding planning. I use an app and I have a spreadsheet (lazy!!) that is connected to our main PC. When I make changes or write something down I save it and I'm able to open the file when I am using our main PC (I know technology is crazy!).
I have a notebook (yes, an old fashion notebook) and a file in my file cabinet dedicated to our wedding. I keep receipts and every in that file cabinet too. You might think is silly but believe me when you see numbers in your face and your budget amount going down you will thank me. Keeping organize will save you money, a lot of money.
Find yourself a budget buddy.
Just like we surrounded ourselves with others who understand and share our views on financial freedom, having a wedding budget buddy serves the same purpose.
We all love our family dearly but sadly not everyone shares the same views when it comes to our wedding nor understand why we are doing what we are doing. Some don't understand why we decided on a self-unity union versus a church wedding or a pastor. Others don't like the idea that we are borrowing too much "things" for our wedding.
This is when your budget buddy comes in. I have 2 that knows how important is to follow a budget. A budget buddy, or buddies, will help you plan your wedding with the knowledge of keeping cost down. Without my buddies I wouldn't have saved hundreds of dollars.
They know deals, they know to keep spending down, they can do magic, they try to find ways to save money for you. They also understand when things are not possible. When I'm with them they keep me focus and I don't feel anxiety from explaining my reasons for doing this and that. A budget buddy understands and is there for you. If you don't have one I think you need to find one. I was lucky that they are my good friends.
What's important to you and your fiance.
I knew that when we set our wedding budget and started our wedding planning it was going to be a challenge for us to stick to a wedding budget. But before we even made a budget we both new we wanted to keep to what was important to us.
We knew that we were not going to spend our hard earned money into a wedding. I still can't get over the fact that the average wedding is $30,000!  We are simple people and we wanted to keep our wedding as simple as possible.
We knew that we will face challenges down the road. Many of our family members have different views of wedding, finances, and much more. When we wrote down our budget we also made the commitment to make sure what was important to us will show in our wedding celebration.
When I feel that I'm losing control of my wedding planning, I got back to what is important to us. What will make us happy on this day. The rest is history.
Conclusion
Remember to write down everything. Get yourself a budget buddy. Most importantly remember what is important to you and your fiance. Three helpful tips will help you stick to your budget. We know that we won't be able to please everyone. Our priorities are to have our family and friends witness our union. This is our day, our wedding. Learning how to stick to a wedding budget is the key to a successful wedding planning and I hope these three tips help you out as much as it has helped me.
How are you doing with your wedding budget? If you went through this do you have any tips for us bride-to-be?
The following two tabs change content below.
Latina mom of 3 married to wonderful Greek gentleman. Living in southeast PA and trying to juggle family and a household while trying to earn an income from home. Follow my stay at home journey as I discover how to earn money and save money so we can continue to live debt free.
Latest posts by Joyce @ My Stay At Home Adventures (see all)